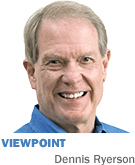 I wasn't prepared for what greeted me when I walked into Denver's Lindsey-Flanigan Courthouse a couple of weeks ago for jury duty.
The building, completed in 2010 as part of a three-building justice complex (courthouse, detention center, parking ramp/U.S. Post Office), rose five stories in front of me. An enormous, sloped, 92-foot-high wall of glass symbolized to me a justice system that was transparent.
Once inside, I felt the fresh glow of light welcomed in by that glass wall, in open stairwells and hallways.
The complex made me proud of the Denver voters who approved money for it in 2005.
As I sat in a large assembly awaiting my call to a fifth-floor courtroom, I couldn't help but think of the plans in Indianapolis that in all likelihood will build a badly needed new justice complex out near the airport.
I get it from a practical sense: The land is readily available, the ample space could allow structures to avoid more expensive higher-rise construction, and land downtown could be used for higher-level development.
Those issues existed in Denver as well. In fact, given the incredible pace of downtown development here amidst an already-dense business district, I suspect from a practical point of view it would have made more sense to locate this city's complex outside of the central city than is the case in Indianapolis. Denver's justice center was not built on public land, but rather, on space once occupied by the now-defunct Rocky Mountain News newspaper.
Yet city leaders, again, supported by voters, considered other values as well, including:
• Access: The central location is close to bus, light rail, and auto thoroughfares, making it easy for those with cars and those without to play their role in a critical component of our system of democracy, our system of justice.
• Convenience: During a lunch break I strolled downtown, found a fun place for lunch, and came across a couple of other places I vowed to frequent later. I'm sure the hundreds of workers at the complex appreciate the access to shopping and other downtown assets.
• Symbolism: Justice isn't something to be set aside, something that is only for "those people," something that is a necessary evil that is little more than a public utility to be banished to the hinterlands. It is a symbol of our very best values: fairness, truth, citizen participation, and the ideal that all are innocent until proven guilty. It is something to be revered and respected.
As an aside, the image of Denver's center is further reinforced by a city law requiring 1 percent of the cost of new public buildings to be spent on art. So it is that architects were able to incorporate dramatic artistic features on the outdoor plaza and the indoor spaces.
It all, to me, is a huge statement of enlightenment, that we expect more, not less, from government functions and that we value those functions.
I was pleased to see the IBJ's editorial board making a strong push to keep the judicial functions of county government downtown.
The decision may yet come down to the airport site. But at the very least, I hope Indianapolis residents are engaged in a civics lesson about symbolism and values and access. Our wonderful system of justice deserves nothing less.•
__________
Ryerson, retired editor of The Indianapolis Star, now lives near his adult children and their families in Denver. Send comments on this column to ibjedit@ibj.com.
Please enable JavaScript to view this content.