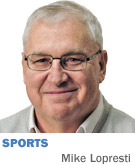 CLOVERDALE—This is not just a story about a man who has coached high school basketball in this state for 50 years. This is about a man named Pat Rady. This is a story about love.
Love for basketball, or else how does a guy keep doing it for half a century? "It is a game that I cherish," Rady said the other day during a break in Cloverdale's practice.
Love for Margaret, his wife of 48 years. The woman he took to the 1965 high school Final Four as a first date, to let her know what she'd be in for. What's dinner and a movie, when you can have popcorn and Hinkle Fieldhouse?
Love for his two sons. Both of whom he cut from his team during tryouts at Terre Haute South. "I'd never do it again," he said softly, with a father's hurt. "It was one of the worst things I've ever done."
Love for his roots growing up back in Roachdale, where a boy could walk to find a basketball game, or a challenge at the pool hall 200 yards from his front door. "I'm a big believer in small towns, and small schools," he said.
Cloverdale's game on Feb. 18 was Pat Rady's 1,150th as a coach. It ended with his 736th victory. (IBJ Photo/ Aaron P. Bernstein)
Love for all the schools that gave him a chance. First Bainbridge, 50 years ago in 1964—"That seems like yesterday"—followed by Southmont, Winchester, Shelbyville, Terre Haute South, Cloverdale. "What better job can a country bumpkin like me get to do in the state of Indiana," Rady said, "than coach high school basketball?"
Maybe most of all, love for all those kids from all those teams through all those years. That is why, before the last game every season, he gets his seniors alone in a mostly dark gym, and has them climb a ladder and cut down the net. Rady will tell you that cutting down a net is a dream for any player in Indiana, and though his guys might not get to do it as sectional champions, they're champions to him. His eyes tear when he talks about it, because he wears his heart right there on the sleeve of his white Cloverdale team shirt.
"I cherish every year that I've been able to coach," he said, "because something great has happened every year."
This is the last stop in a basketball love affair. A gym in west central Indiana, with a stage at one end, a green shamrock in the center circle, and a sign that proclaims, "This is Clover Country."
This is where it ends for a man who on Feb. 18 coached his 1,150th game, and won his 736th, the second most of anyone in state history. He has been a sectional champion in five different decades—19 times in all. Maybe next month he can make it six different decades. Cloverdale is 16-1.
He also won eight regionals and took Terre Haute South to the 1991 Final Four, but he does not talk much on that. "Right now, I don't want to think of the past," he said. "I'm a present-future type of person. If you dwell in the past, you may stay there."
Maybe this is his last season, maybe not. He'll evaluate later. "I just had my 73rd birthday," he said. "My mind still thinks I'm 25, but my body thinks I'm 80."
Maybe son Patrick, who is his assistant, takes over one day. It would seem the natural order. Patrick described what this marvelous season has meant to his father, after the last two Cloverdale teams went 3-18 and 6-15.
"I think it's been refreshing to him this season that the stuff he has can still work," he said. "And at 73 years old, I think he can still relate to the kids. They see the passion he has for the game.
"I worry about him when he's done coaching. I think we're all created to do something. I think this has helped keep him young."
Pat Rady has his stories. There is the one about how he was cut from the Hanover College team as a freshman (he would return to play later), and while that broke his heart, it did not lay a finger on his desire to coach. So he roamed the state watching games, talking to any coach who would give him time, carefully making entries in a three-ring binder notebook.
"When all the guys were out looking for dates, I was looking for a high school game to go to," he said. Alas, somewhere along the rolling years, he lost that notebook.
"I'd give anything if I could get that back," he said. "Anything."
There is the one about how his coaching career nearly lasted only one year. Dismayed about a poor record his first season at Bainbridge, he walked into the principal's office and told him they needed a better coach.
A visit later that day from one of his players—future NBA guard Larry Steele—changed everything. "Coach, I hear you're a hypocrite," Steele said, reminding Rady that he had promised the players after their sectional loss that they would all work hard together and do big things the next year.
Rady went back to the principal—who had talked to the players and suggested someone pay the coach a call—and asked for his job back. His next team went 24-3 and advanced to the semistate.
"The Bainbridge community and the Bainbridge players made Pat Rady as a basketball coach," he said.
It has been a dream ride ever since. The woman he took to that basketball game in 1965 now bakes cookies for the players when they win. Margaret Rady has gone through 44 pounds of butter this season.
The sons he cut have grown to be fine family men. A main pillar in Rady's belief system: "The world doesn't need more basketball players. It needs more good fathers, more good husbands and more good workers in society. If a guy does his job, I respect that."
Which is why he puts out a snack pack for his trash collectors. A soda, some candy, maybe a Twinkie, until he ran out. (Note to sanitation department: Good news! Rady just bought more Twinkies.)
There is one recent family memory he could do without.  He tried to get both sons interested in cross-country running when they were in high school, but never could. They eventually changed their minds and both were thrilled to have the chance of a lifetime last April.
Run in the Boston Marathon. "He was so excited," Patrick said of his father. "He was with his sons, and we were in Boston."
Pat was near the finish line, eager to take pictures. Then the bombs went off. Michael had already finished, Patrick was on the course, maybe 200 yards away, when he saw the smoke and heard the noise. "All I could think," he says now, "was, 'My dad's down there.'"
Pat was uninjured, across the street from the explosion. "God's divine protection," Patrick called it. But he saw some of the casualties, and that will stay with him always. No pictures needed to remember.
"I couldn't talk about it for a couple of weeks. Then I read where you need to share things," he said. "I can still hear the bombs going off. It's just a small portion of what I think the military goes through. I cannot comprehend that."
It was an all-time hug father and sons shared that day when they finally reconnected. Family and love. The same things that bring him to practice each day, and the game that has escorted him through life.
"It's still the journey, that's what's important," he said. "The good Lord has allowed me to enjoy this journey."
Couldn't the journey include one more sectional championship? One more trip up the ladder? He would be fighting tears, for sure. And why not?•
__________
Lopresti is a lifelong resident of Richmond and a graduate of Ball State University. He was a columnist for USA Today and Gannett newspapers for 31 years; he covered 34 Final Fours, 30 Super Bowls, 32 World Series and 16 Olympics. His column appears weekly. He can be reached at mlopresti@ibj.com. 
Please enable JavaScript to view this content.