Neither the airplane nor the helicopter had been invented in 1863, when the South Bend-based bank now known as 1st Source Bank was founded.
So one can only imagine that its original board of directors would be floored if members were around today to see that "aircraft" loans now represent 1st Source's biggest chunk of loans: $704 million of its $3.5 billion in loans on the books.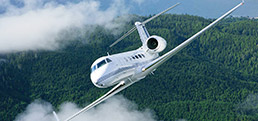 Captains of industry and celebrities are among clients of 1st Source's aircraft financing business, which has seen an uptick from days of the financial crisis. (Photo courtesy of Gulfstream)
While the bank has no brick-and-mortar presence in central Indiana, it does make aircraft loans here, along with much of North and South America. It's one of the most unusual lending niches among Indiana-based financial institutions.
That portfolio consists of loans on about 600 aircraft—mostly jet and turbo-jet-powered planes and helicopters. Clients are often corporations borrowing $500,000 to "well beyond" $10 million, said Greg Holst, president of 1st Source's aircraft financing division.
"1st Source is pretty well known among business aircraft circles," he said. "What makes us unique is we are consistently ranked in the top three to top five banks" in terms of number of aircraft financed.
The bank has been at the business for about 25 years, with not just aircraft loans but other niches in areas such as construction equipment and heavy-duty trucks. It was a way to take a regional bank in the throes of the Rust Belt malaise to diversify a bit beyond the local economy.
About three-quarters of its aircraft loan clients use their planes as business tools, such as corporate jets. Others include those who fly cargo, some delivering time-sensitive goods such as seafood.
One reason many banks wouldn't touch aircraft lending is that the collateral can, well, fly away.
"There's an element of risk that real estate doesn't have. Airplanes literally can go anywhere in the world," said Holst, who formerly worked for Cessna Finance Corp. starting in the 1970s. "Most of us have been in the business for 30 to 40 years."
While at Cessna, "to travel, we didn't get a company car. We got a company plane," said Holst, a private pilot.
He won't say much about his clients, although he'll tell you they include IndyCar and NASCAR drivers. "We've had people who are celebrities, musicians, athletes and even an actor or actress or two."
Most are in privately held businesses, however. Many live in California, Florida and Texas and in the Northeast.
But the business has been anything but glamorous since the financial downturn in 2008.
Before the recession, during roughly 2003 to 2007, business aviation was enjoying a boom time. Planes were moving and aircraft values were rising. Meanwhile, some lenders offered ridiculously low down-payment terms.
But when the downturn hit, some aircraft values plunged in half.
From a peak of 1,275 deliveries in 2008, shipments fell 50 percent, to 629, in 2012, according to a report for the Equipment Leasing & Financing Foundation penned by David Mayer, a partner at Shackelford Melton & McKinley, in Dallas.
1st Source's book of aircraft business fell from $632 million in 2008 to $614 million in 2010.
"There was a waiting list as recently as 2006 to get a jet. We went from a one- to two-year backlog to suddenly we had a little bit of a market crash," Holst said. "The last [downturn] was probably the most severe in my career, which spans 36 years."
But the bank has grown that business, with about $704 million in aircraft financing assets now on the books.
One way 1st Source countered the economic downturn was its business in Brazil, which has the world's third-largest business aircraft fleet. 1st Source entered that market in the late 1990s.
In the United States, a lot of lenders throttled back, but 1st Source snagged some of their business.
"We actually picked up some high-quality clients during that period," Holst said.
The bank doesn't do much in the way of advertising its aircraft financing business. Rather, much of it is from word of mouth that comes with 25 years in the business.
Mayer said in his recent report that aircraft financiers now "express cautious optimism" about financing through 2016. Many are financing newer planes costing $25 million or more when new, such as Gulfstream G300-600 modes and Bombardier Global Series planes.
"The projections are holding up pretty well. The business is growing and optimism is back," Mayer said.
Many financiers have pulled back on so-called bottom-half planes that when new sold for $4 million to $25 million, such as Gulfstream G150s and certain Embraer models.•
Please enable JavaScript to view this content.