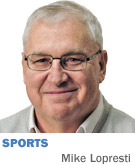 Welcome to the demolition derby of Indiana high school basketball. Welcome to the Noblesville sectional, an exercise so like Roman gladiators—unforgiving, ruthless and almost nobody gets out alive—it ought to be played in the Colosseum.
As of late February, Carmel was No. 1 and Hamilton Southeastern No. 2 in the Sagarin computer ratings. Both are at Noblesville. Imagine the Pacers and Heat in the same sectional.
No. 7 North Central is there, too. And No. 25 Noblesville, which would be the computer favorite in six Class 4A sectionals, but only fourth choice in its own. Also Zionsville, No. 35 in the whole state per Sagarin, but No. 5 in brutal Sectional 8.
The current Noblesville field has accounted for three of the past four Class 4A state champions, and six of the past 16 Mr. Basketballs, including Hamilton Southeastern's Gary Harris and Zak Irvin the last two years. 
Neither could win the sectional as a senior.
The men who must send teams through this shredder have learned to look on the bright side. True, there are other sites where the favorites are ordering off the dessert menu, but there is something to be said for the challenge.
Besides, they can't Fed-Ex the entire basketball program into a cushier ZIP code.
"Last year and the year before that, we had to face two guys that, arguably, might be lottery picks in the NBA," North Central coach Doug Mitchell was saying of Harris and Irvin. "It doesn't change much. Around here, it's just another day at the office."   
To get an idea what it's like, let's take a three-stop tour.  
First up, Scott Heady, CEO of Carmel Inc., the model of efficiency who has produced consecutive state championships with lineups that outwardly awe nobody. Until the game starts. 
"People talk about how the tournament in some places is not like it used to be," he said. "If you were at our sectional the last couple of years, you had people there an hour and a half before the game, lined out the door into the parking lot.
"You have to be at your best, obviously. We're not concerned about rankings or what we've done in the past; it's all about the next game. We've talked the last two years, that if you get through the sectional, you've got a shot."
He wouldn't mind seeing the sectional be seeded, preventing premature showdowns. Two years ago, Hamilton Southeastern and North Central were two of the state's top three ranked teams and drew one another on Tuesday. North Central was gone the first night on Harris' 35-foot 3-pointer at the buzzer. It felt like the state championship.
Until four days later, when the Royals lost to Carmel.  
Next stop, Hamilton Southeastern, where Brian Satterfield had just finished practice. 
"First of all, it's a great atmosphere. To be able to play in that environment is great for the players," he said. "From a coaching standpoint, it's not easy.   
"You always want to play the best, but you wish you could have some of those matchups a little bit later. You look at the NCAA Tournament and the way they seed. If you did that some way here, would a lot of us be in the same sectional playing each other? No. But I don't think that's going to happen."
One Satterfield suggestion: Find a way to avoid three games in one week.
Last stop, Mitchell at North Central, as he sat in his office before a game. How is life at the Noblesville sectional?
"See that bald spot back there? It can be stressful if you let it, but the kids enjoy it. It's the experience of a lifetime. You get to compete at the highest level," he said. "You can go to the driving range sooner if you get beat. If you win, you know you have a shot of going all the way."
Mitchell's program has become the O'Hare of the tournament. Anyone traveling to the top often has to pass through North Central. In the past 16 years, he has won two state titles and lost to the eventual state champion nine times.
He loves the tournament like an old friend. If he could change anything, it would not be to soften his sectional, but revert the system back to its one-class roots, when he once helped then-tiny Hamilton Heights beat Carmel.
"Nobody's ever going to change it, but I lived it," he said. "I grew up on a farm in Arcadia, Indiana, and the only time I had been to Indianapolis was to go to the stockyards, until I was maybe in junior high school. I remember coming home [after beating Carmel] thinking, 'Oh gosh, I can compete with anybody at any time.' That's what's lacking today. We've pigeonholed people. They'll never know if they can compete against the best. I think that's unfair to kids."   
He'll be competing against the best this week, all right. The reality of the Noblesville sectional is, a lot of the best are going to get left behind.•
Lopresti is a lifelong resident of Richmond and a graduate of Ball State University. He was a columnist for USA Today and Gannett newspapers for 31 years; he covered 34 Final Fours, 30 Super Bowls, 32 World Series and 16 Olympics. His column appears weekly. He can be reached at mlopresti@ibj.com.
Please enable JavaScript to view this content.