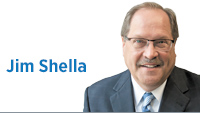 An old friend was in the Statehouse the other day for the first time in a long time. He's a guy who worked in the media, then in state government, and now in public relations. He knows his way around the building.
At least he used to know his way around. He needed help this time figuring out how to get a client's message distributed to the Statehouse press corps.
It used to be easy. There was a set of mailboxes in the governor's press office. Each media outlet had a slot where you could drop a news release, advisory or personal note. Committee schedules and floor calendars showed up there, as well.
Pretty much every reporter would start the day by checking that slot. Sometimes they would come back multiple times. The Pence administration got rid of the mailboxes because, by and large, they became obsolete in a digital world.
(Now, if I were advising the Pence administration, which I'm not, I would tell them the mailboxes could be a great tool for them. Obsolete or not, they created forced interaction with Statehouse reporters. Every visit to the press office provided an opportunity for a press secretary, or some other staffer, and occasionally the governor himself, to do a little education. Call it spin, if you will. It doesn't happen now.)
The point is that Statehouse reporting has changed. And so has the press corps.
A little while back, I got a call from the folks at Pew Research. They are looking into the way journalists cover state governments and wanted some facts about how things have evolved in Indiana.
I shared with them that daily coverage during the General Assembly is often carried out by a group of reporters who represent a pair of statewide radio networks, four local TV stations, and newspapers in Lake County, Fort Wayne, Indianapolis and Evansville.
There is also a reporter who writes for a group of regional papers. Franklin College has a news bureau that supplies stories to a number of media outlets around the state, as does the Associated Press. Sometimes NUVO Newsweekly shows up. And I better mention that IBJ sends a reporter over now and then.
A pair of subscription services supply information to paid customers, as well.
It's still a substantial group, but then, as I like to say, this is a company town and the company is government.
Yet the press corps is a much smaller group than it used to be. Among those no longer in the group are the Post-Tribune of northwest Indiana, the Fort Wayne News-Sentinel, the Terre Haute Tribune-Star, the Louisville Courier-Journal, the Indianapolis News, and a second Evansville paper (where the two papers merged.)
A Gannett News Bureau closed up a few years back and WTLC radio left. Where the Star used to have five or six reporters, there are just two.
I assume the Pew folks are making the case that there are fewer government watchdogs on duty now than there used to be and that's hard to dispute.
Yet the public also has new ways to keep up with events in the General Assembly. Floor sessions and committee meetings can now be viewed live online and the video is archived for later reference. That means that, if you're following an issue closely, you might not need to rely on a reporter to find out what happened.
Social media also performs functions once carried out by journalists as lobbyists and even lawmakers become reporters.
But it's not the same. You can't substitute for things like context, analysis and institutional memory.
We could always use more professionals keeping an eye on the people who collect and spend our taxpayer dollars.•
__________
Shella is WISH-TV Channel 8's political reporter as well as host and producer of the Emmy-nominated "Indiana Week in Review." Send comments to ibjedit@ibj.com.
Please enable JavaScript to view this content.