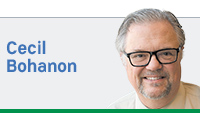 I have always thought legislators should be obliged to take the equivalent of the Hippocratic Oath: First, do no harm. Most of the major and minor evils of history have been a byproduct of overambitious political leaders intent on "doing something."
Democracy is of limited use in constraining this instinct. A successful politician is one who gets re-elected or elected to a higher office. As in industry or academia, moving up is almost always predicated on what one "got done" in the past.
To those of us who believe in limited government, this is a problem. We observe that when government "gets more done," it inevitably implies higher taxes, more public debt, more regulation and less personal freedom.
I am sure many will dissect, scrutinize and analyze what the Legislature did and did not do, what parts of Gov. Pence's agenda did and did not pass. Many will examine the nuances of how the big issues played out in the session and what it might mean for the fall election.
Instead of looking at the controversial issues that were not resolved, let's examine some bills that passed with bipartisan majorities. This might give us insights and maybe even some good news.
Senate Bill 222 "requires football coaches and assistant football coaches to complete a course concerning player safety and concussions … " The bill passed in the House 95-3.
Senate Bill 326 "provides that a school corporation may: (1) instruct students about the history of traditional winter celebrations; (2) allow the use of traditional greetings concerning the celebrations; … Requires the state board of education to develop guidelines to assist school corporations in developing appropriate instruction … " In other words, figure a way to post a sign saying Merry Christmas in a public school without incurring the wrath of the American Civil Liberties Union. The bill passed 45-0 in the Senate.
An amendment to a bill allowing school corporations to rent out advertising space on school buses. The amendment passed the Senate 49-0.
House Bill 1141 authorizes the state "to maintain … a list of properties that have been used as the site of methamphetamine laboratory." The bill passed the House 95-0.
Senate Bill 339 "allow(s) alcoholic beverages at the state fair." It passed the House 75-20.
What do these pieces of legislation that seem likely to become law have in common?
First, according to the Legislative Service Agency, the fiscal impact is minimal or positive. The meth bill, Christmas bill and concussion bill can be accomplished with current resources. The beer-at-the-state-fair bill is estimated to impose $50,000 to $60,000 in annual costs on the fair board but we suspect the board will make that up in concession fees.
The LSA also alludes to the potential for state revenue being augmented through additional alcohol tax collections. There is no LSA report on the school bus ad amendment, but we can deduce it to be a fiscal boon to distressed school corporations.
Second, there is little to no controversy about the bills. Most folks would say they are common-sense rules.
Finally, the downside risks are minimal—none of these bills are going to bankrupt the state, lead to mass mayhem, undermine social or cultural values, or be very offensive. Although there is always the possibility of unintended negative consequences to any law, none of them bet the farm on an unsustainable scheme. It's almost enough to get a libertarian to love government.
Maybe all bills should require supermajorities?•
__________
Bohanon is an economics professor at Ball State University. Send comments to ibjedit@ibj.com.
Please enable JavaScript to view this content.