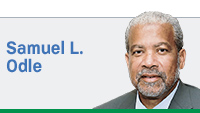 It's hard to ignore the amount of energy we have put on a constitutional amendment to define marriage.
The weather is frigid, the holidays are past. Yet, too many people among us are still living on the streets and in severe poverty. People are struggling with access to health care, and our kids' education and well-being remains a quest. How do we get elected officials focused on what really matters?
I recently attended a reunion with a group of individuals. Some I know well and others I met this past year when we started a discussion on liberty and freedom. We have spent a great deal of time reading up on the formation of our country and the uniqueness in our passion to protect liberty and individual freedoms. It is the very principle our country was founded on, yet we seem to struggle living and exemplifying liberty day to day.
We protect individual freedoms to bear arms and balance that standing with an individual's right to freely visit a shopping mall, courthouse or school without the fear of being shot. We would lay down our lives, and those of others, to protect our right to live the way we want in America, but believe that individuals cannot exercise their freedom to bear a child or not.
Our group discussion started at a far more philosophic level. We agreed to read selected portions of Dostoevsky's "The Grand Inquisitor." Written during the rise of communism in the 1920s, it raises the question in a satirical manner of whether humans really want freedom, whether the species is really wired to survive, let alone thrive, in a free society.
Even when we possess freedom, we often seem to seek community alignment in the form of clubs, fraternity, religion, political party. We sacrifice our "freedom" to comply with the rules of the community we have aligned with.
Many current events might suggest there is some truth in Dostoevsky's suggestion that we humans really don't want a pure form of liberty. Many tolerate authoritarian rulers, even when they have the option of freedom. We seem to feel that we need someone to tell us how to relate to one another.
Even here in Indiana we vote for politicians who would take away our freedom, whether that be the freedom of whom we love and marry or whether we choose to give birth.
The efforts of these leaders could be better focused on numerous other causes, for example relieving poverty.
We allow our neighbors to exist in poverty that assures their lack of freedom. At the same time, it creates an environment where others lose freedom as a result, and millions of tax dollars must be spent to protect us from crime committed by some of those very neighbors experiencing desperation and fear.
So we posed the questions, What is liberty? What is freedom?
To me, freedom is when the aspirations for your life closely resemble your daily existence. Some choose to be servants in life, some choose to be leaders, and many fall somewhere in between.
When will we love liberty so much that we will live our lives to assure that everyone has liberty? We definitely don't need more constitutional amendments to take away our freedom to be who we are.
What does liberty mean to you? How do you define freedom? Are our elected leaders ensuring everyone has the same shot at a decent—no, gratifying, fulfilling and healthy—existence? Are we focused on what really matters?•
__________
Odle is the former chief operating officer of Indiana University Health and CEO of Methodist and University hospitals. Send comments to [email protected].
Please enable JavaScript to view this content.