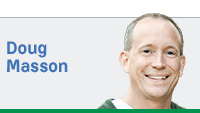 The Indiana Office of Tourism Development has announced that "Honest to Goodness Indiana" is the new slogan with which it will attempt to promote the state to tourists. IBJ reported that slogan was the product of a panel of 30 individuals within the travel, tourism and hospitality industries, government leaders, and representatives from both the public and private sectors as well as a development process including input from nearly 8,000 consumers.
Maybe this is a case of too many chefs spoiling the broth, but my prediction is that this will be remembered alongside the infamous "Wander Indiana" in terms of maligned state slogans.
Given our traditional strengths, the undertaking assigned to the office was a little cruel: a culture of humility and hard work having to promote itself to those seeking leisure. So, I do sympathize with the office, which was essentially tasked with answering the questions, "What are Hoosiers? And why would I want to come see them?"
Whatever the origin of the term Hoosier, however, the term generally came to mean someone who was simple, honest and hard-working, and it seems like a bit of an affectation today. This is not because Hoosiers of today are somehow less than our ancestors, but because homogenization of American culture has been under way for quite some time.
In bygone days, when a Hoosier was perhaps distinct from other Midwesterners, travel and communication from place to place was more difficult. The relative isolation encouraged distinctions from region to region.
Now we have air travel and interstates, cell phones, the Internet, a McDonalds at every exit and a Clear Channel radio station in every market. We traded our unparalleled one-class basketball tournament for more trophies. We abandoned our idiosyncratic but suitable time system so the Important People in New York would not get confused when they placed calls to Indiana.
People simply do not identify with others, to the extent they once did, based on physical proximity alone.
Whether the world has moved on or not, the tourism office's task remains to promote a geographical region.
Other states have promoted the features of their environment. Michigan has its lakes. Colorado has its mountains. Florida has its weather.
Indiana's physical composition is as practical as its people, but fertile soil and a minimum of natural disasters does not a tourism destination make.
Moreover, our commitment to the environment typically takes a back seat to other concerns like agriculture, property rights and antipathy toward government. According to a recent study by the Environment America Research and Policy Center, Indiana ranks first in toxic discharges into its waterways.
Still, challenging as the task of coming up with a slogan was, the office went with the worst of all worlds. "Honest to Goodness Indiana" reinforces hokey stereotypes of the Indiana that the rest of the country has ignored aggressively for decades.
Worse still, all too often the slogan can best be applied ironically ("No. 1 Source of Toxic Discharges: Honest to Goodness Indiana!").
Finally, even if, for the sake of argument, the slogan is a spot-on description of Indiana, wholesomeness is not going to draw tourists. Nice guys finish last.
Still, one ought not criticize without offering alternatives.
I say we go with "Indiana: Our corn and tomatoes are pretty good. And it's often pleasant here in the fall."•
__________
Masson is a Lafayette attorney, author of Masson's Blog and former counsel for the Legislative Services Agency. Send comments to ibjedit@ibj.com.
Please enable JavaScript to view this content.