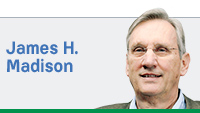 Indiana was for a century and a half the heartland of the American Dream.
Pioneers bought land cheaply, built log cabins, grew corn, and soon acquired iron stoves and store-bought clothing.
The late-19th-century industrial boom created smoky factories and abundant jobs.
By the early 20 century, most Hoosiers knew the answer to the question "Ain't God Good to Indiana?"
It got better. The post-World War II boom brought great jobs, along with health insurance and pensions.
I've lived the American Dream, even though, like many of my generation, "I ain't no millionaire's son."
My father returned in 1945 from an involuntary tour of Europe to a simple factory job. The GI bill offered a home mortgage and a bit of education.
With hard work in the 1950s and 1960s, my parents rose to two cars and education for all five kids. In retirement, they drove an RV to the four corners of the nation.
The American Dream would last forever, we thought.
Those days are no more.
The facts are undeniable. The rich are getting richer and the poor are getting poorer.
The middle class is sliding off center stage.
Hoosiers ranked 21st in per capita income in 1950 and 40th in 2010.
Rising poverty is a reality more so in Indiana than most states.
And it's even worse because we now have two Indianas—a rich and a poor, an A team and a B team.
Hamilton, Boone, Porter and Warrick counties are doing quite well, thank you.
Many rural counties and some of the old auto and gas belt towns are in deep hurt.
And it's not just income where the other Indiana lags. It's the whole kit and caboodle, from schools and nutrition to methadone and the arts.
It's the kids who always pay the biggest price.
Once again, a parsimonious Legislature has denied all young children the opportunities for early learning available in well-off Hoosier families.
Of course, we've always had the poor with us.
Even in the best of times, prospects for moving up the ladder were slight. A step or two up, but seldom rags to riches.
But for 150 years, there was enough social and economic mobility to keep alive the American Dream.
Hard work and responsible choices offered just rewards, we believed.
No so much these days. That's the rub.
What do we do?
Some say do nothing. (They don't actually say it; that would be cruel, but they do believe it.)
It is what it is, they say, and so it goes. Let the market decide.
Most of us want to do something, but the immensity of the problems overwhelms us.
Here are some first steps.
First, acknowledge the problem and admit the harsh reality that no single policy—local, state or national—can fully restore the American Dream.
Neither can platitudes about Hoosier goodness.
Neither can silly claims that talking about income inequality is fomenting class warfare.
What can help is smart government.
Our state government is responsible for education.
Education that not only teaches basics, but education that gives young Hoosiers opportunities to learn about the world in which they live and make good 21st century choices.
More than ever, education is the key to a glimpse of the American Dream.
And those of us lucky to have lived the dream have obligations, from private charity to higher taxes.
Here's Gene Debs' favorite line from James Whitcomb Riley: "There's nothing 'at's patheticker than jest a bein' rich."•
__________
Madison, an Indiana University historian, is author of the forthcoming book "Hoosiers: A History of Indiana." Send comments to [email protected].
Please enable JavaScript to view this content.