Do the northern suburbs need another pizza place? With a recent onslaught of pie purveyors, that's a legitimate question.
However, if said pizza place comes in the guise of a friendly neighborhood watering hole that carries with it the Sahm's pedigree, I thought it at least worth a visit. And after that visit, it's a pleasure to report that Rockstone Pizzeria & Pub (11501 Allisonville Road, Fishers, 288-9761) does what it does well.
Oh, perhaps the Spinartigoat Dip ($6.95) doesn't come across as much more exciting than an average spinach artichoke appetizer—despite the addition of goat cheese and barely perceptible fresh basil. But what counts is what's delivered from the wood-burning, brick oven. There, Rockstone does just fine. And with 24 beers on tap, there are plenty of washing-it-down options.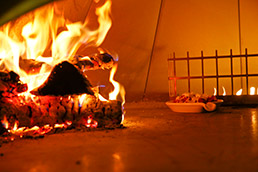 (IBJ Photos/ Aaron P. Bernstein)
Pies run a bit steep at $10.50-$13.50 for a signature 10-inch version, although you can go as low as $7.50 for basic cheese. (You can opt for wood-fired or go the traditional route.) The Sassy Karl proved a good choice on the wood-fired front, smartly combining chorizo, diced capacollo (from Goose the Market), chili oil, pepperoncini, mozzarella and the house tomato sauce. Keeping the topping pieces small, each slice included the intended mix, and the thin-ish crust was nonetheless substantial enough to carry its weight.
Other options you might not find at other pizzerias include a Roast Pork Pie (with a Dijon mustard barbecue sauce) and a Club Med (with artichokes, basil pesto and, a theme here, pistachios.)
Sharing space in that oven are baked pasta dishes, including Shrimp Bisque ($12.95), which is not to be confused with its soupy namesake. This dish features cavatappi pasta (that's a twisty, medium-thick variation) mixed with roasted tomatoes, ricotta, mozzarella, more than a half dozen large shrimp, a shrimp bisque sauce and a smattering of pistachios.
Sandwiches here are housed on thick, grilled, house-made focaccia—which means taking half of your order home is a distinct possibility. Each includes a side Rockstone salad (mixed greens, peppadew peppers, red onion, mozzarella and those pistachios), Greek salad, chips or a hearty penne pasta salad.
Baked pastas share oven space with pizzas at Rockstone.
The one vegetarian sandwich option, the Stuffed Veggie ($7.95), nicely melds roasted tomatoes, fresh basil pesto, crimini mushroom, fresh spinach and peperonata. At a similar price point to what you'd find at Panera, this is a distinct upgrade.
A bonus: If you've saved room, you can order Caramel Pineapple a la Mode ($4.95). Imagine a banana split that replaces the core ingredient with strips of fresh pineapple, glazed and caramelized, topping it with gelato and, yes, again, those crushed pistachios—which help give it a bit of crunch. Option B is the Nutella Nuggets ($3.95), which will have to wait until next time.
And that return might be for the weekly trivia night in the adults-only bar area (the family dining area is completely separate, which could be another selling point for both families and adults without kids).•
—Lou Harry
 
Please enable JavaScript to view this content.