In his pre-show chat before an opening-weekend performance of "Kings & Queens of Country," Dance Kaleidoscope Artistic Director David Hochoy said, without apology, that he didn't know much about country music before deciding to theme a show around it.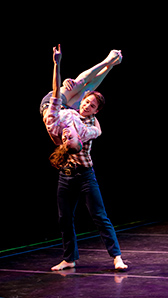 "Kings & Queens of Country" features choreography by Cynthia Pratt, above, and David Hochoy, below, setting dance to familiar tunes. (Photos courtesy of Crowe's Eye Photography)
It's understandable that, in a town with two top-rated country music stations, Hochoy would embrace an opportunity to expand his audience. Stepping into such a new world can be seen as either opportunistic (see Pat Boone doing heavy metal) or embracing a creative challenge (see Elvis Costello).
What matters are the results. And, apart from one key element, "Kings & Queens of Country" (March 6-16 at the Indiana Repertory Theatre) proved a successful experiment—an entertaining, populist evening with enough shining moments and good spirits to justify the effort.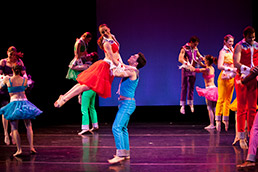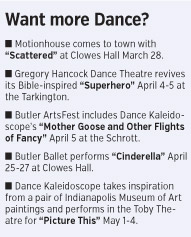 It started and ended with expected moves—a line dance to the Charlie Daniels Band's "Drinkin' My Baby Goodbye" and a hoedown to Asleep at the Wheel's "Big Balls in Cowtown." In between, the high points included first-act choreographer Cynthia Pratt's passionate, volatile take on "Jolene," inspired by but not slavishly following the tormented lyrics of Dolly Parton's popular song. In it, dancers Caitlin Negron and Emily Dyson dealt with the rough, Svengali-like Justin David Sears-Watson. "Jolene" stood in marked contrast to Hochoy's playful "Stand By Your Man," in which a male dancer formed the apex of a romantic triangle.
The evening's high point, "If I Needed You" (music by Emmylou Harris and Don Williams), offered a melancholy look at a group friendship filled with trust falls and graceful contact. And while we're not used to seeing DK dancers tap-tap-tapping, Liberty Harris and Jillian Godwin did just fine clicking away—and pleasing the crowd—to Tanya Tucker's "Oh Lonesome Me."
But it would have been easier to appreciate the skills of the dancers and the nuances of Hochoy's episodic choreography in the second half if it weren't for Guy Clark's costumes, the most counterproductive I've seen on any Indiana stage since the ones DK dancers were saddled with in "The Planets" in 2007. Adorned in half-tutus, fringy wristbands, and bright, bright colors, some of Indy's most talented dancers might have been mistaken for a backup group for The Wiggles.
Country music, at its best, has grit. There's sincerity to it. And members of the troupe have been showing greater acting strength in recent years—mining the drama and the comedic potential of their dances with increased intensity. Dressing them, without apparent irony, as if they were in an "Oklahoma!" overrun with Dream Curleys, works against that.
They deserved better.•
__________
This column appears weekly. Send information on upcoming arts and entertainment events to lharry@ibj.com.
Please enable JavaScript to view this content.