This could change everything.
Anthem Blue Cross and Blue Shield has signed a new kind of contract with the Franciscan Alliance hospital system that allows Franciscan to make more money only if it saves money for Anthem.
If more doctors and hospitals sign similar deals with Anthem, it would start to end the payment arrangements that are widely blamed for the ever-rising costs in health care.
 

Lee
Franciscan and Anthem have created what's known as an accountable care organization. That means Franciscan is financially accountable for what it spends to care for 63,000 patients its doctors and hospitals treat regularly, who also have Anthem benefits provided via employers or purchased individually.
The three-year contract, which begins April 1, involves all 11 of Franciscan's hospitals around Indiana, including the three it operates in the Indianapolis area. About 300 physicians are also part of the contract.
"We're very enthused with Franciscan and their willingness to go this route," said Dr. David Lee, Anthem's vice president for provider engagement and contracting. "It says they want to do what's best for patients."
This is the first accountable care organization, or ACO, Anthem has formed in Indiana. Its parent company, Indianapolis-based WellPoint Inc., now has 84 ACOs nationwide. And other health insurers are looking to sign similar arrangements with health care providers.
Franciscan already has formed multiple ACOs in partnership with the federal Medicare program for seniors. Medicare was authorized to start forming ACOs by President Obama's health reform law, the Affordable Care Act.
Under all accountable care contracts, health care providers take responsibility for cost and quality of the care provided to a specific group of patients. In Franciscan's case, that means it is even responsible for bills those 63,000 Anthem patients rack up with non-Franciscan hospitals and doctors.
Doug Leonard, president of the Indiana Hospital Association, said that even though he has no direct knowledge of the Anthem-Franciscan deal, he views it as a step in the right direction.
"It's a good sign that the insurance company and the hospitals are working together to experiment with new payment models," said Leonard, who is the former CEO of Columbus Regional Hospital. "It sounds like a way to align their incentives to improve their cost and quality of care."
The contract with Anthem will pay Franciscan a small amount each month for each patient Anthem assigned to the ACO to help cover the cost of the staff required to keep track of those patients—even when they aren't in a doctor's office or hospital facility.
In a similar program for physician practices, Anthem pays $3.50 per month for each patient. While Anthem would not disclose the payments it will make to Franciscan, it said that amount is a good guide. That would mean Franciscan receives $2.5 million to $3 million a year in these payments.
The new deal also will score Franciscan on 38 quality measures. Those measures include how many patients have received proper preventive screenings, how many diabetes patients are taking their medicines and getting regular blood sugar tests, how often physicians are prescribing generic medicines when they're available, and how many patients are making avoidable emergency room visits.
If Franciscan earns enough points for its quality, it qualifies for a year-end bonus.
That bonus will come from any savings Franciscan achieves in caring for those 63,000 patients. Those "shared savings" payments will be calculated by comparing total costs of care with expected costs of care for the year.
The expected costs will be calculated based on the total spending for those 63,000 patients in the past 12 months, plus the average percentage increase in costs experienced by all health care providers in Indiana.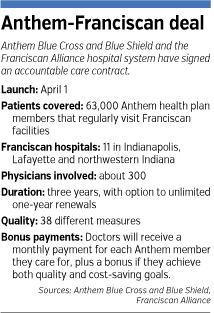 In the second and third years of the contract, Franciscan still will be eligible for a bonus if it achieves savings. But it also will be on the hook to pay Anthem back if the cost of its care exceeds the projected costs. Anthem calls this "downside risk."
Franciscan has been one of the few hospital systems to actually earn "shared savings" bonuses in its Medicare ACO programs. Out of 32 hospital systems that signed up for the Medicare Pioneer ACO program in 2012, Franciscan was one of only 13 that saved money for Medicare.
Franciscan pulled in $6.6 million—half the money it saved Medicare in 2012.
"Our health care system formed the first Medicare ACO Shared Savings in Indiana in 2012 and was among the first nationally to do so," Kevin Leahy, CEO of Franciscan Alliance, said in a statement.
Teams from Anthem and Franciscan already are having meetings and sharing data to help track the 63,000 patients in the Franciscan-Anthem ACO. They'll look to save money by reducing the number of patients coming back to the hospital a second time for the same condition and cutting back patients' use of the emergency room.
Such collaboration is almost unheard of in typical insurer-hospital contracts. In fact, as recently as four years ago, Anthem and Franciscan engaged in a 10-month court battle when a contract negotiation broke down.
"That's really refreshing," said Steve Morgan, an Anthem negotiator who worked with Franciscan on the deal. "Most negotiations, it's this chess match."
Anthem's Lee said the insurer is having discussions with other hospital systems in Indiana about forming ACOs or entering other kinds of payment arrangements that reward low-cost, high-quality care, rather than simply pay health care providers more for doing more things to patients.
Leonard, the hospital association president, said nearly all his members agree these new contracts need to happen, but they are fearful of making the finances work in the transition.
"A lot of hospitals are waiting to see how these things are unfolding," Leonard said. "The logic of it, the theory of it, is clear. The fearful part is, how do you throw the switch? And what is the financial bridge that will get you there?"
Lee said Anthem is willing to help providers make the transition to accountable care before making them liable for costs that exceed projections.
"We're very willing to take a gentler approach," Lee said. "We really would like to have a value-based contract with any provider that's willing and capable."•
Please enable JavaScript to view this content.