Several production staffers at WTHR-TV Channel 13 could wind up looking for work in the months ahead as the NBC affiliate becomes the last of the local stations to extensively automate studio functions.

The coming slim-down has even stoked speculation among some that owner Dispatch Broadcast Group might be tidying up for a sale of some or all of its properties.

But a spokesman for the union representing about 30 WTHR employees said he believes the station is just belatedly recognizing economics of automated systems that require fewer humans to do the same job.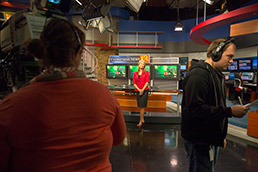 Automation will eliminate some behind-the-scenes production jobs at WTHR. (IBJ file photo)
"This is the last station in this market to go this way. We've been fortunate," said Danny Bridges, business manager of International Brotherhood of Electrical Workers Local 1225.

"We feel there's no substitute for human intervention," however, Bridges added.

A member of WTHR's production staff told IBJ it's conceivable 20 or more jobs could be lost based on the type of new equipment to be installed. Jobs at risk include production assistants, directors, and audio and graphic operators, said the employee who asked not to be identified.

TV stations over the last decade have been installing electronic systems such as robotic cameras, which can be controlled by a single technician sitting yards away.

Delia
Larry Delia, vice president and general manager of WTHR, confirmed that the station is looking to install additional "state of the art equipment" and that he recently disclosed that to production staff.

Delia declined to elaborate other than to say, "I can tell you that it's not [as many as] 20 people."

But, he added: "We don't know yet who that is or how many [people] that is" who will be affected.

WTHR has about 200 employees. It's the largest and top-rated local TV news station.

Bridges said the most vulnerable appear to be production assistants. They do a variety of off-camera jobs, from running teleprompters to maintaining audio levels. He said the union has a good working relationship with WTHR and that some workers might be cross-trained to make them less vulnerable to being cut.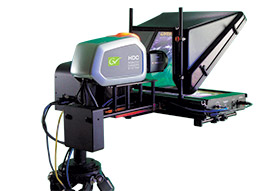 Robotic cameras like this unit require less human intervention. (Photo courtesy of Grass Valley USA)
He also declined to say how many jobs are on the line, but said the union will seek compensation for those affected as well as outplacement assistance.

WTHR also has been realigning some responsibilities. One employee said the station's production manager retired about eight months ago, and his job was not filled. Rather, his responsibilities were transferred to Delia and News Director Kathy Hostetter, the employee said.

Automation is nothing new in the TV studio, with other local stations having trimmed production staff years earlier. Sometimes technical jobs are lost when a multi-station owner centralizes master control once conducted separately at individual stations.

In 2010, WISH-TV Channel 8 cut about a half dozen news and production jobs under a move by Rhode Island parent Lin TV Corp., IBJ reported previously.

Today, a robotic camera travels between its two primary studios.

WRTV-TV Channel 6 and WXIN-TV Channel 59 also have added more automated devices in recent years that don't require as many humans.

"To be honest, I'd have to say that WTHR is late to the game. Many others have done this several years ago," said Bill Cahoe, director of the University Teleplex at Ball State University.

"People are better than robots, but that's the reality" of economics, Cahoe said. "I admire them for sticking with quality," he said of WTHR's focus on studio employees over the years.

A WTHR employee at risk said station managers over the years told employees that one of the station's strengths was the studio staff, even though "you don't have to pay a robot."

WTHR has had the luxury of being owned by a family company—the Wolfes of Columbus, Ohio—rather than a publicly traded conglomerate under the gun to maximize shareholder value.

Dispatch also owns WBNS-TV in Columbus, along with The Columbus Dispatch.

Under Dispatch, WTHR has invested heavily in investigative reporting that's garnered prestigious national awards over the years, including a Peabody, DuPont Columbia Award and an Edward R. Murrow.

It sent at least two reporters and production crew to cover the winter Olympic Games in Sochi, which Delia told IBJ previously "was not a cheap trip."

WTHR also paid handsomely to lure popular meteorologist Angela Buchman from WISH-TV in 2012. While her salary has never been publicly disclosed, industry insiders say a top-rated chief meteorologist in a bigger market can make upwards of $300,000 to $400,000 annually. Such investments and local commitment have paid off for WTHR.

Last September, coinciding with Buchman's arrival on air, WTHR posted double-digit ratings gains in all newscasts except at noon, versus the same month in 2012.

Such ratings have allowed WTHR to command ad rates that its conglomerate-owned local competitors can envy.

Of course, things could change for WTHR if owner Dispatch sells all or part of its operations in the years ahead. Last year, sale rumors were swirling in Columbus following a number of management changes. One involved the promotion of a non-Wolfe, Michael Fiorile, to the post of CEO.

Family member John Wolfe moved to become chairman of Dispatch Printing Co. and publisher of The Columbus Dispatch.

Other changes included the resignations of two senior executives at sister station WBNS-TV Channel 10.

The industry is experiencing a wave of consolidations, including Gannett Co.'s purchase last year of Belo Corp. TV stations in a $2.2 billion deal.

Dispatch is no stranger to Gannett. Last year, Dispatch Publishing began printing Gannett's Cincinnati Enquirer and Kentucky Enquirer. Dispatch also will begin printing Gannett's USA Today editions distributed in the region.

Gannett now owns at least 36 U.S. television stations. Locally, it owns the Indianapolis Star, which it bought in 2000.

While Gannett is the omnipresent boogeyman in the media rumor mill, there are plenty of other broadcasters who might someday want Dispatch, with media operations in two state capitals (Indianapolis and Columbus).

And with little or no debt to speak of, Dispatch "would likely bring a king's ransom," opined popular TV insider website NewsBlues, last April.•