It might take a while, but with proper care, "the restaurant where the Mass Ave Yats used to be" should have its own positive reputation—albeit one distinct from the popular former tenant at that location.
I'm talking about Liberty Street (659 Massachusetts Ave., 686-6382), the higher-end pub and dining room that, after months of renovation by the folks behind Dorman Street Saloon, has moved comfortably onto the Avenue. With entrées from $17 to $21, it's positioned both geographically and price-point-wise somewhere between Ralston's Draft House and Mesh on Mass.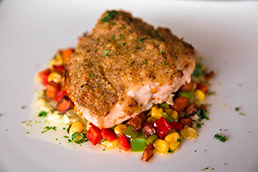 The Turf on Surf features roast salmon as its centerpiece. (IBJ Photos/ Aaron P. Bernstein)
Seating for the evening-only eatery is split between the dining room and the bar, which also includes a few two-tops. The menu divides into Starters, Small Plates and Entrees (with no desserts available on either of our visits—a missed upsell opportunity that is to be remedied soon). The requisite lineup of beers and craft cocktails served from the beautiful mahogany bar is supplemented by a slate of ciders, with samples readily offered to newbies.
Across two visits, we sampled the Liberty Greens Salad ($8.99), which may sound like something served near the Hall of Presidents in Disney World. With candied pecans in the mix, it rose above the standard house salad, even if the tab is a bit high. Paradise Poppers ($5.99) should satisfy cheese lovers with their Gouda-packed goodness and outstanding roasted tomato sauce, but our taste buds searched without success for the house-made jowl bacon that allegedly was part of the mix. Similarly, the Smoking Goose chorizo's inclusion in the Turf on Surf entrée ($18.99) was subtle to the point of nonexistence, although there were plenty of other pleasures in the bread-crumb-crusted roast salmon and its base of sweet corn hash.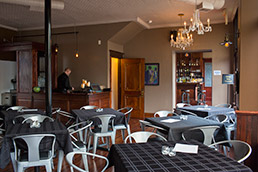 Tacos Loco Friend Chicken ($15.50)—yes, that's what it's called on the menu, friends—parked sizable tenders, lettuce and avocado pico in a pair of soft tortilla shells with a drizzle of lemon crema. Zing Skewers ($8.99) impaled the promised sweet and spicy chicken in a delicious sauce that should find a home on other dishes as well.
The section of Park Avenue that runs along the east side of the restaurant used to be called Liberty Street, thus the name. It's a nice nod to history for a restaurant that, once a few wrinkles are ironed out, seems to have all the ingredients for a long run.•
—Lou Harry
Please enable JavaScript to view this content.