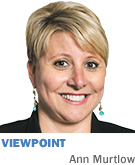 Education. Work-force development. Quality child care. The war on poverty. Crime. Economics. These are all familiar words and phrases used readily by policymakers, business leaders and child advocates. But rarely have the concepts been more tightly intertwined into good state policy than they were during this session of the General Assembly.
House Enrolled Acts 1004 and 1036 will increase the quality and quantity of early childhood education opportunities for Indiana's neediest children in significant and long-lasting ways. We all talk about approaching community goals from a strategic standpoint, but these two pieces of legislation are evidence that our community is capable of acting strategically to address those goals.
You may have heard the statistics. Low-income children who do not receive a high-quality early childhood education are significantly more likely to be placed in costly special education, more likely to never finish high school, more likely to become a teen parent, and more likely to commit a violent crime.
The Early Education Voucher Program, as well as the Child Care and Development Fund reform bill, will help nearly 25,000 Hoosier children, setting their young lives on a trajectory away from such pitfalls and toward a life of self-sufficiency.
Why, after so many years lagging behind other states and other countries, has Indiana finally made such policy changes? To a great degree, it is due to the vision of leaders such as Gov. Mike Pence, Speaker Brian Bosma and Senate Minority Leader Tim Lanane. But it is also because the Indiana business community has recognized the return on investment that this type of education pays in the long run.
Employers now realize that early childhood education is more than merely dependable "day care" so their employees can show up to work on time, and stay productive and focused on the job. The shift in thinking puts the focus on how those children in high-quality early learning environments today truly are becoming the productive work force of our future.
That's why this year—under the leadership of PNC Bank Regional President Connie Bond Stuart, the Indiana and Indianapolis chambers of commerce, and United Way of Central Indiana—a large consortium of business leaders came together to support these two pieces of legislation.
Eli Lilly and Co., Indianapolis Power & Light Co., Citizens Energy Group, Emmis Communications Corp., Shiel Sexton Co., Monarch Beverage, Herff Jones, the Glick Family Foundation, Walker Inc., Chase Indiana, UPS, OneAmerica, Collina Ventures, Community Health Network, RJE Business Interiors, Dow AgroSciences and Cummins Inc. were just a few of the businesses devoting more and more of their resources and attention to early childhood education.
Child advocates have known for years that our children deserve better, but having such strong support from the business community really helped push those bills over the goal line this session.
United Way harnesses the collective compassion and resources of the community to improve lives. I can't think of a better example of community-wide effort that will raise children out of poverty through education while creating the type of future-oriented work force that also saves taxpayer dollars in the long run.
United Way was pleased to do its part, but we offer a huge thank you to our partners in the business community for joining us this session. We look forward to forging these types of partnerships for years to come. On behalf of Indiana's most vulnerable children, we offer our deepest gratitude.•
__________
Murtlow is president and CEO of United Way of Central Indiana. Send comments on this column to ibjedit@ibj.com.
Please enable JavaScript to view this content.