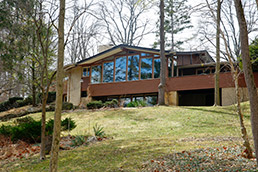 The Mayol's four-level home is nestled on two wooded acres. (IBJ Photo/Aaron P. Bernstein)
Matt and Mindy Mayol always coveted a mid-20th-century modern home, but they found their current residence—a 50-year-old monument to Atomic Age design—by pure luck. Back in 2006, the couple contacted a real estate agent about a Tudor they'd heard about, only to be told it was off the market.
The agent asked what they were looking for, and Matt dutifully reeled off his dream specs: 3,000 to 4,000 square feet on a couple of wooded acres, perhaps with a stream; four or five bedrooms; and of course that distinctive, Brady Bunch-era mid-century modern look.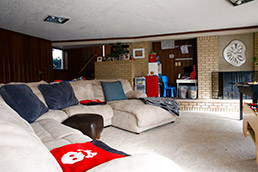 Some of the decor was scavanged from auctions and antique shops. (IBJ Photo/Aaron P. Bernstein)
"There was dead silence, and then the agent said, 'I know exactly which house you need to see,'" Matt recalled. "The rest is history."
Set next to Little Blue Creek, the four-level home was built in 1960 on two hilly, wooded acres in the Old Avalon Hills neighborhood near Hillcrest Country Club on the northeast side. It's now home to Matt, president and CEO of architecture firm Odle McGuire Shook; his wife, Mindy, a member of the University of Indianapolis kinesiology faculty; and their sons Alexander, 7, and Vincent, 5.
"We wanted to start our family here," Mindy said. "We could imagine our children running around here."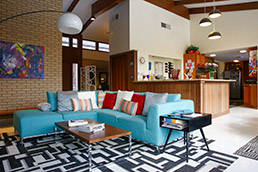 The home features a great deal of masonry, possibly specified by an architect worried about nuclear war. (IBJ Photo/Aaron P. Bernstein)
An entire busload of children could run around the home's wide-open interior. Placed artfully on the side of a gently sloping hill, its floor plan is dominated by a great room/kitchen/dining area combo, illuminated by a wall of windows overlooking the back yard. The centerpiece is a massive brick fireplace with a floating, cantilevered concrete hearth.
The floors are sealed concrete warmed by an in-floor heating system. Indeed, the entire house, including interior walls, is built using concrete blocks and cast concrete. Such structural overkill makes Matt wonder if perhaps it was designed to survive a threat that would have resonated strongly with its Cold War-era designer, Donald A. Hinshaw.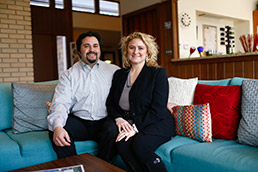 Matt and Mindy Mayol started their search for a home by asking a real estate agent about a Tudor. (IBJ Photo/Aaron P. Bernstein)
"I really think it was built with nuclear war in mind," he said.
The sturdy construction ensured that most of the home's one-of-a-kind features stood the test of time—from the flying-saucer-shaped lights in the entryway/gallery to the custom-built closet organizers. The only losses came at the hands of flippers who bought the house at an estate sale, then hurriedly "updated" the kitchen and baths with materials and designs not in keeping with the original design.
"We updated three of the four bathrooms and did some aesthetic things to place the home back in its proper time period," Mindy said. "We haven't done the kitchen yet. That's phase two."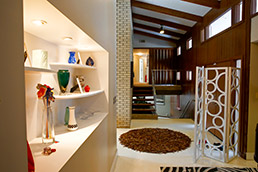 The couple are slowly bringing the house back to its period glory. (IBJ Photo/Aaron P. Bernstein)
Decorating the place required numerous trips to auctions and antique stores, plus lots of eBay hours. The family's immense dining room table came from one of Matt's old offices.
"I thought it would make an ideal centerpiece," Matt said. "We wanted one place for all of us to eat."
Not every piece of decor boasts simple, Space Age lines, however. In an area near the entry sits an antique piano. It seems quite at home—a fact Matt doesn't find surprising.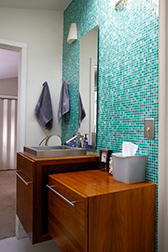 Bathrooms have been renovated to match the period. (IBJ Photo/Aaron P. Bernstein)
"One of the advantages of a mid-century modern home is that they can accommodate all eras of furniture and art," he said. "They had a lot of modern, clean, Atomic Age furnishings, but you didn't have to just have that. You could still have family heirlooms."
All those antiques are certainly safe in their new setting. The house is so well-insulated that, when the family lost power for two days last winter and had only the fireplaces for warmth, the temperature never dropped below 65 degrees.
"I think it would cost somebody more money to tear this down than to fix it if it ever got damaged," Matt said. "This is just a huge, well-built chunk of concrete."•
 
Please enable JavaScript to view this content.