Your feelings toward Tucanos Brazilian Grill (13225 Levinson Lane, Noblesville, 770-6988) are likely to be influenced strongly by whether you've dined at Fogo de Chao.

While Fogo isn't the first place in the world offering churrasco dining—in which servers slice meat and other offerings from skewers directly onto your plate in "until-you-are-ready-to-burst" quantities—it's the chain that defined it here in central Indiana.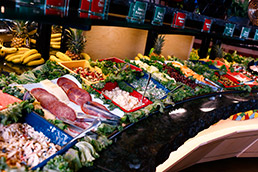 A substantial bar of appetizers, salads and sides supplements Tucanos Brazilian Grill's table-side meat slicing. (IBJ Photos/ Aaron P. Bernstein)
Since 2008, an invitation to a business lunch at Fogo de Chao downtown has been an appointment not to be missed. If you've been there, you've no doubt been spoiled by the impeccably carved meats that sizzle onto your plate; the seemingly endless salad and sides bar; and the sporty, gaucho-garbed serving staff.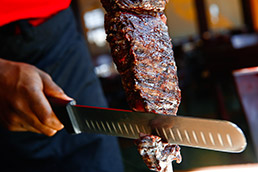 In comparison, well, Tucanos can easily feel like a theme park restaurant where the junior varsity staff mumbles a bit through the pre-set explanatory spiel, the meats are hit and miss (Top Sirloin = hit, fatty Contra Coxa = miss), and the uniform feels more Star Trek than South American.

But here's the (dry) rub: Lunch at Fogo runs $29.50; lunch at Tucanos is $15.95.

The dinner difference is $48.50 vs. $22.95.

Roughly translated, that means two can dine at Tucanos for the cost of one at Fogo.

Suddenly, the minor downgrades don't seem so bad, do they?

And Tucanos has its pleasures. Among them is the tasty Brazilian lemonade (not only with refills but with the option of switching out the fruit added to the mix) and the Lobster Bisque as an included item on the buffet. Other benefits: the brown and black beans as sides along with rich, buttery mashed potatoes, the salads (both pre-made and DIY) and sliced meats that make ordering an appetizer unnecessary (although I'm still curious about the Brazilian Cosinha). Those and the tableside marinated beef brisket and grilled pineapple, and the mere $6.95 for a kids-under-12 lunch all turn Tucanos from an also-ran into a more budget-conscious alternative to its luxurious downtown cousin.

Dinner, by the way, offers some beef and pork offerings not in the lunch lineup, including Brazilian sausage and Filet Mignon com Bacon. Skewers of shrimp, scallops and lobster are available at an additional charge, and vegetarians can stick to the salad bar ($11.95 lunch/$15.95 dinner).

Desserts, not included in the prix fixe, include Brulee Cheesecake, Mango Butter Cake, and the obligatory decadent chocolate towers. Our overenthusiastic waiter brought them out to show before we were even done with soups and salads, not appreciating that a meal at Tucanos is best experienced leisurely.•

—Lou Harry