Dow AgroSciences LLC is likely to become a stand-alone public company in the next three years, according to some Wall Street analysts—if the wunderkind division of Dow Chemical Co. lives up to the sky-high expectations of its parent company.

If, in a year or two, Dow Agro's profits are on course to double from current levels, Michigan-based Dow Chemical said it will consider spinning it off.

"We're all about maximizing its value and realizing its value," Dow Chemical CEO Andrew Liveris said of Dow Agro during a March 19 Q&A session with analysts in Saudi Arabia, according to a transcript of the meeting. "But waiting for the right moment to maximize that value, and doing it in a way that actually has shareholders benefit is our whole drive."

CEO Antonio Galindez says Dow AgroSciences can double its profits in five years.
Of course, Dow Chemical also could sell Indianapolis-based Dow Agro to another agricultural company, as it tried to do back in 2009 when Dow Chemical hit a cash crunch. Analysts said Dow Chemical didn't like the offers it received at the time, which was in the darkest days of the global recession.

How Dow Agro's future plays out could have a huge impact on Indianapolis. The company's $7 billion in annual revenue would rank it as the fifth-largest public company in Indiana, behind only WellPoint Inc., Eli Lilly and Co., Cummins Inc. and Steel Dynamics Inc.

Dow Agro employs about 1,800 people here, and its most recent hiring expansion touted annual wages from $65,000 to $95,000.

The company also is a founding member of the BioCrossroads initiative that is trying to grow a cluster of life sciences companies here, and is a key part of a new initiative aimed at enhancing Indiana's agricultural sector.

An independent Dow Agro could steer even more money into the local economy. John Mutz, former lieutenant governor of Indiana and former president of Lilly Endowment Inc., said corporate CEOs with independent decision-making power are critical to major community projects, such as the $28 million raised to host the 2012 Super Bowl.

"Without the big money of about 10 companies, it wouldn't have happened," Mutz said, because the involvement of major CEOs helped bring in the myriad donations from smaller organizations.

Smaller donors are "more likely to say yes if the head of a business, particularly a bigger business, calls them. In many cases, believe it or not, these CEOs actually made the calls," Mutz said.

Avoiding tax bill

A spinoff of Dow Agro is the most likely way for Dow Chemical to maximize its value, wrote David Begleiter, an analyst at Deutsche Bank Securities Inc. in a March 19 note to investors. A sale would generate a huge income tax bill, while a spinoff into an independent company could be done tax-free.

It was Begleiter's question about whether Dow Chemical would "consider" a tax-free spinoff that sparked Liveris' comments during the March 19 Q&A session.

In his note, he predicted that a spinoff would be "a value creating event for shareholders" and said it might occur in 2017.

Liveris had laid out a similar time frame when he answered Begleiter's question.

"Somewhere in the foreseeable future, in the next 12, 18, 24 months, I think your question is right on the money," Dow Chemical's CEO said.

Reasons for a sale

However, if Dow Chemical sold Dow Agro, it would likely be neutral at best for the Indianapolis economy. At worst, it could be disastrous.

Indianapolis was once home to another Dow Chemical business—Dow Brands, the maker of Ziploc bags. But when Dow sold it in 1998 to S.C. Johnson & Son Inc., the Wisconsin-based company shuttered the Indianapolis headquarters, eliminating 300 local jobs.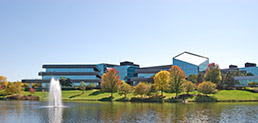 Dow AgroSciences LLC employs about 1,800 people in Indianapolis, most of them at its headquarters on the far northwest side of the city. (Photo courtesy of Dow AgroSciences)
One reason for selling Dow Agro to another company is that its fast-growing seed business has yet to achieve the scale needed to support the massive R&D investments Dow has made in that area in recent years, noted UBS analyst John Roberts.

Dow Agro's sales of genetically altered seeds surged from $800 million in 2010 to $1.6 billion last year. But because of the heavy R&D investments, the division operates at a slight loss.

"Seeds is near break-even because it lacks the scale for the required R&D to compete successfully, and could be worth more as part of a larger and/or more focused agriproducts business," Roberts wrote in a March 24 research note.

Dow Agro sells seed products under its own brand names against much larger rivals, such as St. Louis-based Monsanto Co. and the Iowa-based Pioneer division of Delaware-based DuPont.

Monsanto is more than twice as large as Dow Agro, with $14.9 billion in annual revenue. Pioneer had $11.7 billion in sales last year.

Even Antonio Galindez, CEO of Dow Agro, acknowledged the company needs more "financial help" to sustain its double-digit growth in R&D in its seed and crop protection businesses. In a Feb. 27 presentation to investors, he predicted that when Dow Agro's seed business achieves $2 billion in annual sales, it will "reach critical mass."

Other giants in agriculture products include Germany-based Bayer AG, New Jersey-based BASF Corp. and Switzerland-based Syngenta AG, which was rumored as a possible buyer of Dow Agro in 2009.

Dow Agro already has relationships with Monsanto and Pioneer. It has also licensed some of its technologies—such as its genetic traits for seeds and its Enlist weed control system—to both of the ag giants.

Doubling profits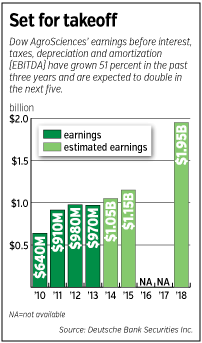 In spite of the longer-term speculation, Dow Agro officials reiterated that they are focused on growing within the Dow Chemical organization—from which Dow Agro derives significant benefits.

"Dow has not outlined any near-term plans to divest Dow AgroSciences. Importantly, Dow AgroSciences continues to run very well, delivering on its significant technology investments and meeting farmer needs for increased productivity," company officials said in a prepared statement.

"Further, Dow AgroSciences has continued to outperform the industry under Dow's ownership, benefiting from raw material integration and shared sites, and leveraging the scale economics of Dow's functional support."

Part of Dow Agro's success selling herbicides is that it can obtain low-cost raw materials, such as chlorine, from Dow Chemical. If Dow Agro were separated from Dow Chemical, some of those benefits would be lost, Liveris noted.

Dow Agro launched in 1989 as a joint venture of Dow Chemical and Indianapolis-based Eli Lilly and Co. Dow bought out Lilly's stake in 1997 for $900 million, in a deal that valued the company at $2.3 billion.

Today, similar agriculture businesses are valued at 11-12 times their annual EBITDA (earnings before interest, taxes, depreciation and amortization), according to Deutsche Bank. By contrast, Dow Chemical's overall business is valued at about 7.5 times EBITDA.

That difference could be turned into extra cash for Dow Chemical shareholders, if Dow Agro were spun off.

Based on Deutsche Bank's estimates, Dow Agro today would be worth $11 billion to $12 billion. And if it achieves—or is on course to achieve—its goal of $2 billion in EBITDA, it could be worth twice as much.

Begleiter, the Deutsche Bank analyst, wrote in his note that separation will not occur until the business "is tracking towards its target of doubling EBITDA from $1B in '13 to $2B in '17-'19." At that point, he wrote, "adequate value would be attributed to it in a separation."

Dow Agro thinks it can reach that goal because of major R&D investments by Dow Chemical that have it poised to roll out 13 new products by 2018.

If launched successfully, those products could double Dow Agro's profits in five to seven years. Last year, Dow Agro posted EBITDA of nearly $1 billion. That number could reach $2 billion as early as 2018.

"We doubled the value of our business over the last seven years, and we are confident we can do it again," said Galindez, who will retire as CEO on May 1 and hand the reins to Tim Hassinger, global leader of Dow Agro's crop protection business. "We are very, very confident that we have top-of-the-industry technology for many years to come."•