Brad Witter was running Blue Pillar Inc. in 2006 in a posh suburb of Atlanta, but his young family found household costs quickly growing.

Private school alone was going to cost $14,000 a year for each of his three school-age children, noted Witter, an Indiana native.

Witter
Living costs weren't the only things on his mind, but they were a big factor in why he agreed to move Blue Pillar to Indianapolis in 2011.

"Honestly, the financial pressures of being in a startup, paying for private school, and living in an affluent suburb of Atlanta probably are why I did move," Witter said.

Witter is among a growing number of people in the tech sector who have sought refuge in Indianapolis from skyrocketing living expenses in other cities, including technology hubs on the coasts.

Indianapolis' computer jobs don't pay nearly as much as similar positions in New York or California. But when you look at Indianapolis' much lower cost of living—and the higher buying power of a dollar—the city's tech workers fare better financially than their coastal counterparts.

Fueling the divide, Indianapolis' tech firms are raising their pay at a quicker rate—twice as fast from 2009 to 2012—than most of the country, even as living expenses remain relatively flat.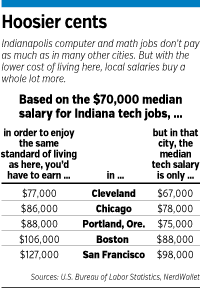 Local tech firms, which have historically recruited most employees from in state, are trying to take advantage of the divide between pay and expenses. Out-of-town workers are becoming a larger piece of the hiring puzzle at Interactive Intelligence Group Inc., which plans to add several hundred jobs locally in the next few years.

"That's explosive growth," said Kevin Small, director of global talent acquisition at Indianapolis-based Interactive Intelligence. "You can't just be looking for the best tech talent in Indianapolis any longer. Now you've got to expand out."

He described the number of Interactive's out-of-town hires as "ever-increasing." About 17 percent of hiring in 2014 has been from out of state, which ticked up from 15 percent in 2013.

A recurring theme among applicants: Tech hubs are becoming too expensive. So they're turning to Indianapolis.

"Cost of living is absolutely something that is part of the equation—and the reach of your dollar in the various markets," Small said.

"Computer and mathematical" workers earned a median of $69,650 in 2012 in Indianapolis, according to federal data. A salary that size pays for a lifestyle much more comfortable than that of the average Hoosier, who earns about half as much.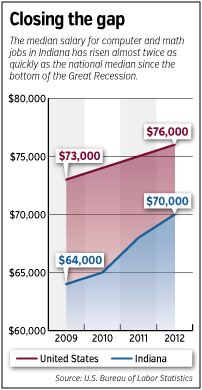 Moving to a place like tech-centric San Francisco and maintaining the same lifestyle would require earnings of about $127,000. However, the average computer or math job there pays about $98,000.

The gap is seen throughout the country's major tech hubs—New York, Boston, Chicago, even more recent ones such as Portland, Ore.

"I think it's compelling now that we've been in a period of time [when] employees are sensitive to costs," said Ben Dunford, a Purdue University associate professor of management who teaches a course on compensation.

"We're enjoying a relatively better period of time than we were in 2008, but these concerns are more salient. It's an increasingly better bargaining chip for companies in the Midwest."

'You have to educate them'

Employers in Indianapolis and most of the Midwest have long used the region's low expenses as a pitch to job candidates in pricier parts of the country.

The costs helped bring Greg Cole to Indianapolis from Rochester, N.Y., in 1997 to work for Interactive as a software engineer.

"Indy to me was just Hoosiers—Woody from 'Cheers,'" he said.

His wife, then his fiancée, was in Indiana at Taylor University, though, and he wanted to be with her. He interviewed with Interactive Intelligence, and the company won him over, including the compensation and how it compared to what he could get in New York.

Cole's story has become more common in recent years as more local companies grow to have national or global reaches—companies such as Interactive, ExactTarget or Angie's List.

"There are a few big guys in town now," said Jennifer Suverkrup, a senior talent acquisition specialist for Angie's List. "We've been looking outside [the state] a little more."

Recruiting on a national level means competing for employees against some of the biggest names in the business—Google, Apple, Microsoft, Facebook—and their deeper resources.

Indianapolis companies, in general, can't offer the salaries seen in Silicon Valley. That often means breaking down the math for job applicants to show them that, while the pay here is lower, they can afford more than what they could elsewhere.

"You have to educate them on the tax difference, the housing difference, the utilities difference," Small said. "Some folks just aren't going to get there on their own."

Wages rise, too

Local companies have still had to sweeten their offerings, though, as they try to recruit from other states.

"If we try to offer someone a salary package 30 percent below what they are making today, that's probably not going to be enough," Small said. "That could be perceived as a lifestyle change."

But, he added: "We can't be bringing in people from the East and West Coasts at these salaries that they've been getting."

Advancement opportunities and corporate culture can have a lot more leverage with prospective hires than pay has in Indianapolis.

"You still have an opportunity to make a name for yourself within our company instead of just being engineer No. 250," Suverkrup said.

New competition emerges

Indianapolis still has a lot of other cities to compete with when it comes to tech pay and cost of living.

Austin, Denver, Seattle, Nashville and Salt Lake City are just a few places that have their computer salaries still in sync with costs of living. And all five cities boast of their emerging tech scenes.

In most cases, recruiters say, transplants who come to Indianapolis already have connections to the area—like Blue Pillar's Witter, who grew up in Indiana, or Interactive Intelligence's Cole, whose fiancée attended an Indiana school.

"One of the most successful recruits from either the East or the West Coast is someone who's got roots in Indiana and somewhere in the Midwest," said Small, the Interactive Intelligence recruiter. "A large portion of us are drawn back to our families and our roots."•