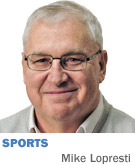 So maybe you've heard of Cutters Race Team. That's the new idea where, for a few bucks, you can help sponsor an Indianapolis 500 race car. So can your neighbor. So can your plumber.
They call it The People's Car. How's it going? We'll get to that in a minute, but first, can you keep a secret?
It concerns Kathie Mason's surprise for her son Dylan O'Dell. He's a petty officer, second class, sailing around somewhere in the Middle East on the aircraft carrier USS Harry S. Truman. But come Indianapolis 500 race day, Dylan will be back home again in Indiana, and his name is going to be right there on one of the cars.
Yep, he's a People's Car sponsor. Just like his last name was Valvoline. Only, he's not supposed to know that yet, so this is just between us, right?
The People's Car is the idea of Jason Godby and Travis Tetrault of Indianapolis. For $100, you get a package including a T-shirt, a towel and your name on the car, perhaps next to Goodyear. You can go as high as $700, with more perks.
Dylan has a $200 package coming, but that's classified.
"He kind of gets gypped at Christmas because he's on a ship and I can't send him a whole lot of stuff," his mother was saying. "I thought this would be a good welcome home gift, and maybe it'd make up a little bit for Christmas, too."
Godby and Tetrault are hoping to sign up 10,000 sponsors for $1 million and help woo the masses back to the race, on the theory that maybe it has lost a step or two in recent times.
"We're just a couple of race fans that are trying to make a difference," Godby said.
"The track was a great place to be, but there was a feeling it had lost that attraction," Tetrault said. "How can we bring that back? A great way to do that is to get more people involved, and we thought the best way to do that was to bring along 10,000 other fans who wanted to be connected."
So how's it going? Closing in on 10,000 through that www.cuttersrt.com website?
"We're a little shy of that," Godby said, not prepared to say what "a little" means.
But sponsors have come from 25 states, Canada, South America.
"We've got our own little club down in Brazil," Tetrault said.
Just lately, the two guys were loading packages for mailing until the middle of the night. And they coughed up their own sponsor payments, too.
"That was part of our deal," Godby said. "If we're doing it, we're still putting our own money in. Travis and I put in our hundred bucks, and we're up until 2:30 packing everybody else's packages. It's been a heck of a ride."
One thing they didn't expect was so much emotion to come bouncing back to them from people buying sponsorships with their heart more than their credit card. Many names on the car will be in honor of a child, or in memory of a parent.
"That was kind of shocking," Tetrault said. "We were just doing this as a way to experience the race a different way, and get a bunch of race fans involved. We found out there was a lot deeper meaning to this."
And so the name of John Richardville, who did not miss an Indy 500 for 40 years until he lost his fight with cancer, will be on there, at the request of his widow, Sheila. And Skid, the Colorado search and rescue dog, will be a four-legged sponsor, because of his owner, Jill Reynolds.
And Dylan O'Dell will walk off his aircraft carrier in April and get the news. He saw his first race at age 8, and 14 years later, has missed only one since, when he was deployed overseas.
"To see his face is going to be priceless," said Kathie, who figures this gift will top the previous gold standard in presents to her son: a game for his PlayStation. "I'm going to be very emotional because I know what this race means to him."
But will the surprise hold, or will some blabbermouth tweeter spill the beans?
"I've got my fingers crossed," she said.
The People's Car has been getting plenty of business from older fans but would like to reach out to the younger set. There is no driver yet, and if there aren't enough sponsors for an entire car, one of Sarah Fisher's entries will carry the names. Cutters Race Team wishes to make it clear this year is just a start—a brainstorm with barely time yet to blossom.
"The main thing we want to get out there to everybody is, we will be back," Tetrault said. "We want to make sure people understand that we can make this happen."
Meantime, Dylan O'Dell, fresh from the high seas, will soon get a thrill. So please, don't mention this to anyone else. Loose lips sink ships, not to mention a mother's plans.•
__________
Lopresti is a lifelong resident of Richmond and a graduate of Ball State University. He was a columnist for USA Today and Gannett newspapers for 31 years; he covered 34 Final Fours, 30 Super Bowls, 32 World Series and 16 Olympics. His column appears weekly. He can be reached at mlopresti@ibj.com.
Please enable JavaScript to view this content.