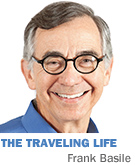 One of the best things our government ever did was to set aside land for national parks. Another has been to keep them in as pristine a condition as possible while making them accessible for people to visit.
Each of the 59 parks is different and has its own unique setting and breathtaking beauty. I've tried to see as many as possible. To date, my wife Katrina and I have visited 41.
We're not their only fans, as was made clear in Ken Burns' PBS documentary "The National Parks, America's Best Idea." (That title came from writer Wallace Stegner, who called the national parks "the best idea we ever had.") No activity of the federal government engenders such universal support and public loyalty.
It's difficult to pick favorites. Like traveling in general, we feel the place we just visited was the best. However, if pressed, I would rank our favorites as Yosemite, Yellowstone, Grand Canyon, Glacier, Great Smoky Mountains, Zion and Rocky Mountains. 
After many, many trips, my head is spinning with facts about them. How, in 1871, Yellowstone became the first national park, followed by Sequoia and Yosemite. How the Great Smoky Mountains is the most visited national park (about 9 million a year, more than twice that of the Grand Canyon). How California is the state with the most national parks (nine—only one ahead of Alaska).
I remain fascinated by the seemingly conflicting goals of the National Park Service: to make the parks available for all to enjoy and to keep them in pristine condition. In my experience, it's a balancing act that's been accomplished well.
We enjoyed a Thanksgiving dinner at the inn in Sequoia National Park and were mesmerized by the stunning scenery as we dined in the glass-enclosed dining room. It's adjacent to Kings Canyon National Park in the southern Sierra Nevada, east of the San Joaquin Valley, which features massive mountains, rugged hills, intense caverns and, it claims, the world's largest trees. I've been there and I believe it.
Other favorites include the little-known Crater Lake National Park in Oregon. The national parks website describes the park as follows: "Crater Lake has inspired people for hundreds of years. No place else on earth combines a deep, pure lake, so blue in color; sheer surrounding cliffs, almost 2,000 feet high; two picturesque islands; and a violent volcanic past. It is a place of immeasurable beauty, and an outstanding outdoor laboratory and classroom."
Our first view of Crater Lake was at sunrise and it was truly a spiritual experience.
Another lesser-known location on our list of favorites is Big Bend National Park, a place of magnificent beauty in southwest Texas. There, you can clearly see thousands of stars at night while in the serene setting of a mountain, desert and the Rio Grande River.
Mesa Verde National Park is on our favorites list, too. In addition to spectacular vistas, it offers insight into the ancestral Pueblo people who were in residence here from 600 to 1300. It's packed with well-preserved architectural sites, including 600 cliff dwellings.
There are more, of course. More memories and more parks to visit. I'm looking forward to the next … which may become my favorite.•
__________
Basile is an author, professional speaker, philanthropist, community volunteer and retired executive of Gene B. Glick Co. His column appears occasionally. Basile can be reached at Frank_Basile@sbcglobal.net.
Please enable JavaScript to view this content.