Usually, not much happens at 4 a.m.

About all that's stirring are cops, medical workers and third-shift factory stiffs.

But even in the relatively drowsy world of Indianapolis television news, new signs of life are stirring at this ungodly hour.

WTHR-TV Channel 13 recently stole a page from WXIN-TV Channel 59's winning playbook by adding a 4 a.m. newscast.

Delia
WXIN pioneered the ultra-early trend locally in 2009. With it, WXIN commanded the leading share of viewers among all local stations at the groggy time slot. Still, it seemed like kind of a novelty.

But with another station now defiling the 4 a.m. hour intended by the Creator for REM-sleep, one might be compelled to ask: Who in the name of Edward R. Murrow is watching local TV news at 4 a.m. besides the elderly, insomniacs and those decompressing from the night shift?

About 30,000 households, it turns out, with a little more than half of them watching the WTHR broadcast. It's a pretty small audience compared to the station's other newscasts—the top-rated 6 p.m. show attracts 10 times the audience.

"It seems kind of absurd," said Miller Brooks media buyer Sue Doron.

But, she explained, "it's one more half-hour [of commercials] they're able to sell."

Indeed, why not sell the early newscast to a local car dealer instead of running network early-news shows carrying national ads?

Oh, sure, the station might just as easily make money selling time to infomercials for exercise products promising to shrink one's buttocks to the size of a grapefruit.

But there's more at stake here than the "huge profit center" news has become for local television, said former Indianapolis television news anchor Phil Bremen.

"Local news is where every market's key stations establish their identities," said Bremen, now an associate professor of telecommunications at Ball State University.

Or, as fictional anchorman Ron Burgundy might say, it's about—say it softly, respectfully—the brand.

"WTHR is a huge local television news brand," said Larry Delia, president and general manager of WTHR.

Until last year, Delia held the same position at WXIN and before that in numerous other television markets. The force is especially strong in Indianapolis for WTHR news, which generally leads the ratings in most slots, and one needs to protect it, he said.

"You're always looking to build loyalty. What you are doing is building your brand," said Clyde Lee, former WRTV-TV Channel 6 news anchor and now a principal of local media firm Lee/Willis Communications.

"It's 'owning the real estate.' You want to be there" at a time slot, said Rick Gevers, a former TV news director and now head of Zionsville-based TV talent firm Rick Gevers & Associates.

Yeah, but who's awake?

Even if one can buy into the importance of this brand thing, it's still hard to fathom that there's any appreciable audience at that time.

In some markets, there actually is a decent number of eyeballs, and part of the reason is changing lifestyles, said Tom Cochrun, former WTHR anchor who now lives in California and produces video documentaries.

There's a more health-conscious sliver of the population who gets up early to jog or go to the gym, Doron said. Where she works out, the televisions are tuned to local news or ESPN.

This ultra-early period for activity wasn't a big deal when Cochrun was on the air; he stepped down in 1995.

"When I worked in television, we thought of the 6 a.m. news as being early."

Still, "we saw a point when the true growth sector in television news was in the morning. Lifestyles changed and the early-morning news was a major point of information. Late-night viewing began to decline."

The shift to early-morning TV news viewing also might reflect diminishing news content on radio stations, Bremen said.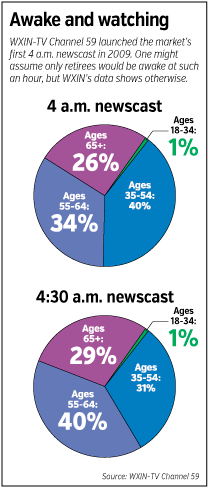 There was a day when one would shave and eat breakfast while listening to stations such as the former WIBC-AM, which had several beat reporters and news guys like Fred Heckman.

Cochrun once worked at the station and had a 5-6 a.m. show known as "Tomorrow is Here," which provided news content.

"Radio was where people got their broadcast news during the day. Since then, though, audiences have tilted toward TV at all hours," Bremen said. Today, "many commercial radio stations pay only lip service to news—if they even bother to do that."

"I think the real loser in this case is radio," said Bill Perkins, a longtime local media buyer now semi-retired. He's also one of those older folks inclined to be awake before 5 a.m.

Perkins said one of the big draws to early-morning television news has been weather and traffic, something he said WXIN has done a particularly good job at. A recently brutal winter only helped draw more viewers to these early-morning newscasts, he said.

And many of these viewers are working folks for whom weather and traffic conditions are of key interest. That may help explain why ultra-early-morning viewers aren't just retirees.

At 4 a.m., 40 percent of WXIN Fox59 viewers are age 35-54, while those age 65 and up amount to 26 percent of the audience, as of February. So the idea of the older demographic base dominance "is actually a misperception, at least about our newscasts," said Scott Russell, research director at Fox59.

Advertisers tend to prefer buying ads on shows with a younger demographic that is more likely to spend money.

In the February ratings period, WXIN and WTHR each had a roughly 1.3 to 1.4 percent rating at 4 a.m., or a combined total of about 30,000 viewing homes.

Those ratings, though relatively small, topped other shows running at the same time up and down the local dial.

Not big investment

The cost of entry into earlier hours is not as much a factor as one might think.

Television station executives said the earlier newscasts merely require calling in staff a half hour early.

Lee said that, for all practical purposes, stations are already 24-hour operations, anyway. Not long after wrapping up 11 p.m. newscasts, Lee would often see employees rolling in after midnight to work on reports for ratings sweeps weeks.

"If you have this machine up and running, then why not utilize it more often? I don't know that it costs you all that much more," Lee said.

So just how do these 4 a.m. newscasts differ from others that run later in the day? Not much.

On one recent morning on WXIN, co-anchor Scott Jones was his usual happy-go-lucky self. Weather guy Ron Smiley rattled off his meteorological tongue-twisters without a hitch.

Over at WTHR, which only recently moved up its newscast to 4 a.m. from 4:30 a.m., chipper meteorologist Chuck Lofton was talking a little slower than usual and wasn't quite as perky. Of course, that's not necessarily a bad thing when many of the viewers are exhausted.

But Lofton made a rare gaffe when saying the weather for one day would be "sunny but breezy" when in fact he was calling for rain that day—something he quickly caught.

Both stations relied on some pre-recorded news segments. A couple of field reporters were also rousted early, appearing in the dark in a couple of remote shots.

Still, you have to wonder whether this intrepid earlier staff might not have voodoo dolls in the likeness of boss Delia, who perhaps coincidentally said his back has been hurting lately.

As for whether other local stations might start their newscasts at 4 a.m., WRTV-TV Channel 6 Director of Audience Development Paul Montgomery said the station has no such immediate plans, but is always evaluating time slots.

WISH-TV Channel 8 officials could not be reached for comment.

These kind of ultra-early newscasts aren't new. Many cities went this route years ago. It was a natural for cities where viewers leave the house early for long commutes. Some markets also have a big population of shift workers.

"If anything, Indianapolis is kind of late to the party," Gevers said.•