They say a picture is worth a thousand words. Local attorney Richard Bell says his picture of the Indianapolis skyline is worth $1,500 or so if you've posted it on your website without first paying him to license it.
Bell said he's found about 300 people using the photo he took in 2000. According to court documents, the photo was registered with the U.S. Copyright Office in 2011, after which Bell's demand letters and lawsuits began to fly. Bell said most defendants settled, with fewer than 10 defendants scheduled to go to court Sept. 29 in the U.S. District Court for the Southern District of Indiana.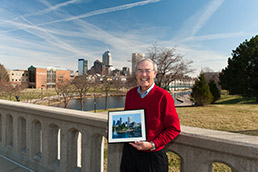 Richard Bell says his photo of the Central Canal and Indy skyline has been stolen and posted online by hundreds of people. (IBJ Photo/Eric Learned)
Defendants call Bell a copyright troll or worse. His litigation has survived dismissal motions, and this month Judge Tanya Walton Pratt denied a counterclaim that Bell abused the legal process in one of three cases still pending.
 
"The essence of it is they called me a digital extortionist," Bell said, but he claims the law is on his side. His lawsuits allege not just copyright infringement and unfair competition, but also theft.
"Defendants have realized and continue to realize profits and other benefits rightfully belonging to Plaintiff," Bell asserts in his suits that seek treble damages and attorney fees.
"There are members of the public that think that they can steal photographs off a website and use it, and it's theft, just plain and simple," he said. "If you walked onto my property and took down my tree or if you stole my car … it's essentially the same thing."
Bell said he's licensed the photo to several people for a fee of $200 through the website www.richbellphotos.com. He justifies his litigation and tactics by invoking the 1970s Fram Oil Filter TV commercial – "You can pay me now, or pay me later."
As was implied in those commercials, later costs more. "I ask (defendants) to take it down and compensate me," Bell said, acknowledging his price often rises with the passage of time.
More than 100 defendants resolved before cases were filed, about 75 defendants settled after suits were filed, a few cases were dismissed for jurisdictional issues and just a handful of defendants remain, he said.
"You can see I take this kind of seriously," said Bell, who claims he's retired and just protecting his proprietary rights to the copyrighted image.
Jessica Wilch is no lawyer, but she said she's gotten an education through her involvement in one of Bell's cases.
"I'm a layperson, but if you look at the actions going on here, I feel there's something that's wrong in the legal system, and he's taking advantage of it," Wilch said.
In her work as a Web designer, Wilch is diligent about checking out images before using them. "I always check to see the images I use are royalty-free and fair use," she said.
So when she was designing a website for real estate agent Shanna Cheatham and seeking a stock photo for an Indianapolis community information page, she did what Web designers often do. She checked Google images for a generic image of the city skyline. Bell's photo was among those that most prominently popped up, so she checked it out.
"There was no copyright, no trademark" information, Wilch said. "I even checked the metadata. … That particular image, the metadata is stripped out." So she used it.
Wilch said a year or two went by before Cheatham received a letter from Bell along with a copy of a civil suit naming her. Wilch said Cheatham told her that Bell was demanding $200 by the end of the business day. The price later rose to $500, Wilch said.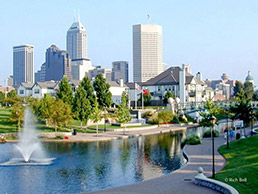 The photo was taken in 2000 and copyrighted by Richard Bell 11 years later. (Photo submitted)
Wilch, who isn't a defendant but may be a defense witness, said that after her client received Bell's notice, she called Bell. She informed him that as a courtesy, the image would be removed from the website, but she also asked for proof of ownership of the photo. Wilch said she became skeptical after Bell said the photo's presence on his website, which she said she'd never seen, was proof enough.
"We've been contesting this whole thing, and Mr. Bell has not produced any document that shows he owns the photograph," she said.
Carmel attorney John W. Nelson is defending Cheatham and other remaining defendants.
Wilch believes copyright laws haven't kept pace with the digital age. "The Internet has opened up a Pandora's box when it comes to imaging," she said. "If you take a picture on your phone and put it on the Web, who owns it? Who can use it?"
Bell said he's using the legal remedies available to him and disregards those who argue copyright laws are lagging.
"Every single website that you create or anybody creates has an agreement with your website host that says you're not allowed to put anything on that website that's not your property," he said.
But in cases where actual ownership and copyright status of digital media is not readily clear, the bar for litigants can be low.
 
Paul Overhauser is an attorney with offices in Greenfield and Indianapolis who writes the Indiana Intellectual Property Law News blog. He's written about Bell's cases and believes current copyright law may enable trolling.
"I think the (Bell) case demonstrates how copyright law needs to be updated," Overhauser said. "What would be most helpful would be a requirement for a copyright owner to require them to identify themselves and include a copyright notice on the image."
For defendants in such cases, the cost of settling is typically less than the cost of hiring an attorney, so many simply pay up even when they have a legitimate defense, Overhauser said. And because many defendants are businesses, their liability insurance policies often include clauses covering advertising injury that will pay that claim.
"The real hammer (Bell) has in these cases is that in the 7th Circuit, the prevailing party in a copyright infringement case has the ability to recover attorney's fees," Overhauser said. But he said he was surprised that the cases also asserted unfair competition and theft, which are pre-empted by the copyright statute.
Overhauser believes pleading those could damage Bell's ability to recoup fees, even if the court rules in his favor on the copyright claim. If he doesn't prevail on those others, Overhauser said, "that may discourage a court from awarding Mr. Bell attorney fees."
Defendants who infringe on copyrights online have no excuses, Bell said, though they offer a multitude of them. "I simply don't buy the argument from anybody that when they put that on their website, that doesn't fall into the category of willfully stealing."
He acknowledges many of those who settled were loath to do so. "To say they really wanted to pay me probably would be stretching it," he said. "A responsible lawyer and their clients, they obviously know it's going to be far more expensive to try it."
Pratt didn't dismiss Bell v. Taylor in March when defendants argued abuse of process. But in dismissing a case with prejudice on jurisdictional grounds, Pratt wrote that Bell failed to state a claim. "Bell has alleged, but has not shown, that he is entitled to relief. His Complaint contains formulaic labels and conclusions, but not facts."
Meanwhile, Wilch questions Bell's tactics. She said after she began to ask questions about the original photo, Bell grilled her in a deposition lasting about nine hours. "People are settling because, in my opinion, there's an abuse of power that's intimidating to people," Wilch said.
"This is awful, and it's happening to people all over the country," she said.
Please enable JavaScript to view this content.