Indiana body shops and auto insurers are on a collision course over repair compensation practices, a dispute that could cost millions of dollars to patch up.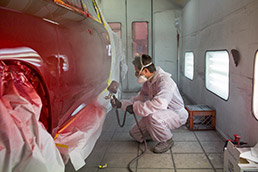 Quality Collision's Eddie Tucker lays down a coat in the spray booth. (IBJ photo/Aaron P. Bernstein)
In a federal lawsuit, 14 Indiana shops accuse State Farm Insurance and competitors of extracting "unreasonable and onerous" concessions on vehicle repair costs. When a shop doesn't comply with price ceilings, the insurers dissuade policyholders from choosing that shop for repairs by telling them it has quality issues or gets lots of complaints, the shops allege in the suit filed April 2 in U.S. District Court for the Southern District of Indiana.

"There's going to be a battle," said Tony Passwater, executive director of the Indiana Auto Body Association, the lead plaintiff.

The suit seeks unspecified financial damages and names 27 insurers including Illinois-based State Farm, which has the largest market share in the state at about 25 percent. Others with large market share include Ohio-based Progressive Insurance and locally based Indiana Farmers Mutual Insurance Co.


The suit is just the latest brought by the collision-repair industry, which has filed similar cases this year in Florida and Mississippi.

At the core of these cases is the relationship body shops have with insurers under what are known as "direct repair program agreements."

When introduced more than a decade ago, many shops initially embraced such agreements for the prospect of insurers' steering more business their way in exchange for giving them some breaks on pricing, Passwater said.

Today, however, shops allege such agreements have evolved in favor of insurers—a big problem as shops on average receive 75 percent to 95 percent of their revenue from customers with insurance.

Wells
When insurers don't cover the full cost of repairs, "it's such a difficult thing to pass on to a customer," said Kevin Wells, who operates Quality Collision Inc. in Bloomington and is a plaintiff in the suit.

Wells said he often just eats the cost the insurance company won't pay.

"I'm taking it in the shorts by about $6 an hour for every job I do," Wells said.

State Farm 'spearheading'

The lawsuit takes aim at State Farm, which uses its dominant and influential position among other insurers in "spearheading efforts to control and artificially depress damage repair costs," the suit alleges.

State Farm spokeswoman Missy Dundov denied the allegations but declined to elaborate.

"This suit has no merit and in no way accurately describes the business relationship State Farm has with thousands of body shops across the country," she said.

A spokeswoman for Indiana Farmers said the company had not received notice it had been named in a suit.

A search of complaints against State Farm filed with the Indiana Department of Insurance did not reveal any filed by body shops, said department spokeswoman Alexandra Peck.

Body shops say State Farm conducts surveys of the going labor rate shops charge in a given area. The data and methodology are not disclosed, shops complain. "Shops are simply required to blindly accept State Farm's pronouncements regarding these matters."

The insurer attempts to prohibit shops from discussing the labor rates they provide as part of the surveys, "asserting any discussion may constitute illegal price fixing."

Shops that complain the labor rate is inadequate are often told they are the only body shop in the area to say so and that they don't conform to the "market rate."

In fact, "State Farm knew multiple shops had attempted to raise their labor rates and advised State Farm of such," the suit alleges.

Boxed out of business

The shops allege insurers have failed to abide by industry standards for auto repairs and repair-estimating databases. At the same time, many insurers pressure shops to reduce costs by using recycled parts. But used parts like doors can require hours of additional labor to be made to fit properly and to recondition.

Ultimately, shops are required to either make "less than quality" repairs or suffer a financial loss. Taking shortcuts raises the specter of safety issues, but once a vehicle is repaired it's not easy to spot problems such as improper welds that might be hidden by seam sealer.

Neither scenario is palatable to many body shops.

"There are a lot of them that have hung it up and said, 'That's it. I can't take it anymore,'" Passwater said.

"The guys can't make it. It's not that they are bad businesspeople," said Scott Blake, of Blake's Carstar Collision Center, in LaPorte, who also is president of the IABA.

Some shops have survived cost pressures by adding additional services such as applying sprayed-on bed liners for pickup trucks. Some shops have purchased others through a rollup strategy intended to improve efficiencies.

Passwater said the state once had about 2,000 shops; there are now 800 to 1,000.

Collision industry battle growing

The 34-page suit alleges insurers have violated the federal Sherman Act, both in price-fixing and through boycotting tactics.

They contend the boycotting efforts include insurers telling policyholders that a certain shop will be more expensive and that choosing it also means they'll be responsible for additional rental-car charges.

Another tactic, body shops allege, is to tell consumers the work won't be guaranteed by using a shop that doesn't conform to a repair program agreement. That's misleading, however, because insurers require all shops to stand behind their work for a period of time.

The collision shops seek unspecified compensatory damages for under-payments as well as damage for lost business opportunities.

They also seek an injunction that would require insurers modify their practices.

This template for the collision repair industry's battle against State Farm and other insurers was drawn by Mississippi attorney John Eaves Jr.

In January, Eaves brought a suit on behalf of Mississippi's collision shops. The following month, a case was brought in Florida on behalf of 21 shops.

Local counsel for Indiana body shops is Mark Sniderman, of Sniderman Nguyen LLP.•