A Chicago firm's decision to spend more than $40 million to buy 21 distribution buildings on the northwest side further illustrates the strength of the Indianapolis area's industrial market.
CrossLake Partners, a joint venture between principals of Colliers International's Chicago office and a Windy City real estate investment firm, bought the buildings earlier this month in two transactions.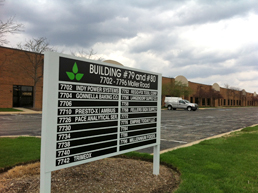 CrossLake's acquisition in Park 100 amounted to 440,000 square feet of multi-tenant industrial space. (IBJ Photo/Scott Olson)
It purchased 12 properties totaling 656,000 square feet—10 in Corporate Center North and two in Zionsville Business Park—from California-based CalEast Global Logistics LLC for $24.3 million.
CrossLake also spent $18.4 million to acquire nine buildings totaling 440,000 square feet in Park 100 from Duke Realty Corp.
The $42.7 million investment marks CrossLake's first foray into the Indianapolis area, said David Kahnweiler, CEO of Colliers' Chicago office.
"We've always been in the mode of acquiring real estate, particularly in Chicago, but we see a big opportunity in what the institutions call the tertiary markets," he said. "Many of the institutions don't want to be in the smaller Midwestern markets."
Corporate Center North at West 71st Street and Interstate 465 was developed in 1980. Ranked as the area's 19th-largest industrial park, it totals 675,000 square feet and is 82 percent leased, according to IBJ statistics.
The much-larger Park 100, developed starting in 1972 by locally based Duke Realty, totals 7.9 million square feet and is 97-percent occupied.
The publicly traded company declined to comment on its sale of the Park 100 buildings, citing corporate policy that prohibits discussing acquisitions and dispositions until after quarterly earnings calls with analysts. Duke Realty's next call is May 1.
But industrial brokers say Duke Realty is shedding smaller, multi-tenant industrial buildings in favor of larger, single-tenant warehouses larger than 300,000 square feet.
"It was a strategic exit for Duke," said Pete Anderson, an executive vice president at the Indianapolis office of Chicago-based Becknell Industrial. "As Duke has become a bigger player, they've made a strategic decision to move out of those [smaller buildings]."
The Park 100 portfolio purchased by CrossLake includes three single-tenant buildings totaling 142,394 square feet and six multi-tenant buildings totaling 296,740 square feet.
Becknell, which owns 100 industrial buildings in 30 states, entered the local market last year by buying a 250,000-square-foot industrial building in the Axcess70 Business Park north of the Interstate 70 and Mount Comfort Road interchange in Hancock County.
It now plans to construct two buildings on a speculative basis totaling 500,000 square feet on 30 acres it purchased in the North by Northwest industrial park just north of Park 100. Becknell could break ground on the first building in May, Anderson said.
The flurry of activity supports a report from the local CBRE office showing the industrial market is off to a strong start in 2014.
In the first three months, the market absorbed 718,000 square feet, increasing the overall occupancy rate slightly, to 92.9 percent.
A few of the larger lease deals signed in the first quarter: Ford Motor Co.'s 281,000 square feet at Airwest Business Park in Plainfield;  Weaver Popcorn's 240,000 square feet at AllPoints at Anson in Whitestown; and Chep Pallets' 212,000 square feet in Franklin Township on Indianapolis' southeast side.
In addition, two massive build-to-suit projects were announced in the first quarter. Wal-Mart (1.3 million square feet) and Temperpedic (760,000 square feet) have agreed to have facilities constructed in AllPoints Midwest, the joint venture between Browning Investments and Duke Realty, nearly doubling the size of the industrial park from 2.1 million square feet to 4.1 million square feet.
There hasn't been this much building activity in the local industrial market since 2007, said Andrew Morris, an industrial broker at Summit Realty. But this time it's different.
"Ninety percent of that new construction [then] was speculative," he said. "Right now, two-thirds is for build-to-suits with leases already signed or, in rare instances, someone is buying the building."
Cassidy Turley has been retained by CrossLake as the leasing agent for its buildings in the Park 100 and Corporate Center North industrial parks.
"It's a very strong endorsement for the strength of our industrial market," Jeff Castell, a Cassidy Turley principal, said of CrossLake's entrance into the market.
Please enable JavaScript to view this content.