For his next act in creative financing, Zeke Turner wants to bring crowdfunding to nursing homes.

Turner
Turner's Mainstreet Property Group LLC plans to launch a new round of private placement fundraising on April 21 using a website run by Oregon-based CrowdStreet Inc. and a mix of traditional advertising in central Indiana.
The goal is to raise $500,000 to $2.5 million to help Mainstreet construct a $13.3 million nursing care and rehabilitation facility in Bloomington.
Mainstreet's crowdfunding experiment comes as the company is under scrutiny over allegations that Turner's father, Rep. Eric Turner, helped defeat a nursing home construction moratorium that most of Mainstreet's competitors supported. On top of that, some securities experts doubt Mainstreet will find untapped, moneyed investors via websites, social media, billboards and TV ads—and could actually turn off investors in the process.
But Turner said if the Bloomington "test case" is successful, Mainstreet can use crowdfunding to boost its annual construction of health care campuses from $350 million currently to $500 million.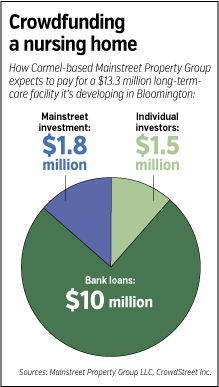 "More than anything else, it's about, how many projects are we going to do?" said Turner, who founded Mainstreet in 2002 and has built it into a company with $66 million in annual revenue.
The Bloomington investment pitch will be limited to "accredited investors"—those with annual incomes of at least $200,000 or assets (other than their primary residences) of at least $1 million.
Technically, that's not the same thing as crowdfunding, which is the use of the Internet to market investments to even non-accredited investors. Crowdfunding of businesses became a possibility after the federal JOBS Act of 2012 struck down long-standing regulations that restricted the marketing of private investments.
The federal law, as well as a similar state law passed this year, also calls for extending the marketing of private investments to non-accredited investors—though the regulations allowing for that have yet to be published.
But if federal and state regulations are finalized, Turner would likely offer future nursing home investments even to non-accredited investors.
"It'll be interesting to see. To see if people can embrace this," Turner said. "This is the latest chapter for us in doing things that are innovative."
Indeed, Turner has frequently found unusual ways to fund Mainstreet's growth.
The 2012 launch of a publicly traded real estate investment trust, HealthLease Properties, which Turner refers to as "our public REIT," gave Mainstreet a ready buyer willing to acquire Mainstreet's facilities—typically at a nice profit—and pay management fees to Mainstreet.
Last year, HealthLease Properties REIT acquired four facilities Mainstreet built and paid Mainstreet $1.7 million in fees. HealthLease also contributed $20 million toward a $60 million private placement fundraising round Mainstreet just completed this month.
Also, Mainstreet has asked governments to reduce the cost and risk of its projects. In 2011, the city of Westfield obliged, selling $16 million in tax-increment financing bonds to help the extension of a road and other improvements needed for Mainstreet's project.
In 2010, the city of Marion did the same thing, selling $13 million in bonds to help pay some of the development costs of Mainstreet's nursing homes in their communities, with the bonds being repaid by the additional property tax revenue generated by the projects.
Co-investors with Zeke Turner on a senior apartment project in Batesville filed a lawsuit in 2010, claiming Turner signed their names to a land transfer deal without their consent, according to the Indianapolis Star. The transfer allowed a not-for-profit operated by Turner's father-in-law to collect $3 million in state tax credits and grants. Turner called the lawsuit frivolous. It was settled out of court.
Just last year, Turner persuaded the Indiana Economic Development Corp. to award Mainstreet $325,000 in tax credits and $20,000 in training grants for moving Mainstreet's headquarters 17 miles from Cicero to Carmel and adding 25 employees.
Zeke Turner said Mainstreet might seek public subsidies on future projects, but that the company does so only when it benefits both the community and his company.
"We haven't done one of those for a little while, just because we haven't needed to," Turner said. "I still would do it, if given the opportunity."
Many of Mainstreet's business dealings are getting extra scrutiny now because Turner's father, the No. 2 Republican in the House of Representatives, is under an ethics investigation. Some legislators said he improperly influenced his colleagues to vote against a nursing home moratorium that would have stymied Mainstreet's growth.
Eric Turner is also an investor in Mainstreet and HealthLease.
In the midst of that public controversy, Mainstreet will now take its sales pitch directly to the public.
Jim Klimek, an Indianapolis securities attorney, expressed skepticism that accredited investors would be drawn to an investment pitch made over the Internet, airwaves and print media.
"It seems inconsistent with the kind of investor you're looking for," Klimek said of Mainstreet's "crowdfunding" push. "They are going to find out about investments through their brokers and investment advisers."
Kevin Hitchen, co-founder of Indianapolis-based crowdfunding website Localstake, said Mainstreet's success will hinge on messaging, not the media it's using.
"Can they do this with print, TV, and online advertising? I think so. But, the messaging and style will have to be done correctly," Hitchen wrote in an email. "We can probably both imagine how this marketing could be done incorrectly and make everyone suspicious."
Mainstreet is offering to pay investors annual dividends of 10 percent while paying itself a $635,000 development fee. Mainstreet hopes to sell the Bloomington facility by mid-2015, which could boost investors' returns to 14 percent.
Zeke Turner noted that the use of the Internet and traditional media will, in many cases, lead to in-person meetings. For example, Mainstreet will host an investor information session in Bloomington on May 13.
But he said the use of the Internet and advertising can greatly speed up the sales process, compared with the older rules that required only private marketing of investments.
Turner also said the new tactic can bring back the old approach to investing—where people put money into local companies they could see and understand.
"A lot of times, people have investment portfolios and they own companies that they don't know anything about," said Turner. "People do like things that are in their back yard."•
Please enable JavaScript to view this content.