"We already have India Garden." So said a friend when I told him of Haveli (235 S. Meridian St., 280-7648), the new downtown Indian restaurant.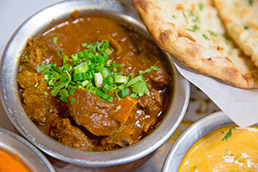 The former Sushi on the Rocks location now houses a worthwhile Indian buffet with unique menu options and warm Naan delivered to your table. (IBJ Photo/ Aaron P. Bernstein)
But what my friend's comment missed is, a) all Indian restaurants are not alike, b) we've got plenty of sandwich shops but you didn't hear many complaints when Potbelly opened on Monument Circle, c) even in a midsize downtown area, many workers and visitors stick to a few-block radius, and d) you can never have too much naan.
Housed in the former site of Ice Lounge, Sushi on the Rocks, and others, Haveli hasn't done much with the interior of this oft-turned-over spot. It's clean and bright but not overtly atmospheric. We visited for lunch, which, true to Indian- restaurant form, is offered as a buffet ($7.99, but look around for coupons).
One difference from many other Indian buffets is that here, the naan—a choice of plain or garlic—is delivered hot to your table rather than kept warm on the buffet. This may cut down on the slices you take, but certainly increases the pleasure.
Normally, Indian buffets mean standards such as Chicken Tikka Masala and Paneer Palak. Haveli has those, of course, but also boosts the options with Matar Panir (peas in a mildly spiced cheese sauce); Chana Masala, thick with chickpeas; and Goat Curry in a mild gravy, which might turn off the least adventurous in your dining party but offered nothing to fear and much to enjoy.
We didn't find a dud among the Saag Paneer, Dal Makhni and other offerings, and the Tandoori Chicken offered a safe-haven option for those less intrepid meal companions. Added bonus: The chutneys also tasted fresh and flavorful, with Onion Chutney and a delicate Mint Chutney standing out.
Probably the most striking point was that the meal broke from an unfortunate norm with buffet food—the entrees were adequately cooked. That's remarkable when you consider the dishes were heavy on proteins that easily dry out when over-exposed to heat lamps. And perhaps it has something to do with the light, but even after two trips to the trough—and, OK, another for a big bowl of syrupy Gulab Jamun balls for dessert—all the food felt less heavy than at other Indian restaurants.
There is an extensive dinner menu (mostly in the $8.95-$13.95 range) with multiple biryanis (rice dishes), seafood offerings, a flock of lamb choices, Indo-Chinese choices, and clay-oven Tandoori specialties, but those will have to wait for another time.•
—Lou Harry
Please enable JavaScript to view this content.