The owners of two popular pubs on Massachusetts Avenue are delving into the trendy micro-brewery business with plans for a brewery and restaurant in a historic former church a few blocks away.

David Pentzien, Daniel Jones and Jim Ailes operate the downtown Chatham Tap Restaurant & Pub and Ralston's Draft House, along with a second Chatham in Fishers.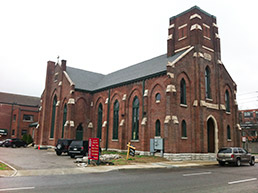 The church building on College Avenue was built in 1879 and renovated in 2012. (IBJ photo/Scott Olson)
An entity they control has agreed to purchase the 11,000-square-foot former church at the southwest corner of College Avenue and North Street in Lockerbie last occupied by the A2SO4 architectural firm.

The three hope to close the sale within a few months, and plan to open a brewery and restaurant sometime next year.

They've yet to settle on a name. But Pentzien, 48, said the brewery will supply only the in-house restaurant and will have no affiliation with either Chatham Tap or Ralston's.

"I just think it's a very interesting building and a very interesting opportunity to create a space that all of the public will have access to," he said.


Details about the plans are sketchy, as Pentzien said they're focused on closing the sale. If all goes well, the partners could submit plans shortly thereafter to the Indianapolis Historic Preservation Commission.

The brick structure, listed for $1.6 million by Century 21 Scheetz, was built in 1879 and renovated in 2012 by A2SO4 owner Sanford Garner.

Garner's firm spent more than $1 million rehabbing the building before relocating there in April 2013 from Union Station. A2SO4 disbanded in February after lender KeyBank foreclosed on the construction loan used to renovate the structure.

Clay Robinson, who operates the Sun King brewery to the south, has eyed the building for years as he's driven by it.

"It's a gorgeous building," he said. "I always looked at that as a really cool spot with a lot of potential."

Favorable demographics

The building is within view of Pentzien's home in the Lockerbie neighborhood.

He moved with his wife to Indianapolis from near Washington, D.C., 11 years ago to take a job as vice president of marketing, sales and operations at Indianapolis-based ProLiance Energy. He left last June upon its sale to Dallas-based Energy Transfer Partners.

Meanwhile, he and his business partners launched Chatham Tap in 2007. The Fishers location followed in 2010 and Ralston's two years later.

The trio's timing has proven impeccable, as downtown's growing millennial population flocks to microbreweries. Downtown's apartments boast an eye-popping occupancy rate of about 97 percent.

The Lockerbie neighborhood has about 15,500 residents living in a one-mile radius and boasts an average household income of $60,300. More than 42 percent of the homes in the historic district were built before 1949, according to Cassidy Turley statistics.

The neighborhood is undergoing changes already, as hundreds of new apartment units are under construction near the church building at 540 N. College Ave.

Across the street, Milhaus Development LLC is set to open in August the first building of its Circa apartment project. The five-building, $26 million development just south of Mass Ave will include 265 apartments.

Just south of the church building, TWC Development LLC is planning its $28 million Lockerbie North project, for a vacant lot at the northwest corner of North College Avenue and East Michigan Street. The development calls for 215 market-rate apartments and 9,000 square feet of retail.

Developer Daniel Jacobs has two projects in the works that will bring a total of 14 homes and a mix of 40 apartments and condominiums to Lockerbie.

Four of the homes are set to be constructed at North Park Avenue and East North Street nearly across the street and just north of the church building. The other, larger development is proposed for a lot fronting East Michigan Street about a block west of the building.

Jacobs thinks the craft-brew concept will do well at the location along College, particularly given the amount of residential construction either under way or in the planning stages.

"It's amazing to see what is unfolding down here," Jacobs said in an email. "The investment by this group of entrepreneurs represents the continued flow of investment capital into the Mass Ave district."

Brewery biz saturated?

Brian Epstein of Urban Space Commercial Properties brokerage found Pentzien and his partners their Chatham Tap space in Fishers and is confident they'll do fine with their plans for College Avenue.

But he's beginning to wonder if the craft-brewery market is beginning to overflow.

"My big question," Epstein said, "is, it seems like there's so many breweries popping up everywhere, when do we hit the point of saturation?"

The craft-brew industry in recent years has exploded in Indiana. The Brewers of Indiana Guild lists more than 80 micro-breweries statewide, and more are opening at a rapid clip.

In downtown, Tow Yard Brewery opened last month in the former Chateau Thomas Winery building at the south end of downtown across from the Rolls-Royce Meridian Center. And TwoDeep Brewing Co. has signed a lease to occupy space at 714 N. Capitol Ave.

On a broader scale, Bent Rail Brewery plans to open in May on Winthrop Avenue, along the Monon Trail in Broad Ripple, Daredevil Brewing Co. of Shelbyville expects to break ground in the summer on a 10,000-square-foot building in Speedway, and Black Acre Brewing Co. is expanding its brewing capacity in Irvington.

Not to worry, said Robinson at Sun King, who serves as president of the state brewers guild.

"I don't see that as a bad thing," he said. "At the end of the day, the mark of a good brewery is how good their beer is."

Pentzien and his partners may be working with Epstein to find additional locations. Pentzien said they have plans for more bars and restaurants and also want to expand the Chatham Tap brand.•