Since her first album in 1991, I've been listening to Carrie Newcomer sharing her musical reflections on the ordinary, lending her rich alto to songs less interested in stories than in moments.
 
(© 2013 Carrie Newcomer/Available Light Publishing. Designed by Hugh Syme.)
"You never talk too much in a fishin' boat/'Cause it just scares the fish away/You just give it time and watch your line" she sang in a personal favorite, "My Father's Only Son." That sense of in-the-moment-ness has permeated her more than a dozen discs.
In conjunction with the Bloomington-area artist's latest recording, "A Permeable Life," Newcomer has also released a book, "A Permeable Life: Poems & Essays" (Available Light Publishing), which begs the question: How do Newcomer's words hold up without that meditative, calming voice?
Newcomer says in the preface that she writes "poetry and essays to find the shape and form of the thing, and from those writings my songs are born." As such, these on-page pieces can sometimes feel more like the emptying of a notebook than complete works.
 
Carrie Newcomer (Photo/Jim McGuire)
But there are other moments in print that stand alone just fine, not as preliminary anything and not in need of a singing voice. "The Blue Umbrella" is a clear-eyed appreciation of a moment in the rain. "Three Gratitudes" could be just a variation on "My Favorite Things" but for its playful disregard for the number in its title. And although its last lines aren't necessary, "Holiday Checkout Line" captures a wonderfully observed common moment in a memorable way.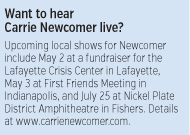 On the essay side, stand-outs include some deeper thinking on the natural cliché of the caterpillar transforming into a butterfly and a knowing look at a county fair that would make me try to wrangle Newcomer into writing a State Fair essay every year if I were assigning such things. And there's a surprisingly blunt but ultimately introspective piece set at a music trade show titled "Time is Kinder to Poets than Rockers."
As for the new disc, it's got all the heart and subtle songwriting savvy we've come to expect from Newcomer. It includes a guest spot by Lily & Madeleine on "The Ten O'clock Line." And while it doesn't treat new territory like Newcomer's India-inspired and infused "Everything is Everywhere" or develop around a theme like the diner-centric "Regulars and Refugees," it's got plenty to chew on. Just one example: "Writing You a Letter," which haunts with "…every place I go leaves its own tattoo./That's how it is laying stone on stone/Building little alters by the side of the road."
Like the discs that came before, the sincerity of "A Permeable Life" is matched by its musical savvy. Its lack of cynicism is inspiring. Yes, it offers variations on previously explored themes, but I don't think those of us who appreciate Newcomer turn to her for the exploration of new territory but, rather, for the voice she gives to the places she knows well.
"All the things that have been done/Have been done/All the things that have not been done/Have not been done/" she sings in "Thank You, Good Night," "And all the things I'm sad/And I'm glad to know/I'll breathe it out and I'll let it go."•
__________
This column appears weekly. Send information on upcoming arts and entertainment events to lharry@ibj.com.
Please enable JavaScript to view this content.