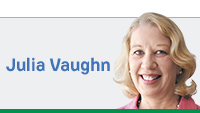 Now that April has arrived, it's time for spring cleaning. Let's hope the growing stink surrounding state Rep. Eric Turner prompts the General Assembly to begin a cleanup of its own.
That task now rests with the House Ethics Committee, chaired by Rep. Greg Steuerwald. Steuerwald is in the unenviable position of leading the "investigation" of Turner's actions surrounding nursing home moratorium legislation, an issue on which Turner publicly acknowledges a conflict of interest. Turner's conflict is the only part of this mess that is clear.
It's murky for two reasons. The biggest is that enforcement of legislative ethics is based on peer review, with legislators asked to sit in judgment of fellow legislators. Like other professions, most lawmakers are loath to self-police; it's the old "There but for the grace of God go I" mentality.
Compound that with the fact that the committee has little ability to investigate, with its only staff having plenty of bill-drafting experience but none in investigative work. Nor does the committee have any substantive ability to compel anyone to testify or to gather evidence. Legislative ethics laws simply lack enforcement teeth.
The second challenge is, the only reason this issue emerged is because a few House Republicans dared to air their caucus's dirty laundry in public.
Breaking the caucus code of silence anonymously to a reporter is one thing but volunteering to testify publicly against a powerful member of the House is another. While I hope whoever felt violated enough by Turner's ethical inconsistency to talk to the media will back that outrage by testifying before the committee, I'm not counting on it. Doing so would instantly make that person a pariah in the House majority caucus.
The creed of secrecy is especially troubling now that, in both the House and Senate, the partisan, behind-closed-doors meetings actually constitute a quorum of the legislative body. If anything goes in caucus and a legislator's private behavior doesn't have to jibe with his public behavior, isn't the public part of the process a charade?
It's now apparent that this is about more than Turner's recusing himself publicly from nursing home moratorium votes and then inserting himself squarely into the issue in caucus. While the committee might not be able to compel anyone to talk publicly about that, it should confront Turner with questions regarding the completeness of his economic disclosure statements.
There is a paper trail to these accusations and it should be followed. Sweeping the Turner mess under the rug won't make it smell better and won't restore public confidence.
Legislators have created an ethics process that is nearly impossible to enforce and looks like they value politics over public integrity. Real leaders will use this as a catalyst for ethics reform.
Legislators must revise their disclosure statements to include specific information regarding their individual and immediate family's financial interests, when those interests collide with their roles as lawmakers. This information should be prominently posted on each lawmaker's home page.
And, the dysfunctional internal ethics enforcement process must be abolished and replaced with an independent agency with a broad purview over lobbying, legislative ethics, campaign finance and election administration. It makes sense to consolidate these agencies since they oversee essentially the same group of players, simply in different contexts.
It's time to dust the cobwebs off the ethics statute and create a process that protects the public interest.•
__________
Vaughn is policy director for Common Cause/Indiana, a nonpartisan citizens lobbying organization that works for open, honest and accountable government. Send comments to ibjedit@ibj.com.
Please enable JavaScript to view this content.