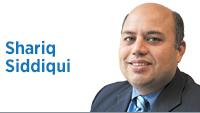 My congregation recently purchased a former day care in the middle of a business district to house our congregation and private school. Before purchasing this facility, we did our due diligence. We checked with zoning, had an appraisal and inspection, brought in the plumber and electrician. Satisfied with all the reports, we went ahead and purchased the building.
A month later, after completing renovations, we sought to set up a phone line and Internet, only to discover neither was available in the area. Other businesses had opted for expensive T1 lines, but our not-for-profit would have to rely upon mobile phones and limited hot spot devices to make things work.
It never occurred to us that, in 21st century America, accessing broadband Internet would be a problem.
Indianapolis is making needed investments to attract investors and businesses. New direct flights to Silicon Valley resulted from a healthy partnership between government (Indianapolis International Airport) and local businesses.
Also, this past legislative session, lawmakers finally gave local governments authority to hold a referendum to tax ourselves to expand mass transit.
However, our state and city have to make another important investment in attracting high-tech jobs and innovators—fiber-optic Internet.
Google recently announced expansion of Google Fiber to 34 cities. Places like Chattanooga, Tenn., have gone ahead and made this needed investment themselves.
Fiber can run 100 times faster than typical broadband. Just 7.7 percent of U.S. homes have fiber connections, compared with two-thirds in parts of Asia.
Google has invited cities to do the legwork and provide proposals for their investment in cities like Indianapolis. But Indianapolis should not wait upon corporations like Google.
If we hope to attract innovators, job creators, tech startups and tech jobs, we need to push forward as Chattanooga has. Imagine how much cheaper it would be for a startup to operate in an Indianapolis garage compared to one in Silicon Valley.
Important Indiana institutions like Purdue University and IUPUI have made critical investments in life sciences and computer science. Providing fiber optic infrastructure for high-speed Internet furthers these investments.
I believe the role of government should be limited, but its role includes building infrastructure like roads, bridges and high-speed Internet access. Its role is to provide conditions that make wealth generation possible by harnessing America's entrepreneurial spirit.
The Romans knew that building roads was the path to prosperity.
The new "roads" of this century aren't just more lanes on Interstate 465; they're bandwidth lines in the sections of our city that are growing the businesses driving this revenue into the city. Within a few blocks of Monument Circle are buildings with no access to fiber, making them uninhabitable by this new generation of business.
It is also worth asking what happened to the necessary infrastructure changes that brought the Super Bowl into Indianapolis. Was there no permanent investment made in getting fiber downtown to enable the event? Friends who own businesses in the area report no permanent changes.
I know times are fiscally tough. But these are the best times to make such needed investments. Cities like Chattanooga are seeing an increase in entrepreneurs.
Indianapolis needs to be the hub of such activities. We have been the crossroads of America for decades. We need to become the crossroads of America's Internet entrepreneurs.•
__________
Siddiqui is an attorney, doctoral student at Lilly Family School of Philanthropy at Indiana University and publisher of Siddiqui Public Affairs Review. Send comments to ibjedit@ibj.com.
Please enable JavaScript to view this content.