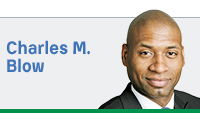 This month, four presidents journeyed to Austin, Texas, to address the Civil Rights Summit and remark on President Lyndon B. Johnson's legacy on the 50th anniversary of the passage of the Civil Rights Act.
That landmark act brought an end to legal racial segregation in public places.
But now we face another, worsening cultural segregation: We are self-sorting, not only along racial lines but also along educational and income ones, particularly in big cities.
Cities are becoming vast outposts of homogeneity and advantage, arcing ever upward, interspersed by deserts of despair, all of which produces in them some of the highest levels of income inequality ever seen in this country.
Some call this progress; I call it a perversion, at least of the concept of diversity—of race, culture, identity and class—that dynamic engine that built urban identities and that is now being erased out of them.
As a Stanford University report pointed out last year: "The proportion of families living in affluent neighborhoods more than doubled from 7 percent in 1970 to 15 percent in 2009. Likewise, the proportion of families in poor neighborhoods doubled from 8 percent to 18 percent over the same period."
As Richard Florida wrote in The Atlantic last month, "The poor face higher levels of segregation in larger, denser metros." In affluent cities, he said, "The segregation of poverty is more pronounced," adding, "The poor also face greater levels of segregation in more advanced, knowledge-based metros."
According to a study published last year in the journal Education and Urban Society, "Students are more racially segregated in schools today than they were in the late 1960s and prior to the enforcement of court-ordered desegregation in school districts across the country."
Martin Luther King Jr.'s dream about the coming together of children of different races seems, in some ways, to grow more faint.
A Reuters/Ipsos poll last year found, "About 40 percent of white Americans and about 25 percent of nonwhite Americans are surrounded exclusively by friends of their own race."
This kind of sorting has real-world consequences in terms of behaviors, empathy and socialization. As The Independent of London reported last month, a new study found, "People who live in ethnically diverse streets are less racially prejudiced than individuals living in highly segregated areas and their increased tolerance is due directly to the experience of a more integrated society."
The findings, the newspaper said, "emerged from the analysis of seven previous studies on community relations carried out between 2002 and 2012 in England, Europe, the United States and South Africa, and specifically tried to rule out the idea that the results can be explained by tolerant people being more likely to live in mixed neighborhoods."
By ruling this out, the study was able to show that "even the attitudes of the most prejudiced people who did not mix at all with ethnic minorities became more tolerant over time as a result of living in areas where others were mixing on a daily basis."
We need to see people other than ourselves in order to empathize. If we don't live around others, we do ourselves and our society damage because our ability to relate becomes impaired.
It's easy to demonize, or simply dismiss, people you don't know or see. It's in this context that we can keep having inane conversations about the "habits" and "culture" of the poor and "inner city" citizens.
It's nearly impossible to commiserate with the unseen and unknown.•
__________
Blow is a New York Times columnist. Send comments to ibjedit@ibj.com.
Please enable JavaScript to view this content.