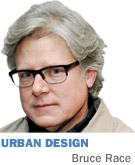 Great places have three important attributes: They define and enclose a space, are active and social, and provide an interesting pathway and pace to experience the space.
As you walk and move around downtown, or some of our traditional neighborhood commercial districts, you can see the remnants of a time when streets were great places. These are the fun places where we like to take our families when they visit.
Unfortunately, we too often rely on clusters of historic buildings to liven our streets and don't demand the same from new buildings. Most recent infill projects do a poor job of supporting placemaking. Their street frontages have dark glass, lack detail and visual interest, contain uses that are internally focused, and lack a streetscape that makes walking pleasurable.
Our downtown neighborhoods depend on pre-World War II storefront buildings to provide character. Indiana, Virginia and Massachusetts avenues all have infill buildings that are nearly universally weak in terms of how they land on the sidewalk.
Compounding the problem is how the facades of most pre-war buildings have been stripped of their most endearing features and retrofitted with generic commercial window systems with dark glass.
Here's how we're doing with the three important attributes, along with some examples of the good, bad and ugly.
Defining space. Our award-winning Regional Center Plan design guidelines illustrate good behavior for infill buildings. This includes criteria for building orientation, alignments and general design. New buildings are supposed to help shape, enclose and activate streets.
For the most part, new projects in downtown and neighborhood centers have buildings aligned with streets and sidewalks. However, there is a qualitative lapse in nearly every new project. We should be able to design contemporary, urbane buildings without copying a Victorian-era storefront.
Activating streets. Our plans and guidelines also call for projects to include active uses on the ground floor. But we do not have the market support for endless amounts of ground-floor retail, so we are seeing storefronts that are vacant or occupied by offices.
As an interim use, office rents can financially support projects, but in a challenged downtown office market, ground-floor office adds to inventory and competes with existing office buildings. The update to the Regional Center Plan should identify priority areas for pedestrian-oriented ground-floor uses on both sides of the street.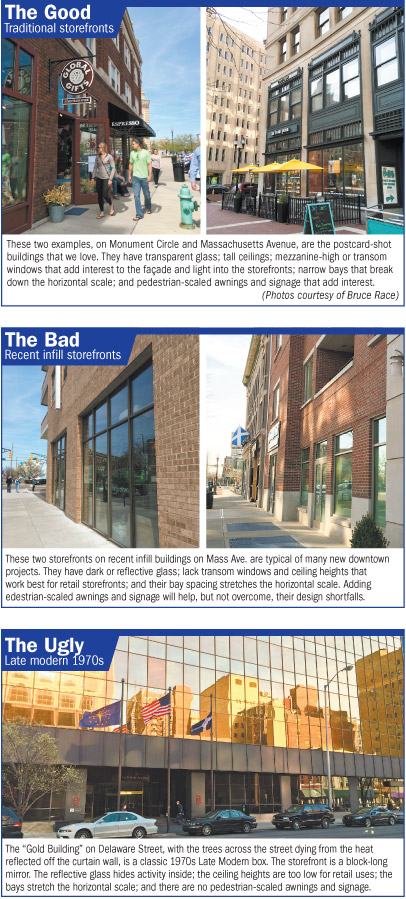 Designing for walkability. Indy Connect's transportation planning and corridor strategies show us how to build an infrastructure for a walking city—the kind of city that works with driving and transit. There is a lot of work to be done to repair our sidewalks and streets to make them friendly and safe for walking. A public-private approach requires investment on both sides of the property line. Old-school traffic planners concerned only about vehicular traffic can thwart these efforts if we're not careful.
The fun city treats streets as places. Our commercial streets should be active, social and transit-accessible and should work at a pedestrian pace. We need developers and design teams that know how to develop and renovate buildings that complement our traditional storefront districts.•
__________
Bruce Race, FAIA, FAICP, PhD is an award-winning architect and urban planner, owner of RaceStudio, and recipient of the Indiana Sagamore Planning Award. He lives in a historic Indianapolis neighborhood and teaches urban design at Ball State University's Downtown Indianapolis Center. His column appears monthly. He can be reached at br@racestudio.com.
Please enable JavaScript to view this content.