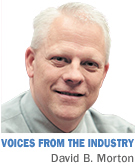 The seemingly endless yellow brick road to Oz, or what residents of central Indiana have come to accept as privately owned professional sports franchises seeking financial sustenance to build and upgrade, is nearing a tipping point of practical expenditures.
The recent announcement that Pacers Sports & Entertainment reached a 10-year, $160 million agreement to ensure the NBA franchise maintains its home at Bankers Life Fieldhouse is definitely the right move by the Capital Improvement Board, the organization that owns the city's professional sports venues.
Coincidentally, this agreement was announced as Stadium Magazine released its annual report ranking Lucas Oil Stadium as the National Football League's top venue for stadium experience. For Colts fans, that's good news given that taxpayers will pay $620 million of the $720 million construction costs financed by the state and city of Indianapolis for the stadium.
Other recent financial assistance packages include the state-funded $60 million refurbishment of the coliseum at the state fairgrounds that is now home to the soon-to-premier Indy Fuel hockey team and the $100 million, 20-year payback agreement by the state with Indianapolis Motor Speedway.
This year's legislative session also included an aggressive, yet unsuccessful, campaign by Indy Eleven seeking state funding for an $85 million soccer stadium.
We should all thank Max Schumacher, president and chairman of the Indianapolis Indians, for the organization's continued self-investment to maintain and improve what many consider minor-league baseball's finest stadium. Unlike the Indiana Pacers and Indianapolis Colts, the Indians pay all costs to preserve and upgrade the 18-year-old stadium, plus $500,000 in annual rental fees.
To clarify, CIB is funded by revenue accrued from hotel, food and beverages, and admissions taxes. Additional revenue is collected from rental fees, parking garages, car rental taxes, cigarette taxes, and also downtown income and sales taxes. By law, the revenue is restricted for purposes associated with the professional sports venues and the Indiana Convention Center.
There is little debate as to the importance sports has had on Indianapolis since the forward-thinking sports strategy was established in 1979. However, CIB and the state don't have unlimited resources, and must be extremely prudent to even consider additional financial liabilities to support professional sports facilities.
CIB is obligated to invest in the sports venues it currently owns and supports (Bankers Life Fieldhouse, Lucas Oil Stadium and Victory Field). Accordingly, the city and state need to learn to say no to newcomers that come to the city's pay window seeking a "please build it for us" proposition.
There is no debate that the Colts, Fever, Indians and Pacers are woven into the sports-licensed fabric of Indianapolis. Despite the city and/or state being on the hook to pay the financing for their respective home fields and stadiums, losing any of the teams would be a huge negative, and any replacement franchise would seek an even less attractive financial package. Besides, CIB needs the revenue from the combined 140 regular-season games the teams play annually to pay down the debt accrued to build the stadiums.
In two sold-out home games, Indy Eleven has demonstrated that minor-league professional soccer has a future in Indianapolis. Can the city and/or state help support a stadium near equal in cost to the $100 million-plus that owners would be required to pay for a minor-league soccer franchise? Could the Eleven establish a public-private partnership with Indiana University and continue to invest in the long-overdue refurbishment of Michael A. Carroll Stadium as its permanent home without building another stadium on the shoulders of taxpayers?
What happens when the emergence of lacrosse in the grass-roots market results in the professional league's entering with a, "We're here to, you know, … " message? Are cricket and other sports still to be established domestically soon to follow?
"No" should be the answer to any team executives seeking outright funding for sports venue projects. Without significantly increased revenue to CIB coffers, the requests to finance home-team stadiums require more parity by team owners to help pay construction and maintenance costs. Also needed are a short-term proven team history, realistic ticket sales projections, and a taxpayer-favorable business model for stadium financing.
Otherwise, please think of the successes of the likes of Arlington, Texas; Foxboro, Mass.; and Glendale, Ariz.—where the teams' home "city" negotiated more favorable terms to build stadiums in suburban communities. Maybe Boone or Hamilton counties want to enter the big leagues.•
__________
Morton is principal of Indianapolis-based Sunrise Sports Group. Views expressed here are the writer's.
Please enable JavaScript to view this content.