Since the JW Marriott opened in early 2011, nine downtown Indianapolis hotels have invested more than $70 million in renovations and upgrades.
But, while the 1,005 room JW—the largest hotel in Indianapolis—certainly pressured competitors to keep up, a host of other reasons led to the bonanza of upgrades.
Key among those has been pent-up demand following the Great Recession.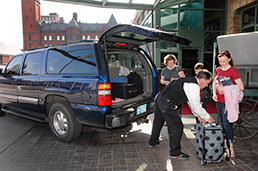 Hotel operators typically sock away a certain amount of revenue every year to pay for anticipated renovations. Chains are particular about quality and appearances. (IBJ file photo)
A number of renovations planned for 2007-2008 were delayed as the economy tanked. Parent companies for Hilton Hotels, Westin, Hyatt and other major brands relented on their upgrade demands until occupancy and room rates rebounded, local hoteliers said.
"What you're seeing now is a mad dash coming out of the recession," said Jeff Sweet, area general manager for the Hilton Indianapolis Hotel & Suites, a 332-room hotel at 120 W. Market St. that completed a $7.5 million renovation in December.
Pressures to keep hotels looking sharp is relentless.
Most three-, four- and five-star hotels renovate and upgrade rooms every seven to eight years and update lobby, restaurants and other common areas every five to six years simply to stay ahead of normal wear and tear.
Hotel operators striving for high ratings from the top two professional rating services—Forbes Travel Guide and AAA—almost constantly upgrade their properties.
For instance, the Westin Hotel at 50 S. Capitol Ave. in mid-February finished upgrading all its rooms to the tune of just under $15 million. In 2011, the hotel spent $2 million to overhaul its lobby. In 2008, it spent $6 million renovating and soundproofing its ballroom, and upgrading the heating and air-conditioning system and Internet service. In 2006, the hotel had another major renovation that included replacing miles of flooring.
To minimize borrowing for the endless upgrades, many hotel operators set aside 5 percent to 7 percent of revenue annually in a capital reserve fund.
Operators that don't keep up with renovation cycles or react to market competition often hear from the company running the brand they represent.
"Since hotel operators represent those brands on the front line, the way you operate and present your property means everything to those [brands]," said Jim Dora Jr., CEO of General Hotels Corp., which operates 11 hotels in Indianapolis, including Crowne Plaza and Holiday Inn properties.
Brand agreements can be extremely detailed, mandating things like certain thread counts on bedding, the type and size of television in every room, types of flooring, how many outlets are available in each guest room, how many fixtures are in guest room bathrooms, and myriad other aspects.
Marriott pressure
The opening of the massive JW Marriott brought pressure beyond the routine demands, said Westin General Manager Dale McCarty. This year alone, $32.5 million in downtown hotel improvements have been completed.
The Westin spent nearly $15 million renovating each of its 575 rooms, in addition to a massive upgrade to its fitness facilities and improvements to its wireless service.
The Crowne Plaza at Union Station this spring completed an $8 million renovation including an overhaul of all 273 guest rooms, two lobby areas, and the restaurant and lounge.
The project included knocking down a wall separating the main lobby and restaurant/lounge to open up the area and moving the hotel's fitness room to the front of the hotel for easier access and a more appealing view as guests exercised. New equipment also was added to the fitness area.
"What your competitors do keeps your attention and causes you to drive harder, but you're not going to spend money solely because your neighbor does," said Sweet, the Hilton manager.
Other recent multimillion-dollar renovations downtown include the Embassy Suites and Omni Severin in 2011, the Hyatt Regency—which sank $20 million into its iconic hotel—in 2012, and the Sheraton and Hampton Inn in 2013.
"This is such a vibrant hotel market in terms of both facilities and service, you have to continually better your property or risk losing market share," Sweet said.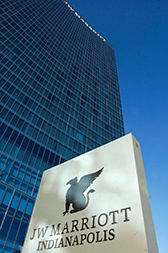 The 2011 opening of the JW Marriott was added impetus for other hotels to renovate despite the slow economy. (IBJ file photo)
Officials for Visit Indy—the city's tourism marketing arm—said the hotels' habits of constantly upgrading are a major selling point in the fight to draw more convention and corporate meeting business.
"Convention planners take notice," said Visit Indy CEO Leonard Hoops. "All this is a good sign the local hotel market is healthy and poised for growth. The hope is that, with the expanded convention center and other offerings we have here, we can help them achieve that growth."
Managing tight schedules
Most hotels stay open during their renovations, which operators say can be a challenge for guests and construction crews.
"It can be really intrusive for the guests, and you're losing revenue on those closed rooms during renovation," said Westin's McCarty. "So there's always a tight timetable."
McCarty estimates the Westin could have sold at least 3,000 more hotel rooms during the renovation had the rooms not been closed for upgrades.
"You're always on a tight schedule and you're always pushing during a renovation," McCarty said. "But you can never sacrifice quality. That's too important for your long-term future, especially in a market this competitive."
The Westin began its renovation in November 2013, and closed three floors—about 140 rooms—at a time. McCarty allowed 24 days for each phase of rooms to be completed.
McCarty pushed the construction crews hard to be complete by mid- to late February in time for the NFL Combine and men's and women's Big Ten Basketball tournaments and several large conventions.
It also was important for Crowne Plaza to be done by the Feb. 19 start of the Combine, because Crowne Plaza put up all the athletes.
"People in the hotel business are pretty used to running on tight timelines," Dora said. "That's the nature of the business."
Downtown's historic Canterbury Hotel closed in January for a nine-month renovation, with plans to reopen under a new name—Le Méridien Indianapolis Canterbury Hotel.
Canterbury operators will invest $9.5 million in a comprehensive redesign of the 99-room hotel, according to Ted Stimson, vice president of RockBridge, a hotel investment firm based in Columbus, Ohio, that owns the hotel. It was deemed best for the hotel to close during the renovation due to the extensive nature of the work, Stimson said.
"Everything that a guest touches or sees will be brand new," Stimson said. "Today's business travelers want all the bells and whistles."
The renovation will include redesigning guest rooms, revamping elevators and mechanical systems, and completely reconfiguring the first and second floors.
Personal touches allowed?
Hotel operators often walk a fine line between putting personal touches on a hotel that reflect the local market and complying with brand standards.
"You have choices as long as you meet the standard the brand accepts," said Glenn Brooks, vice president of General Hotels Corp., which manages 16 hotels, including six in the Indianapolis area.
Hotel brand companies have a constant eye on their affiliates. Not only do all hotel renovations and upgrades have to get brand managers' approval, but "they send quality inspectors out constantly to make sure you're appropriately representing the brand and meeting the detailed brand agreement," Brooks said.•
Please enable JavaScript to view this content.