A highly touted partnership between St. Vincent Health, Community Health Network and suburban Indianapolis hospitals is coming to an end—just 18 months after it began.

The Accountable Care Consortium was envisioned as a vehicle through which the hospitals would eventually funnel all of their roughly $2.5 billion in annual contracts with health insurers and employers.

Those contracts would have been based on the ability of St. Vincent, Community and the suburban hospitals to keep patients healthy and in need of less care, especially expensive hospitalizations and surgeries. The concept is known in health care circles as "population health management."

Simpkin
In exchange for the savings created by population health management, insurers and employers would have steered their patients away from competing hospitals, boosting overall traffic at St. Vincent, Community and the suburban hospitals.

Indiana University Health and Franciscan Alliance—the two other major hospitals systems operating in Indianapolis—have similar efforts underway, although none has gained much traction.

The Accountable Care Consortium made progress toward being able to track patients and keep them healthy. It hired a president, Liz Simpkin, in early 2013 and built up a staff of eight.

The consortium signed up 12 employers as customers—half of which were among the hospitals that formed the consortium. Those hospitals included the 22 operated by St. Vincent, eight operated by Community and six that are part of the Suburban Health Organization.

Carmichael
But the hospitals found that changes in the marketplace were happening at a faster pace than they anticipated—making it difficult to coordinate responses fast enough.

"This thing's moving at a clip that we need to work on things ourselves rather than working on everything as one," said Bryan Mills, CEO of Community Health, mentioning such changes as the launch of the Obamacare insurance exchanges and pressures from employers and the government to reduce health care spending.

"There's so much going on and it's very difficult for one organization to make all the changes that we need to make, and trying to do all that in concert, it's very challenging," said Julie Carmichael, chief strategy officer of St. Vincent Health.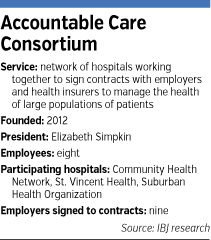 Many local health care executives predicted the Accountable Care Consortium would dissolve after the participants took different approaches toward the new breed of health plans offered in the Obamacare exchanges.

Community and Suburban Health joined a "narrow network" plan created by Indianapolis-based Anthem Blue Cross and Blue Shield. But St. Vincent rejected the Anthem plan, choosing instead to participate in an Obamacare plan operated by MDwise Inc., a health plan co-owned by St. Vincent's archrival IU Health.

But because the decisions about the Obamacare exchange, also called the marketplace, had to be made before the consortium was fully operational, the hospitals treated the two things separately.

"We were each in a position where we needed to make an independent decision when it came to the marketplace," Carmichael said.

The participants in the Accountable Care Consortium expect population health to become a basic feature of future contracts between hospital systems and health insurance plans. But they also acknowledged there is more work to be done before that future becomes a reality.

"There was a lot of interest in it—and a lot of education that remains to be done with employers, and between payers and their customers too," said Simpkin, the president of the consortium.•