A stinging defeat for Indy's quest to land the 2018 Super Bowl leaves a giant opening in the city's convention schedule and brings new urgency to recruiting future sports events. And it raises questions about the timing and feasibility of redeveloping Pan Am Plaza and a possible expansion for USA Football.

Indiana Sports Corp. President Allison Melangton, captain of the Super Bowl bid team, plans to move quickly into negotiations for future Big Ten football and basketball championships, NCAA Final Fours and the 2020 Olympic trials.

Meanwhile, just a day after returning from Atlanta, where NFL owners voted to host the Super Bowl in Minneapolis, Visit Indy CEO Leonard Hoops was on the phone in his Indianapolis office trying to fill space the city had set aside.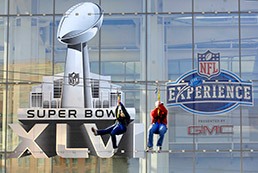 The zip line along Capitol Avenue was one of many attractions that helped lure a million people downtown in the days leading up to the 2012 Super Bowl. A study showed visitors poured $175 million into the local economy that week. (IBJ file photo)
"We have 19,000 hotel rooms that were being held," said Visit Indy spokesman Chris Gahl. "Now we have to fill those."

While officials for Kite Realty Group said they still plan a multi-use facility with an upscale hotel on the Pan Am Plaza site, Visit Indy officials said the urgency to get it done by early 2018 is gone.

One thing that's not gone is USA Football's desire to move into a larger facility, including a research and training center. A new facility for the Indianapolis-based organization best known for its Heads Up Football program was a major part of the city's proposed legacy project for the 2018 Super Bowl.

USA Football expansion

Indianapolis' 2018 Super Bowl bid called for a legacy project that included building USA Football a $10 million to $15 million indoor and outdoor facility. It would have been a facility that not only the NFC champion could have practiced in during the week of the Super Bowl, but it was to serve as a research and training center where concussions and other football related injuries and their prevention could have been researched.

There's no question USA Football still wants to expand. The organization, which operates out of rented downtown office space, has grown from 15 to 65 employees since moving to Indianapolis from Virginia in 2010. The organization recently started working in the high school football arena as well as in youth football, and executive director Scott Hallenbeck said he expects his organization to continue growing at a 10 percent annual clip. That means by 2018, the organization could have more than 90 employees.

The NFL has been a big supporter of USA Football's Heads Up Football program, which works with coaches to teach children how to tackle and play football in a manner that limits their chances of head injuries.

"By all means, we still want to pursue [the new research and training facility,] Hallenbeck said. "That was on our drawing board even before it became part of the Super Bowl legacy project. We think it's tremendously important for the future of football and more important for the future health and safety of young people."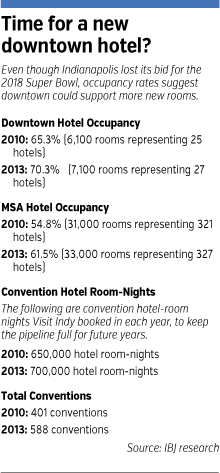 But the plans might have to be scaled down to a $5 million to $10 million project, Hallenbeck said.

"Part of the indoor facility that was for the NFC team to practice in might have to be eliminated," he said. "It would be nice to have, but maybe not an absolute necessity."

The Indiana Sports Corp. would still be willing to consider working with USA Football on the project, Melangton said.

Filling city's sports slate

Losing the 2018 Super Bowl doesn't mean Indianapolis is starved for big sporting events.

Melangton said two of her organization's top priorities are securing the rights to host future Big Ten men's and women's basketball championships and the football championship game and beginning preparations to pursue the 2020 Olympic trials.

While the bids for the 2020 Olympic trials are not due for another year or more, preparations for those bids often take considerable advanced planning.

More immediately, Melangton and her staff are in the midst of trying to secure Big Ten events for the city. With Big Ten officials increasingly looking to hold the conference's biggest events on the East Coast, Melangton's task appears to be getting tougher.

While you don't replace the economic or marketing impact of a Super Bowl, Melangton said landing future Big Ten events "will be a key piece to the puzzle."

Indianapolis is set to host the Big Ten Football Championship this year and next, but is in negotiations to host the event beyond that. Since the game started in 2011, Lucas Oil Stadium is the only home it's known.

The city could have hosted the Big Ten Football Championship and Super Bowl within two months of each other, but now that the 2018 Super Bowl slot is vacant the city will be more eager to go after the December 2017 Big Ten title game, which typically draws about 65,000 visitors.

With the men's Big Ten basketball tournament headed to Washington, D.C., in 2017, many speculate the gridiron championship could be headed the same direction.

After playing at Bankers Life Fieldhouse this year, the Big Ten basketball tournaments are moving to Chicago next year and returning to Indianapolis in 2016. Indianapolis is in the running to get the tournaments back in future years.

The ISC also is pursing future Final Fours, and the bids for 2017-2020 are due in December. With the 2018 Super Bowl off the table, the ISC will be bidding to host either the 2018 or 2020 Final Four.

Beyond all the bidding, ISC officials are juggling other hosting jobs, including the 2015 men's Final Four, 2016 women's Final Four, 2016 Olympic diving trials and 2015 P&G Gymnastics Championships, which Melangton calls "a huge, huge event."

The four-day gymnastics championships at Bankers Life Fieldhouse is set to be nationally televised and draw national and international media attention.

As for the nearly $31 million raised from the corporate community to host the 2018 Super Bowl, it came in the form of signed pledges, so there's no financial windfall for the ISC. Melangton, however, isn't too concerned about securing the money needed to carry out her ambitious plans.

"We've always had a very cooperative and generous corporate community, and really when you think of all the volunteerism, it's not just the corporate community," Melangton said. "The community here has always been understanding of our goals and objectives, which are to make Indianapolis not only a great place to visit but to live."

Hallenbeck
Pursuing the Super Bowl in 2019 is off the table because the NFL has never played the Super Bowl in a cold weather climate two years in a row.

Tackling convention void

With 2018 four short years away, time is of the essence for Hoops and his sales staff to fill the Super Bowl void with a sizable chunk of convention business.

"Major conventions often book five to seven years in advance, so we have to move," Gahl said. "We always had plan B and C in place. Now we're acting on it."

There aren't many events the size of a Super Bowl up for grabs—and even fewer just four years out. So Visit Indy officials are looking at a variety of events small, medium and large to fill the hole. Due to the competitive nature of the business, Gahl declined to say which conventions Visit Indy is pursuing for early 2018.

"We certainly think the window is still there for us to bring in events in that time frame," Gahl said.

In addition to the economic impact—$175 million in visitor spending from the 2012 Super Bowl according to a locally commissioned study—the city will sorely miss out on a marketing boost it was counting on from the 2018 Super Bowl.

"The 2012 Super Bowl had a marketing boost that had a ripple effect we still feel," Gahl said. "With the Super Bowl drawing 5,000 journalists from all over the world, you just don't replace that."

Pam Am Plaza hotel

The right time frame to build a hotel on the Pan Am Plaza site is fuzzier now that Indianapolis won't host the 2018 Super Bowl. Visit Indy's Hoops said if the city had secured the game, the timing of that project could have been accelerated.

Officials for Kite Realty Group, which owns the site, said their interest in developing the prime parcel remains strong.

"We still think that site is the best remaining development parcel in the city," said Kite spokesman Adam Basch. "We still have every intention of seeing this project through to its completion.

"Our main goal is to develop a project that is sustainable long-term. Your project has to be a lot more sustainable than a single weekend or week."

Basch said the project called for a mixed-use development including an upscale hotel. Real estate sources said a twin 15- to 20-story tower scenario is possible.

There's currently no "hard-and-fast" time table for the project, Basch said.

Visit Indy officials think hotel occupancy data show that a new downtown hotel will be needed in the not-too-distant future. A lot of current hotel operators, however, have cautioned that building one too soon could hurt their businesses—and jeopardize the strength of the entire market.

Visit Indy's Gahl pointed out that downtown hotel occupancy grew from 65 percent in 2010—the year before the 1,005-room JW Marriott opened—to 70 percent in 2013. The total number of conventions held in Indianapolis during that time grew from 401 to 588.

"While the urgency to accelerate that development beyond the typical timeline for such a project is gone, we still think a hotel that would be connected to the Convention Center is best for that site," Gahl said. "The question is when and how many rooms?"•