Some claim that the overwhelming dependence on tried-and-true material—flamed by the success of Disney hits—has crippled creativity on the Great White Way, leading to formulaic programming where the audience knows what to expect and gets it delivered in a pretty package.
Cara Statham Serber plays the title role in Beef & Boards' "Mary Poppins." (Photo courtesy of Beef & Boards)
Others point to the dearth of top-notch new musicals in the early 1990s before Disney arrived and the vibrancy of 42nd Street today (the actual street, not the musical) vs. the cesspool it used to be. And they point to "The Lion King." How can you argue with "The Lion King"?
(Yes, this is a review of Beef & Boards' production of "Mary Poppins." I'll get to that.)
Both sides tend to forget that Disney actually took a big risk when it first set foot on Broadway in 1993. Oh, sure, Disney had turned its films into ice spectacles and arena shows, but "Beauty and the Beast," was something different. It asked that audiences not only buy life-size teacups and spoons, but spend top ticket prices on material that was already available on their VCRs.
If you don't remember VCRs, ask your parents.
"Beauty and the Beast" proved a hit on Broadway, of course. You've probably seen it on tour, at Civic, or at your local high school. It's coming back again, on a non-Equity tour, next season, but it's hard to imagine people being too excited. Back in the day, though, it was a breath of fresh theatrical air thanks to actually having a score that, unlike its contemporaries, sounded joyfully like old-school Broadway.
To its credit, Disney could have just put more straight-up adaptations on the production conveyer belt. Instead, for its follow-up, it took a greater risk. Rather than simply attempt, as "Beauty" did, to recreate as closely as possible the look of the original, Disney put the prize property in the hands of a visionary director. The result was the still-running blockbuster, "The Lion King," which has now outlived most lions born when it premiered in 1997.
Disney isn't foolproof. Given their quick demise on Broadway and the rarity of subsequent productions, it's difficult to label "The Little Mermaid" and "Tarzan" as anything but duds. And "101 Dalmatians" proved that some properties just don't translate to the stage. To put it mildly.
Where does "Mary Poppins" fit into the mix? Somewhere in between. The original London production—darker than the one that made it to Broadway, toured, and is now licensed for regional theaters—attempted to combine the movie's magic with elements from the original books as well as new material. It represents an honest attempt to create something theatrically magical without alienating those who love the film.
Specifically, the show's creators have filtered the movie, eliminating such impossible-to-stage elements as the dancing penguins, the runaway carousel horses, and the whole "I Love to Laugh" sequence. Instead, there's now an evil nanny, some creepy life-sized toys, and a mix of the familiar tunes and new ones of varying quality. On tour, it had the good sense to allow its cast to create nuanced characters rather than slavishly copy Julie Andrews and company.
Of course, at Beef & Boards, one shouldn't expect the kind of visual magic that was a hallmark of the big-budget productions. You don't see Mary sliding up the banister, the "Jolly Holiday" sequence is awkwardly un-magical, and the creepy toy scene is just awkward.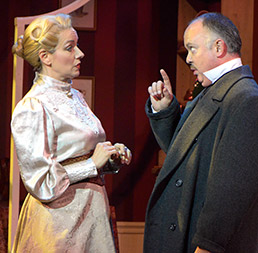 Heather Patterson King and Eddie Curry play as Winifred and George Banks. (Photo courtesy of Beef & Boards)
What "Mary Poppins" is really about, though, is the reconnecting of stodgy Mr. Banks to his children courtesy of a magical nanny. That connection is the element that works best in Beef & Boards' production. Heather Patterson King is in beautiful voice as Winifred (this actress must play Mother in "Ragtime" soon), Kennedy Martin is fine as Jane, and Logan Sejas (who, with "ZirkusGrimm" and "A Winter's Tale" under his tiny belt, is building one of the most interesting acting resumes in Indy) offers a terrific Michael Banks. And it's difficult to imagine a better George Banks than Eddie Curry, a practically perfect performance even more remarkable considering that he also directed the production.
The fact that Mary (Cara Statham Serber, also in wonderful voice) doesn't pop is not really a problem. Sure, it would help if she had a more charismatic Bert to play off of, but this Mary is there to help, not to dominate. And her hint of emotional attachment to young Michael at the end provides just the right touch—although it is odd how she blows off Jane.
Certainly better than "High School Musical" but not up to "Aida" or "The Jungle Book," "Mary Poppins" (playing through June 29) didn't push me out of my wishy-washy opinion of Disney's impact on theater. But that's OK. Like many a producer, Disney Theatricals is trying to be as creative as possible within the limits of box-office acceptance. And to create shows with long, healthy lives beyond London and New York. Do I wish there were more original musicals in the pipeline? Of course. Do I wish that audiences would take chances on material they aren't already well versed in? Yes. Am I hopeful when I am reminded that Disney also produced "Peter and the Starcatcher"—based on a novel and not a movie—yes.
Will I be pleased when "Newsies" inevitably is announced for a Beef & Boards production one of these years? Sure.
And did I wish a team of chimney sweeps worked my neighborhood and danced on my roof? Of course.•
__________
This column appears weekly. Send information on upcoming arts and entertainment events to lharry@ibj.com.
Please enable JavaScript to view this content.