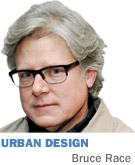 Climate change is increasing the frequency and duration of hot days. Cities are heating up faster and more than the rest of the country, especially here. The Indianapolis metro area's vast parking lots and roofs are heat islands that add as much as 10 degrees Fahrenheit at night while adding to ozone levels that damage the lungs of children and the elderly.
The amount of thermal surface we add to the region has altered our local climate and made Indianapolis a poster child for researchers. They have used aerial photography to compare temperature and tree cover. Lower amounts of tree cover correlate with higher temperatures.
Scientists predict the average temperature will rise 6 to 10 degrees in the Midwest by the end of the century. Imagine all those routine 90-degree days becoming routine 100-degree days during the summer. In the next 20 years, the number of strong rainstorms is predicted to increase 35 percent in Indianapolis. Our abundance of asphalt and roofs will contribute to deadly heat, flooding and stormwater run-off pollution.
How can we begin to put a dent in the problem? We can avoid business as usual, like ripping out trees and sidewalks to add a traffic lane. Or building, as the bank might want, vast amounts of strip center parking to accommodate the magical (mystical) peak Christmas shopping day. We have square miles of parking lots in dead and underused strip centers created by the previous lenient zoning code.
 
The vacant parking lot next to Glendale Town Center is covered with nine acres of heat-reflecting asphalt. (Photo courtesy of Bruce Race)
For example, there is a nine-acre parking lot in the 6100 block of North Rural Street behind Glendale Town Center. The black asphalt lot shimmers in the hot sun; rarely has anyone parked in it. It doesn't do much more than create heat and produce stormwater that must be treated. Glendale itself is a 60-acre shopping center that is more than 90 percent paving and roof coverage. That might seem unsustainable, but it is not unusual for a suburban commercial center.
What would this site look like if it were retrofitted to reduce heat, pre-treat stormwater, generate electricity, and provide housing near the future Keystone Avenue Orange Line Bus Rapid Transit system? Here are a few recommendations for reducing heat, better managing stormwater, producing power and reducing vehicle trips:
• Making a property cooler requires planting trees, reducing the amount of paving, and reroofing with cooler reflective color materials.
• Managing stormwater requires thinking about water use and the watershed at the same time. Rainwater can be collected and stored to water landscaping and trees. It can be slowed and filtered by green roofs and best-management-practice stormwater management systems, including rain gardens, swales and filtering retention ponds.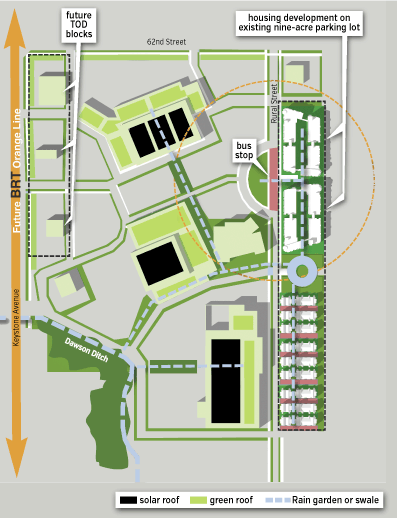 • Putting roofs to work producing electricity using solar technology can reduce operating costs or generate revenue that contributes to the bottom line.
• Reducing vehicle miles traveled happens when people can live near transit and can walk to their daily needs. The Glendale site is on local bus routes and the future BRT Orange Line. Besides the nine-acre parking lot, three other low-density commercial pads along Keystone Avenue could become part of a larger transit-oriented development near 62nd Street.
Glendale is just one of many shopping centers in the region with underused parking lots. These larger centers' contributions to heat islands, poor air quality and flooding will be amplified as our weather becomes more extreme.
These topics are being addressed in the city's new zoning code and comprehensive plan update by requiring 30 percent of a site to include integrated landscaping and stormwater management. However, the new regulations address only new projects. It is the shopping centers we're already stuck with that will continue to be a problem for decades unless we intervene.•
__________
Bruce Race, FAIA, FAICP, PhD, is an award-winning architect and urban planner, owner of RaceStudio and recipient of the Indiana Sagamore Planning Award. He lives in a historic Indianapolis neighborhood and teaches urban design at Ball State University's Downtown Indianapolis Center. His column appears monthly. He can be reached at br@racestudio.com.
Please enable JavaScript to view this content.