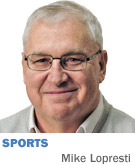 The subject was the recent epidemic of Tommy John surgery, which seems to be going around baseball like a stomach virus on a cruise ship. So whom better to ask than Tommy John?
Matter of fact, while the old Terre Haute Gerstmeyer Black Cat is on the phone, maybe he could address a few other questions. Such as …
Isn't it a crime he's still not in baseball's Hall of Fame?
What's he doing speaking at the Terre Haute North High School graduation next weekend?
And how does it feel, after 40 years, to still always be mentioned in connection with a scalpel? Some guys have bridges named after them. Tommy John has an operation.
"Just think how this would look," he said from his New York home, "if all the guys were going in and having Tommy John surgery, and it was proctology surgery."
He has a point. Plus, sports announcers everywhere have caught a break. How would it have been the past four decades if they always had to call it ulnar collateral ligament reconstruction surgery?
"I even call it Tommy John surgery," he said. "I'm very proud and thrilled to have that surgery named after me."
John injured the ligament in his left throwing elbow in 1974, which back then usually meant it was time for a pitcher to start selling real estate. But Dr. Frank Jobe and John came up with the idea of repairing the ligament with a tendon from somewhere else in the body. Baseball orthopedics would never be the same.
John was 31 at the time. He pitched until he was 46, and had 146 post-operative victories. The Tommy John Surgery phrase was born for generations of medical reports and headlines to come.
Especially this spring. You can't swing a fungo bat without hitting a pitcher on the way to Tommy John surgery, and John believes he knows why. It's kids being pushed into year-round pitching, often by overzealous parents who can envision their son's picture on a bubble gum card.
"The more you pitch at ages 8, 9, 10, 11, 12, 13, 14," he said, "the better chance you have of being operated on when you're 24, 25, 26, 27, 28, 29, 30. All the people that know in baseball say that pitching year-round is bad, except for the parents and the men who are running those [off-season] facilities."
One other thing, he suggested. End the obsession with speed, speed, speed.
"If ever some general manager had the guts to take the radar guns and throw them out and say, 'Let's look at control, at ball movement, at changing speeds, at success.' That's one of the reasons why we have this rash of Tommy John surgeries. [Commissioner] Bud Selig said he was dismayed. If Bud wanted to do something, he could get rid of the radar gun."
Whatever the cause, Tommy John surgery has saved dozens upon dozens of careers. That's one reason John—and Jobe—should be in the Hall of Fame.
Another reason is John's 288 wins, seventh-best all time among left-handers, and more than such Cooperstowners as Ferguson Jenkins, Bob Gibson, Whitey Ford, Jim Bunning and Catfish Hunter. His 46 shutouts are as many as Roger Clemens. He had 162 complete games. The active leader in all of baseball at the moment is C.C. Sabathia. He has 37.
And those 164 wins John had after surgery? Only one fewer than Sandy Koufax had his entire career.
John would be the eighth Indiana native to make it, but he's not holding his breath. During his years on the ballot, he never cracked 32 percent of the vote. He needed 75 percent. His last chance is to be named by something called a veterans' committee.
John believes his case has been hurt by a relatively low strikeout total and a perception he was not dominant because he did not have an overpowering fastball. But he was dominant enough for 288 victories, and that ought to be enough, when you add in what his roll-the-dice surgery meant to the game.
"I will go to the grave saying that strikeouts are nice, but I'll take wins," he said. "I don't really worry about things I have no control over, and I have no control over this.
"When I first started to pitch and my dad put me on the airplane to go to Dubuque, Iowa, he said, 'No matter what you do in the game, you'll be Tommy John of Terre Haute, Indiana.' You know, he's right."
Speaking of Terre Haute, he graduated as valedictorian of his Gerstmeyer class in 1961 and should have given a speech at commencement. But the faculty decided that wouldn't be a good idea since he had a bad stutter.
The stutter is gone, and so is Gerstmeyer. But he's been invited to speak at the North graduation on June 8.
"Fifty-three years later, I get to give my valedictorian speech," he said.
Sept. 25 should be a big day, too. That'll be the 40th anniversary of the day Jobe took him into the operating room, and made history.
"I don't know what we're going to do. We may raise a glass of beer," he said. And he'll do it with a famously rebuilt left arm.
How's Tommy John surgery holding up on Tommy John, at the age of 71? "My shoulder is hurting, but my elbow isn't."•
__________
Lopresti is a lifelong resident of Richmond and a graduate of Ball State University. He was a columnist for USA Today and Gannett newspapers for 31 years; he covered 34 Final Fours, 30 Super Bowls, 32 World Series and 16 Olympics. His column appears weekly. He can be reached at mlopresti@ibj.com.
Please enable JavaScript to view this content.