Truth is, I never tire of pizza. And there are enough subtle and not-so-subtle variations on the American/Italian staple that it never seems to get boring. So forgive yet another review of yet another new pizza place (and apologies in advance for the one likely to come next week).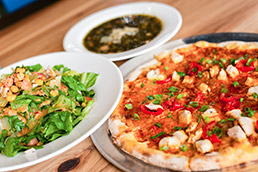 A sizable lineup of salads rivals Coalition's myriad pizza choices. (IBJ Photo/ Eric Learned)
This time, the subject is Coalition (365 W. 116th St., Carmel, 817-0800), a spunky independent attempting to upgrade the fast-fired genre—think IUPUI's Blaze with a bit more menu variety and deliver-to-your-table service (you still order at the counter a la Noodles & Company et al., but you are on your own in figuring out if you should tip or not).
The system might seem efficient at first, but it easily leads to some confusion since the pizza is cooked so quickly. Thus, the pie we intended as an entrée showed up well before our soup (Italian Wedding, $4, dominated by big chunks of sliced meatballs.)
One thing Coalition has over others of its ilk is a wide selection of salads that go beyond the expected. The Assembly ($9.75), for instance, includes roasted Indiana Amish chicken, roasted red peppers and corn, carrots, broccolini, chopped tomato and onion, and a mustard fig vinaigrette. Giant pieces of salmon topped the Green Party ($10.50), hiding kale, roasted sweet potato and MontAmore cheese (although the dressing rendered the salmon a bit wet). 
On the sandwich side, the Amish chicken found its way onto The Alliance ($9.50), with caramelized onion, sweet peppadew peppers, cheddar cheese and Thai barbecue sauce on fresh artisan bread. Other options include the Veggie Federation ($9), which includes roasted eggplant, and the Civilian ($9.50), with hot honey-smoked turkey. There's pasta, too.
For pizzas, Coalition offers a construct-your-own option with a mozzarella blend and five sauce choices for $7.75. But that can rise quickly with toppings running $1 for most (including Kalamata olives, Calabrese peppers and toasted pine nuts), and $2 for premium (here including such usual standards as meatball and sausage but also shrimp, pancetta and 'Nudja—a spreadable pork sausage).
The specialty pizzas offer a slightly better deal and include the Emilian ($10.50), with prosciutto, arugula, fontina cheese and fig jam; and the Athenian ($10.50), with the aforementioned Amish chicken, olives, roasted red pepper, and pine nuts with mozzarella, feta and pesto sauce. The Teamster ($9.50) parks more of those sliced meatballs onto an irregular disc with discreetly included giardinera, which could easily have overrun the pie.
If you have room for dessert, the Caramel Whip ($4), with pound cake, berries and caramel whipped cream, rises well above the standard-issue chocolate chip cookie ($1.75).
Early in the run—Coalition opened in May—the service had that management-is-watching vibe that led to quickly bussed tables and what seemed like five different staffers offering to refill our sodas. Speaking of sodas, Coalition has avoided the usual Coke or Pepsi choice and opted instead for Puck's Fountain Soda ($2.25). A nice change—especially for the sweet birch beer.•
—Lou Harry
Please enable JavaScript to view this content.