The proliferation of craft breweries in Indiana and throughout the country is starting to strain the supply of a key ingredient needed to make beer.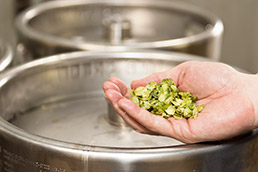 The aromatic variety of hops is popular among craft brewers because it provides more taste. (IBJ photo/Eric Learned)
Hops, used as a flavoring agent, are in high demand by microbreweries that need the crop to give their pale ales and other varieties more taste than what's found in traditional mass-market beers.

The difference is striking. Traditional brewers dump about 3 ounces of hops into every 31-gallon barrel compared with an average of 1.2 pounds of hops for craft beers.

"They use a lot of hops," said Ann George, administrator for the Moxee, Wash.-based Hop Growers of America. "We only have so much harvesting capacity, and we're about at maximum capacity now."

For craft beer lovers, that could translate into higher prices.

The sobering news from the hops industry comes as the popularity of microbreweries continues to surge. The number in the past five years has climbed 73 percent nationally, from 1,600 to 2,768, according to the Boulder, Colo.-based Brewers Association. In Indiana, the growth during the same time is even more pronounced, rising from 32 to 84, a 162-percent increase.

Robinson
Most of those would feel a hops shortage because they produce less than 15,000 barrels a year. They're not large enough, like a Sun King Brewery, to get the attention of big hops suppliers that prefer to lock in prices by selling their crop in bulk through three-year contracts.

They instead are left mostly to rely on the spot market, where prices are more volatile and susceptible to spikes.

"Spot market prices can fluctuate insanely," said Clay Robinson, an owner of Sun King.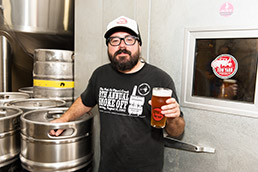 Bradley Zimmerman brews the beer for Tow Yard Brewing, one of many microbreweries popping up around the city. (IBJ photo/Eric Learned)
Upstart Tow Yard Brewing, which opened in March in the former Chateau Thomas Winery building at the south end of downtown, is among the scores of small breweries that now populate Indianapolis.

Tow Yard owners started buying hops last summer and placed them in cold storage until they started brewing to guard against any danger of a shortage.

"If I were a betting man, I'd put my money on a hops shortage rather than not," said Bradley Zimmerman, Tow Yard's head brewer. "With the amount of new breweries opening, I'm not sure the farmers can sustain that amount of growth."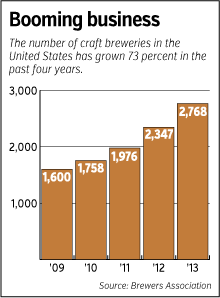 The threat of a shortage is even prompting Tow Yard's owners to consider leasing 30 acres near Noblesville from an investor so they can grow their own hops.

Aroma versus alpha

Hops farms are beginning to sprout up in Indiana and other Midwestern states, but the large growers are in Oregon and Washington.

Washington grower 47 Hops disseminated its own prospectus, warning that the industry is "moving perilously toward a wall of production capacity."

One of the biggest inhibitors to growing hops is the lengthy three-year period it takes to bring a crop to market. So even if producers begin planting more acres, it's going to be a while before the hops are ready.

Hops are grown via a trellis system of cable strung atop telephone-type poles and by tying twine to the cable and extending it to the ground. The hops plants climb the twine during the growing season and reappear every year.

Unlike wheat and other crops, hops are not grown from seeds but instead from a cutting of an existing plant, complicating the planting process.

About the size of a pine cone, hops can be purchased either whole or in pellet form from a grinding process that makes brewing more efficient. They can be bought wet or dry and are vacuum-sealed and frozen to maintain freshness.

To plant more hops, growers need to ensure they're going to get a return on investment, and right now they're hesitant to make that leap after getting burned in 2008 from an oversupply of the bitter variety of hops popular in traditional beers.

Prices dropped so low then, before the microbrewery trend really took off, that growers couldn't pay their bills and bankers refused to finance additional production.

But growers are beginning to devote more acreage to the aroma variety of hops popular with craft brewers. Aroma hops give beer the taste that's popular among craft brews, particularly pale ales, and are less bitter than the alpha varieties used in traditional beers.

Growers in the Pacific Northwest typically have devoted about 70 percent of their acreage to alpha hops to supply mega brewers Anheuser-Busch InBev and MillerCoors. That percentage this year shrank to 60 percent, said George at the Hop Growers of America.

Aromatic varieties are more costly to plant and produce fewer pounds per acre, meaning growers need to charge more for them even without a shortage. Prices have surged to between $7 and $10 per pound amid rising demand, about to two to five times more than what alpha hops are fetching.

"If the demand keeps rising, and if [growers] have to buy up new acres or tear up apple orchards, that's when you might see prices really go up, and we're not seeing that yet," said Bart Watson, staff economist of the Brewers Association craft beer trade group.

Hops take root in Indiana

In Indiana, hops growers hope to tap into the market by selling to those smaller microbreweries overlooked by large suppliers.

Ryan Hammer, a floor director at WISH-TV Channel 8, started 3 Hammers Farms in Knightstown in 2012 with less than a half-acre. He's selling to Sun King, Indiana City Brewing Co. and Flat12 Bierwerks in Indianapolis.

He's growing five different varieties and wants to expand to an acre next year, ultimately getting to 20 to 30 acres within five to 10 years.

"It's almost like I can't grow fast enough. The downside is, there aren't a whole lot of banks willing to lend for it," said Hammer, who's searching for investors.

Business partners Justin Kratoska and Matthew Crankshaw started growing hops last year on an acre on Indianapolis' far-east side and are beginning to see their plants produce. They're not prepared to sell to breweries this year but are optimistic about their operation, which has the capacity to grow to four acres.

Spencer Gray, Matt Baxter and Alexandra Dawes started Sugar Creek Hops LLC this year on five acres near Thorntown. They're thinking big: 30 acres next year and 125 acres within five years planted on property owned by Gray's father.

The three have started a side business serving as brokers searching for hops for microbreweries, while their crop readies for harvest. They've signed a small contract with Sun King, Gray said.

A dwindling supply of hops bodes well for new producers.

"We'll do our little part to help the hop shortage," Crankshaw said. "But even with all of us together, the amount of production we'll have will only scratch the surface."•