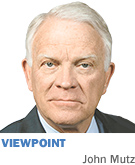 It's time for Republicans to stop playing defense on President Obama's agenda and implement our own pro-growth agenda that solves the country's biggest problems—the economy and jobs—then reap the political rewards.
If we are right that federal restraint vis-à-vis the economy produces the best outcomes (and we are), the politics will follow.
While things are relatively good here in Indiana, they could be better. Median household income is still not quite where it was before the Great Recession, and is still considerably below the national average. Additionally, we've actually seen our ranking in terms of median household income get worse relative to other states: In 2004, we ranked 30th, but today we rank 38th.
Congress must implement a pro-growth agenda that supports manufacturing (Indiana's leading industry), energy and infrastructure, and allows businesses to succeed, expand and create jobs through tax reform, trade expansion and immigration reform.
These three issues could build on the pro-growth successes we've enjoyed here in Indiana, and help drag the rest of the country out of the economic doldrums.
We must start with meaningful tax reform. Our business taxes are way too high and even more complicated. Congress must enact sweeping reforms that lower our business tax rate and significantly diminish the administrative burdens presented by our byzantine tax code. If they do, Indiana small businesses will be able to put much more of their revenue into jobs and expansion.
At the same time, we must streamline how we pass trade deals. For decades, presidents had Trade Promotion Authority, which delineates the process and time line for trade deals to be considered and voted on (by an up-or-down vote). This authority lapsed at the end of President George W. Bush's time in office, and hasn't been renewed.
It needs to be. Today, any member of Congress can effectively veto a trade deal by adding an unacceptable amendment. The up-or-down vote prevents this, and allows presidents to negotiate more effectively with foreign leaders to open new markets to U.S. goods and services. These markets are increasingly important in a globalized world. If we don't get into international markets, rivals like China will.
We also need to fix our broken immigration system. Domestic employers require a level of certainty when making key business and hiring decisions—the current impasse over immigration prevents them from doing so, creating a real drag on the economy. For those elected officials who fear the wrath of the Tea Party, if they cast a courageous vote for immigration reform, please be assured that many Tea Party leaders fully understand the need for action this year. Tea Party Express co-founder Sal Russo recently called for comprehensive reform, and for conservatives to lead the way.
For these and many other reasons, I have agreed to lend my name to a growing network of small businesses and policymakers who have launched the Main Street Growth & Opportunity Coalition. The coalition is led at the local level to advocate for the above-mentioned reforms. I have been a small-businessman, and understand the need for a good labor pool, predictable government regulation (when absolutely necessary for safety and health), and the lessening of tax burdens at all levels.
Many in the public perceive the GOP as the Party of No. What better way to update the Republican brand to appeal to new voters than to demonstrate the clear superiority of our economic approach—and become the Party of Grow again?•
__________
Mutz is a former lieutenant governor and a member of the Main Street Growth and Opportunity Coalition, www.mainstreetgrowthandopportunity.org. To comment on this column, write to ibjedit@ibj.com.
Please enable JavaScript to view this content.