Hard as it might be to imagine today, Johnson County once considered itself a peer of Hamilton County's.

The county south of Indianapolis was king of the suburbs in the 1970s, but now has fallen far behind Hamilton to the north in population and income, and in recent years slipped behind Hendricks County to the west.
A rural welcome sign greets motorists as they pass through Johnson County farm fields into Greenwood. (IBJ photo/Norm Heikens)
Johnson strived to retain its small-town and even rural feel, keeping Indianapolis at arm's length and not trying hard to attract businesses and jobs, while Hamilton chased high-end investment and white-collar positions and Hendricks played up its proximity to Indianapolis International Airport and cheap land.

Johnson County politicians and economic development officials have noticed they're falling behind and perhaps for the first time are thinking of themselves as part of the region. The upshot is a more aggressive attempt to build the county's economy by playing up proximity to the area's core.

Klacik
"Trust me. When we are recruiting a company to Johnson County, we are talking about the fact we are 15 minutes from downtown Indianapolis," said Cheryl Morphew, executive director of economic development group Aspire Johnson County.

Johnson County isn't stagnant. Its population has grown every year from 1970 to 2012—more than doubling to 143,000—and its income has grown in every year except 2009 during the Great Recession, according to the U.S. Bureau of Economic Analysis.

What has eroded is its standing among its peers.

In 1970, Johnson accounted for 19.3 percent of the population and 18.6 percent of the personal income in the counties surrounding Indianapolis.

A decade later, Hamilton County swung into a growth burst and by the turn of the century Hendricks gained a little altitude.

By 2012, the latest year for which figures are available, Johnson's share of the suburban population had shrunk to 17.3 percent, and its share of the income, $5.6 billion, to just 14.5 percent.

Hamilton County's share doubled in the 42 years—to 35 percent of the population and 42 percent of the income. It boasted $16.2 billion in income from a population of 290,000 in 2012.

Boone County, which also tried to retain its rural and small-town charm, has been on its own growth spurt the past few years but remains small.

The other doughnut counties—Hancock, Morgan and Shelby—have marched roughly in lockstep. Their share of the suburban population and income was several percentage points lower than Johnson and Hamilton in 1970 and their status hasn't changed much, other than gradually losing ground to Hamilton and Hendricks.

Once rivals

Jim Karozos, a vice president for developer Colliers International who grew up in Johnson County, remembers comparisons of Hamilton and Johnson counties' largest towns.

"There was this kind of underwritten rivalry between Carmel and Greenwood," Karozos recalled.

The two counties had similar economies in the 1970s, both churning out close to $230 million in personal income, according to the U.S. Bureau of Economic Analysis.

Both listed manufacturing—with its above-average wages and sheer volume of jobs—as their biggest sources of income.

But Carmel and Fishers, and more recently Noblesville and Westfield, capitalized on their proximity to the denser, wealthier north side of Indianapolis.

Johnson, meanwhile, held onto its small-town feel.


"Until recently, it had been their stated intention," said Lee Lewellen, CEO of the Indiana Economic Development Association.

Today, factory jobs still generate the most income in Johnson despite health care and other professions starting to catch up.

Early housing boom

Housing plays a role in the growing disparity between Johnson and Hamilton counties.

Johnson grew fastest after World War II, noted Drew Klacik, a senior policy analyst at the Indiana University Public Policy Institute. The early boom meant less-expensive development than what goes up today.

"If you were to move out of Marion County to a suburb in the '60s, you'd probably build a three-bedroom ranch," Klacik said. "In the '80s, it was probably a two-story, four-bedroom, 2-1/2 bath."

Some of that higher-end housing spilled into White River Township, home to unincorporated Center Grove in the northwestern corner of Johnson County. White River Township's population boomed alongside Greenwood despite not being an actual city.

A major difference for the township, Klacik said, has been the level of affluence, which is more on par with Carmel than most of Johnson County.

Still, White River Township hasn't grown fast enough to propel Johnson County as quickly as Hamilton or Hendricks.

In 2013, the median selling price for a Johnson County home was $129,900—lower than in every Indianapolis suburb except much smaller Shelby County, according to the Indiana Association of Realtors.

Greenwood has no aspirations to be another Carmel or Zionsville, said Greenwood Mayor Mark Myers, instead preferring to be a "nice, quiet community." However, he added, the city needs higher-end homes.

Many of Greenwood's best-paid workers buy homes in Hamilton or Boone counties, where the median sale price was $205,000 last year.

And few of the people who commute to Johnson County for work come from Hamilton or Boone.

Of the 12,000 who commuted there for work in 2012, only 352 lived in Hamilton County and 58 in Boone, according to the Indiana Business Research Center.

Myers isn't certain how many executives commute from wealthier counties, but said, "The one thing I hear as mayor—we don't have those upper-scale residences that a lot of the business executives are looking for."

Low home values mean low property-tax collections, which makes it difficult to fund economic development projects, Myers said.

Johnson County residents tend to avoid mortgages and other forms of debt, which in turn slows development, said Ross Reller, a senior vice president at real estate brokerage Colliers International.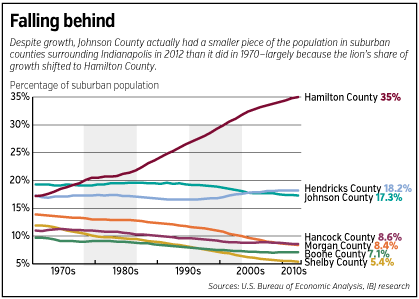 "If everyone is thrifty and reluctant to go into debt," Reller said, "you're probably not going to get the rapid, hyper growth you get in communities where people are willing to go into debt."

Indy's 'barriers'

Indianapolis developers have long favored the north side, which worked to Hamilton County's advantage.

"We should be able to grow equally in all directions," Reller said, noting development isn't inhibited by mountains or bodies of water. "But in fact, the affluent population has always wanted to be north."

Infrastructure also played a large role.

The heavily traveled northern stretch of Interstate 465 edges into Hamilton County, but the southern section of the beltway stays in Marion County well above Johnson.

Water and sewage lines already ran through northern Marion County when Carmel began developing along U.S. 31. The southern and eastern parts of Indianapolis didn't have the infrastructure until a decade ago, Lewellen said.

"The population just didn't move in that direction," he said. "There's a psychological barrier."

Carmel's access to I-465 made it easier to develop U.S. 31. In the 1990s, Hamilton County officials aggressively catered to financial and technology companies.

"They understood where the market was pushing them," Klacik said.

Office complexes and hospitals emerged along U.S. 31, drawing high-paying jobs and bolstering the tax base, which boosted the schools, libraries and other public amenities that in turn drew even more people.

The trick, Carmel Mayor Jim Brainard said, was to embrace what was in Indianapolis while figuring out something different to offer residents.

"I asked them, what do they want to see done differently?" he said of his first door-to-door campaign, in 1995. "I heard over and over, 'I want to be able to go out for dinner in town.'"

So when Brainard took office, he focused on encouraging local restaurants and other amenities, including shopping and recreation.

Carmel has pumped millions of dollars into recreation and the arts and roundabouts. Critics have pounded the projects as too expensive, but Brainard insists they've been critical in developing Carmel into a city that consistently ranks high on lists of best places to live.

Fishers, Noblesville and the rest of Hamilton County adopted similar approaches on a smaller scale, absorbing far more development than other Indianapolis suburbs.

Hendricks spillover

Indianapolis International Airport and inexpensive land has pushed Hendricks County's share of the suburban population to 18.2 percent from 17 percent in 1970. However, like Johnson, its share of the income contracted—from 17.1 percent to 15.2 percent—as white-collar jobs congregated in Hamilton County.

Plainfield, especially, became a logistics and distribution hub because of its proximity to the airport. Warehouses shot up throughout the town, luring thousands of jobs and new residents, and building the tax base.

"They recognized that other communities before them, like Fishers—that if you're going to try to support residential development, you're going to have to offset that … with industrial development," Lewellen said. "They were fairly aggressive early on in understanding how to use tax abatements, [tax-increment finance districts] and other mechanisms to bring that development."

Some of the development could overflow into Johnson as eastern Hendricks runs out of room for new warehouses, said Colliers' Karozos.

"We are starting to see some developers and warehouse-space users look much more seriously at Johnson County because of the I-65 corridor, proximity to Chicago, Louisville and the availability of land," he said.

Johnson County and Greenwood must overcome policy hurdles before they can become serious contenders for growth.

Finding property with adequate water and sewage lines remains a challenge for site selectors, Karozos said.

Johnson County public officials seldom spend or raise taxes to cover expenses for infrastructure or incentives before a company commits to an expansion. That opens the door for Hamilton or Hendricks to snap up impatient businesses looking at central Indiana.

Property taxes are lower in Johnson County than in Hamilton. The median rate is 2.05 percent of assessed value versus 2.18 percent in Hamilton, according to the Indiana Business Research Center.

Myers, the Greenwood mayor, noted the county does not have an economic development income tax, a common tool counties use to support incentives for new businesses. The lack of the tax has caused developers to turn to other towns, he said, but he would not name specific companies.

Aspire Johnson County, the economic development group, pushed for an innkeepers' tax earlier this year to be used for economic development incentives, but the county council voted it down in February.

"I think they are educating themselves," Aspire's Morphew said about elected officials' attitude toward the tax. "We're moving forward, and I think we're moving in a positive direction."

Myers has his sights on a recently annexed 1,800 acres east of Greenwood as a way to step up development and attract and retain executives.

The annexation, Myers believes, is ideal for building homes costing $250,000 to $300,000.

Pricier houses also would generate more tax revenue to fund other quality-of-life initiatives.

Johnson County's abundance of smaller homes actually could be a boon, said IU's Klacik. Millennials and empty-nesters are looking for affordable options within walking distances of stores and restaurants—much like what downtown Greenwood offers.

"If they make the right investments, those neighborhoods kind of scream of resurgence," he said.

Regional mind-set

Johnson County has had its share of economic wins recently.

A $22 million hotel and indoor sports complex plans to set up in Greenwood at a location that was slated before the recession for a Cabela's. Myers said Cabela's choice this year of Noblesville over Greenwood was a bit of a blow, but he sees the athletic facility as more of a regional draw.

He also pointed to recent hiring announcements, in particular cosmetics company Ulta Inc.'s plans for a 537-employee distribution center, as signs of the area's gains. The facility, he believes, will bring a lot of high-tech workers to Johnson County to handle retailers' online operations.

The southern suburbs by and large are showing more of a regional attitude.

Johnson County has joined in recent regional pushes to attract jobs. Klacik noted Myers' participation in an Urban Land Institute-sponsored regional planning program for mayors from around central Indiana, including Carmel's Brainard and Indianapolis' Greg Ballard.

"Clearly, Johnson is becoming more a part of a region," Klacik said.

Aspire began in 1991 as a countywide effort, but the effort has ramped up the past few years. Long-term plans for developing the entire area south of Indianapolis are starting to form.

"There is no island of success," Morphew said.•