Growing up at the Jersey shore, there was no –ology to pizza. It was tossed-in-the-air dough, tomato sauce and cheese, baked to a bubbly goodness.

Toppings? Sure, but not mandatory. Since those innocent times, though, I've been exposed to a wide range of pizza extrapolations—some good, some great, some unnecessary and some that created a period of post-ordering/pre-eating confusion as to what the thing might actually taste like.

With a name like Pizzology (608 Mass Ave, 317-3173), it would be reasonable to expect that last experience—especially when its range of ingredients includes pancetta, mortadella, goat cheese, porchetta, artichokes, etc. And having not visited the north-side location, I assumed the Mass Ave spot would have a frou-frou vibe.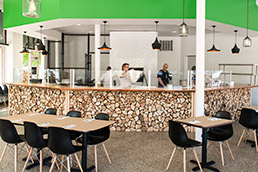 Pizzology's open kitchen area is where specialty pizzas are crafted. (IBJ Photos/ Eric Learned)
Yet the airy atmosphere and friendly service, combined with relatively simplistic combinations built from largely farm-fresh ingredients, helps keep the place from being intimidating. Remember Aesop's Tables? That former resident of this space always seemed dark and uninviting despite years of good Middle Eastern fare. Thanks to large windows on two sides and an open area for the pizza oven, Pizzology appears to be putting everything out in full view, creating a welcoming environment.

Also welcoming is a $10 lunch special that lets you pair a personal pizza—here called a Pizzetta Persona—and either a small (but not too small) Chop Salad (successfully combining romaine, prosciutto, gorgonzola, tomato, olives, shallots and citronette dressing) or a cup of soup, plus a fountain soda or fresh-brewed iced tea. That's a tough price point to beat even at a chain pizza shop. If the choice of a basic Rossa or Bianca Pie with fresh mozzarella isn't enough for you, toppings can be added at a $1, $1.50 or $2 level. I was happy with the simple (and delicious) version.

You can get more adventurous, of course, with such combinations as the Fresca Ardente, which includes goat cheese, pancetta, fresh mint and sea salt, or the Asparagi with, of course, roasted asparagus, fresh and smoked mozzarella, and prosciutto, but experimentation isn't mandatory.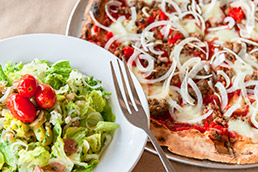 A $10 lunch special includes a pie, salad and drink.
A slightly confusing additional lunch option—and one that I suspect won't last long—is the Piebar, which offers the same deal, only you head up to a display area yourself and pick out an already-made variation. Not only does this create awkward foot traffic, but it also led me, on another visit, to pick up a cold pizza.

Don't pass on Pizzology just because everyone in your party isn't in a pizza mood. The Spicy Cappellini ($8)—with garlic, shallots and fresh basil—proved a winning alternative, as was the easy-on-the-chili Indiana Sweet Corn, Pancetta & Jalapeno Risotto ($8) appetizer.

For dessert, lightly baked Zeppole ($5) broke down the dough into bite-size nuggets, sprinkled with cinnamon and sugar and dominated—in a good way—by honey. House-made tiramisu and gelato selections are also available.•

—Lou Harry