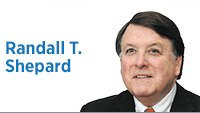 Voter turnout in Indiana's recent primary election was the lowest in 20 years, 35 percent below average. It's time for a serious conversation about whether the growing use of voting centers is bad for turnout.
From time immemorial, people in Indiana and elsewhere voted in their own neighborhoods at precinct locations typically within four or five blocks of home. The locations included schools, churches, firehouses and libraries, staffed mostly by neighbors and led by precinct captains of both parties.
The organizational task of arranging for these neighborhood sites and fielding the army of poll workers grew more challenging over time for election officials and the political parties. The parties have often found their capacities diminished. The abolition of the patronage system and campaign finance restrictions have enhanced the role of special interest groups and candidate committees at the expense of the traditional political party.
In 2003, Colorado first experimented with a new model for Election Day: Open a limited number of voting centers and end voting in neighborhood precincts. Boosters declared it a success and perhaps half a dozen states have moved in the same direction.
The Indiana General Assembly authorized experiments with this model in 2006, and Cass, Wayne and Tippecanoe counties tried it.
This experiment clearly succeeded on multiple grounds. Local officials identified readily accessible sites, undertook considerable advance planning, and trained the people who would staff the new centers.
They also used technology to assure the integrity of the vote. This was important for a regime in which neighborhood-based teams likely recognized many voters and in a state with recent multiple criminal convictions for voter fraud. On this point, these systems seem to work well.
And, using only voting centers saves lots of taxpayer money. Rather than staffing 92 precincts as Tippecanoe County once did, it now needs to place, pay and support teams in just 20 places.
Based on these three pilots, the Legislature authorized all counties to use such centers on Election Day, and 17 counties now do so. Why wouldn't we support a system that functions smoothly, securely and inexpensively?
The answer might be that using voting centers on Election Day rather than voting in neighborhoods means fewer voters participating.
To be sure, many factors affect voter turnout, like whether there are headline races, lots of contests, and our old friend gerrymandering.
Still, in spite of regular declarations that convenient voting centers would enhance turnout, studies for Ball State University and the Indiana Fiscal Policy Institute could find no evidence that using such centers lifts voter participation. Easier early voting apparently helps, but not the voting centers. Brian Howey has calculated that, in May, the 17 counties using centers trailed the state average by 2.6 percent.
I looked at May's returns, comparing primary turnout over the last four off-year elections in some counties that moved to voting centers. Starting with 2002, the number of people voting in Tippecanoe County ran from 20,800 to 15,300 to 19,000, ending with 13,900 this May. In Floyd County, the turnout went from 11,100 to 9,300 to 9,800 to 7,900. In Vanderburgh County, the vote moved from 9,350 to 16,100 to 19,100 to 8,100.
This admittedly fragmentary examination, buttressed by the Howey calculation, suggests the article of faith that voting centers are "good for voter turnout" could use some really serious study.
Successful self-government requires wide participation. We might not be headed in the right direction.•
__________
Shepard, formerly Indiana chief justice, is executive in residence at IU's Public Policy Institute, a research arm in the School of Public and International Affairs. Send comments to ibjedit@ibj.com.
Please enable JavaScript to view this content.