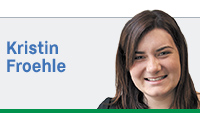 It seems that what is right for America must not be right for Hoosiers. At least, that is what our governor would have us believe.
The last few months have proved Mike Pence's plans for Indiana stand in harsh contrast to any and all things proposed by the federal government.
Whether it is helping prisoners deal with the realities of rape, approving and adopting national educational standards, or fighting against emissions standards seeking to drastically limit climate change, Pence is ready for a showdown with the federal government.
And while rejecting Common Core might cost Hoosiers time and resources in creating state-specific standards, and denying prisoners who are victims of rape the right to proper post-trauma care seems grossly inhumane, it is with Pence's most recent complaint about the new EPA standards that I take issue today.
This month, the EPA rolled out a new set of emissions standards in the hope of reducing American emissions 30 percent from 2005 to 2030. In the hope of guarding against the consequences of climate change, this plan will require some sacrifices and new strides toward efficiency. And it is these sacrifices on the part of consumers and businesses that seem problematic to Pence.
Some of these sacrifices seem purely logical. From a consumer perspective, the EPA estimates electricity rates will increase 3 percent over the next 15 years, a cost that can be avoided with energy-efficiency programs. Is this price too high, considering the steep increase in electric rates that could be caused by climate change?
Many Hoosiers saw their electric bills skyrocket during the heat waves last summer, temperature spikes that only stand to get worse if climate change is not addressed on a state and national level.
From a business perspective, there is no doubt harsher EPA restrictions will require Hoosier businesses to make sacrifices. However the intent behind these changes was to avoid higher costs in the long run, and to address change logically now rather than face Band-Aid solutions later.
Because the reality is that at some point—whether now or 20 years from now—Americans and Hoosiers will have to adjust to the ever-changing world. Resources like carbon will have to be used more efficiently, and changes will have to be made to correct for industrialization's impact on this world.
Pence is acting like the small child who is all for a nicer playground but seems unwilling to clean up his part of the sandbox. He often speaks of a brighter future for Hoosiers and America, but complains about what Hoosiers will have to give up in order to guarantee that bright future.
Americans today laud preventive care in the medical industry. Why can't the same be said for the EPA's approach to climate change? Pence does not seem to understand that emission standards must change, and doing so now will avoid more costs later.
Unless he truly does not believe in the positive effects that reducing emissions may bring, Pence is using the classic politician logic of being unwilling to take on short-run costs to avoid long-term consequences. The long term, after all, often comes after election season.
This is not an appeal to the tree-hugger in each and every Hoosier, nor is it an alarmist conservationist speaking to the masses. This appeal, rather, speaks to the pragmatics on the economics of environment, a topic on which Pence does not seem too acquainted.•
__________
Froehle is a senior and Wells Scholar at Indiana University majoring in business, and a former White House intern. Send comments to ibjedit@ibj.com.
Please enable JavaScript to view this content.