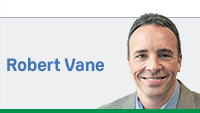 It is always disheartening to read about the national economy's not growing, but rather contracting, in the last quarter and that hundreds of thousands of people simply have quit looking for work.
As the owner of a one-person PR business, I have to hope for a robust economy at all levels regardless of the political persuasion of the executive in charge. A slowing or regressing economy is fatal to companies like mine.
In spite of all the terrible economic news coming out of Washington, D.C., Indianapolis under Mayor Greg Ballard is in the midst of a building boom.
Not one single year during his time as mayor has Ballard seen national GDP rise above 3 percent. In fact, the presidency of Barack Obama (which represents more than 83 percent of the mayor's time in office) has produced the worst annual GDP growth rate of any president dating back to John F. Kennedy.
This fact has not seemed to faze the Ballard administration, as it seems one positive economic announcement follows another these days.
According to Indianapolis Downtown Inc., more than 60 projects worth an estimated $2.5 billion are scheduled for completion by 2017.
And this figure does not include the proposed Criminal Justice Center nor does it include any projects (such as CityWay or the JW Marriott) announced during the mayor's first term.
Frankly, there is so much activity that keeping track of it all can be rather difficult. The projects announced by Ballard and spearheaded by his superb economic development team (I would love to have Deputy Mayor for Economic Development Deron Kintner's future employment prospects) aren't nickel-dimers, either.
The visually stunning Flaherty and Collins apartment project at the old Market Square site is valued at $81 million. The IndyGo Transit Hub is pegged at $19.5 million. The One America/Marsh project in the northwest quadrant of downtown is valued at $85 million. The new Cummins divisional headquarters doesn't have an announced cost, but represents another triumph for the Ballard administration's economic team.
And, contrary to the carping and the critics, it is not all downtown, either. The Broad Ripple Apartments/Whole Foods development? $30 million. Plus, the mayor is proposing $300 million in spending on roads, sidewalks and bridges to build on the nearly $500 million he spent in our neighborhoods as part of Rebuild Indy at the end of his first term.
Add up all these figures and the considerable number of other projects around the city, and it is easy to see why the groundswell for Ballard to run for a third term is strong and getting stronger.
The economic development activity generated by the Ballard team, especially relative to the sloth-like activity at the national level, is remarkable. Ballard's success is built not just on selling Indianapolis as a place to do business, but rather on pitching Indianapolis as an amazing place to live.
From school reform to bike lanes, from fighting for mass transit to unparalleled attention to the urban core, from redefining what sustainability means to mobilizing our community to fight crime, the mayor and his administration have lost none of their drive, none of their energy to make Indianapolis the most livable big city in the United States.
Is Ballard running for a third term? I don't know. Do I want him to run and has he earned four more years of leading our city into the 21st century?
The answer to both those questions can be found in all the jobs created by, and the economic impact of, the Ballard administration.
Let's just hope our Marine Mayor wants to stay at this post another four years.•
__________
Vane, a U.S. Army veteran, has worked for elected Republican officials including Indianapolis Mayor Greg Ballard, and currently owns the public relations firm Veteran Strategies. Send comments to [email protected].
Please enable JavaScript to view this content.