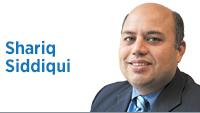 The Healthy Indiana Plan is a good move for Indiana and our country. It allows us to provide access to health care to the uninsured poor in a way that instills responsibility, limits abuse and furthers innovation.
Gov. Mike Pence recently announced a newly configured version of HIP. Known as HIP 2.0, it needs federal approval to be the state's vehicle for Medicaid expansion. HIP 2.0 would allow 350,000 low-income Hoosiers to have access to health care.
The program would expand Medicaid using federal funds without increasing the size of the Medicaid programs themselves. Participants would have access to private health insurance to access needed health care.
HIP 2.0 is different from traditional Medicaid in that it incorporates a health savings account component and requires Hoosiers whose incomes exceed poverty level to contribute to their premiums and some treatment. In the current political environment, this is Indiana's only hope of reducing the number of uninsured.
Democrats should embrace and push for the expansion of HIP. It is the pragmatic way to partially achieve an important public policy goal—reducing the number of uninsured.
Republicans control the Indiana Legislature and governor's mansion. It is unlikely they will have a change of heart about Obamacare. If the Obama administration is committed to reducing the number of uninsured—it should compromise and work with the Pence administration.
Democrats in Indiana should put pressure on the Obama administration to approve this program. Pragmatists and policy leaders, like Ed DeLaney, have already signaled that, while this is not everything they want, they prefer progress over brinkmanship. Indiana needs more political leaders like DeLaney on both sides of the aisle.
Beyond the political realities, HIP 2.0 is an experiment worth trying. We can pilot this program in Indiana and see if it provides the economic, social and health benefits Hoosiers need. If it works for Indiana, other states can embrace a similar program. Our country works best when states experiment with public policy.
Health savings accounts, if used well, can be a great tool for our health care. HSAs encourage patients to research economical providers, ensure that we access health care when needed, and retain savings for future years if we do not use the funds in our accounts. Advocates argue that HSAs encourage greater responsibility. As a consumer of an HSA-based health insurance plan, I agree.
While we encourage greater responsibility and expand access to health care through innovative ways, it is also vital that we reduce barriers to health care. Contributing to the cost of their own health care should not inhibit Hoosiers from seeking treatment. Delaying treatment can result in higher costs.
Slogans make for great politics, but terrible public policy. Democrats should work with Republicans to make sure HIP is a success by helping craft a better program.
Adding 350,000 Hoosiers to the insured roles increases the number of patients in doctor's offices and reduces the number of people being treated in emergency rooms. It also increases the number of fee-paying patients for doctors. This expansion of health care should result in economic growth.
HIP 2.0 is not the silver bullet for our country's health care challenge—neither is Obamacare. Both HIP and Obamacare are experiments. Pragmatism rather than brinkmanship will result in both HIP and Obamacare being improved or replaced over time in the best interest of our country if they don't work as well as their founders envisioned.
The Obama administration should move swiftly and approve Indiana's request for HIP 2.0 while continuing to improve Obamacare.•
__________
Siddiqui is an attorney, doctoral student at Lilly Family School of Philanthropy at Indiana University and publisher of Siddiqui Public Affairs Review. Send comments to ibjedit@ibj.com.
Please enable JavaScript to view this content.