In movies, the little sister or brother is usually the annoying one, trying too hard to get attention and generally making a nuisance of himself or herself.

When it comes to restaurants, though, the little sibling can be just as engaging in its own way as the elder. Think of Recess' adjacent Room Four, The Jazz Kitchen's Bebop Pizza Kitchen, Taste Café & Marketplace's neighboring Eat + Drink, or the subject of this dining jaunt, La Mulita (5212 N. College Ave., 925-0677).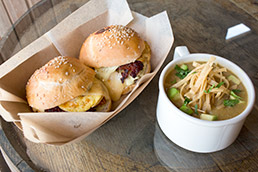 La Mulita's Chimichurri Sliders pair nicely with Chicken Tortilla Soup. (IBJ Photo/ Aaron P. Bernstein)
The "little mule" that shares a kitchen with Delicia has its own, spunky personality. A roadside cantina variation with strings of lights, standard red stools at the bar, and corrugated metal décor, La Mulita offers a street-food menu with enough variation to encourage repeat visits.

We started by supplementing our chips and salsa with Roasted Red Cabbage & Sundried Tomato Pesto Dip ($5). It seemed slight, at first, but the flavorful mix that included ginger, lemon and walnuts made it an interesting—if not essential—addition.

A pair of Chimichurri Sliders ($7) mixed ground beef with Worcestershire sauce, onion, red bell pepper, garlic and tomatillos. All good, apart from an excess amount of pickled slaw and chimi sauce. A little goes a long way with wet toppings, not just for flavor but also to avoid a sloppy mess. We also sampled the Pork Milanese Cemitas ($6.75), a south-of-the-border take on the breaded tenderloin. It was just crispy enough without feeling deep-fried, and the combo of Oaxaca cheese, chorizo, egg, chipotles and cilantro mayo delivered a nice kick in the tastebuds.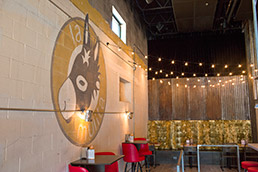 The mule on the wall of La Mulita isn't so little. (IBJ Photo/ Aaron P. Bernstein)
Side options include Plantain Chips ($2), Kale Chips ($2.25), Sweet Potato Wedges ($3.50) and Colombian Coleslaw ($2.50), as well as a serrano aioli that adds the right amount of flavor to the chips and wedges. Put them all together with a few beers and you have an impressive grazing tableau.

Desserts are limited to Churros & Chocolate ($3.50) and that was just fine with us. La Mulita's version is softer than the theme-park staple version but still encrusted with plenty of sugar. I almost forgot to dip mine in the chocolate dip that accompanied them.

Based on the freshness of the ingredients and the fun flavor combinations, we're a little sorry we didn't try La Mulita's guacamole and salsa fresca. Darn. Guess we'll have to go back.

A heads up: Unlike most restaurants, here the dinner menu is briefer than lunch, with no soup and fewer taco and sandwich options. As this joint grows in popularity, that might change—if the ownership isn't too stubborn.•

—Lou Harry